On November 16th 2019, at FLC Sam Son International Conference, Military Industry and Telecommunications Group (Viettel) and FLC Group organized a preliminary summing-up of the implementation progress of the agreed partnership between the two parties after a year since the memorandum of understanding was signed. At the event, new partnership-related matters had also been discussed and come to the mutual agreement, followed by the signing.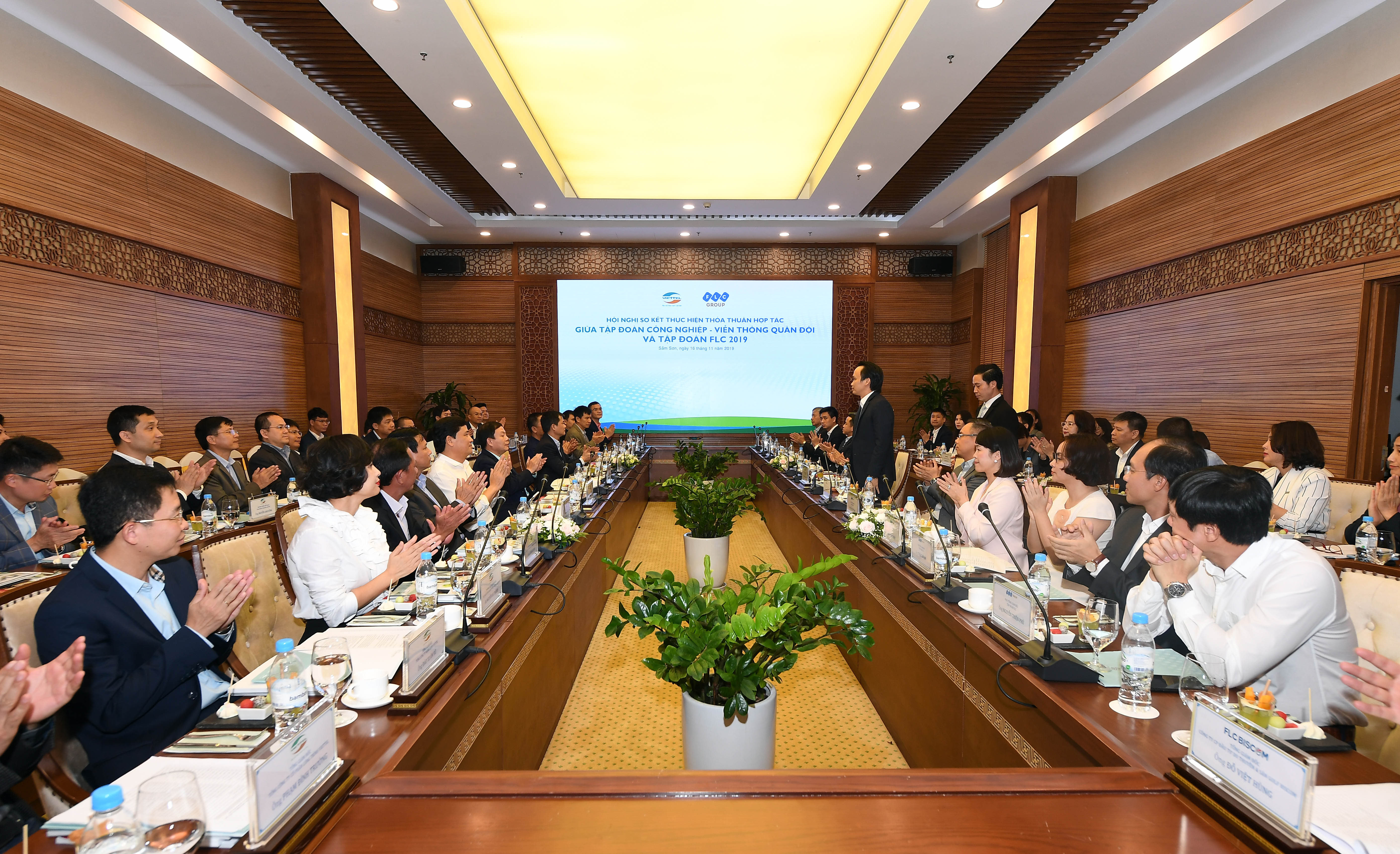 Preliminary Summing-up of Implementation of Partnership Agreement between Viettel and FLC Group" Conference
On the side of Viettel, the event witnessed the attendance of Major General Le Dang Dung – Chairman cum General Director of Viettel Group. On the side of FLC Group, there involved the presence of Mr. Trinh Van Quyet – Chairman of FLC Group, Ms. Huong Tran Kieu Dung – Vice Chairwoman cum General Director of FLC Group. Apart from those, the event also received the company of many senior officers from both the parties.
After a year since the partnership agreement was signed, Viettel has utilized its inherent capacity to support FLC Group in rapidly fostering the digital transformation process in the business through different means. These include, for examples, implementing E-Office model, installing television and internet network system, adopting online payment system and integrating aviation, hotel and entertainment services into the modern digital platform. By doing so, the leading products and services of Viettel and FLC Group will be gradually disseminated and subsequently become prevailing in the ecosystem of each side.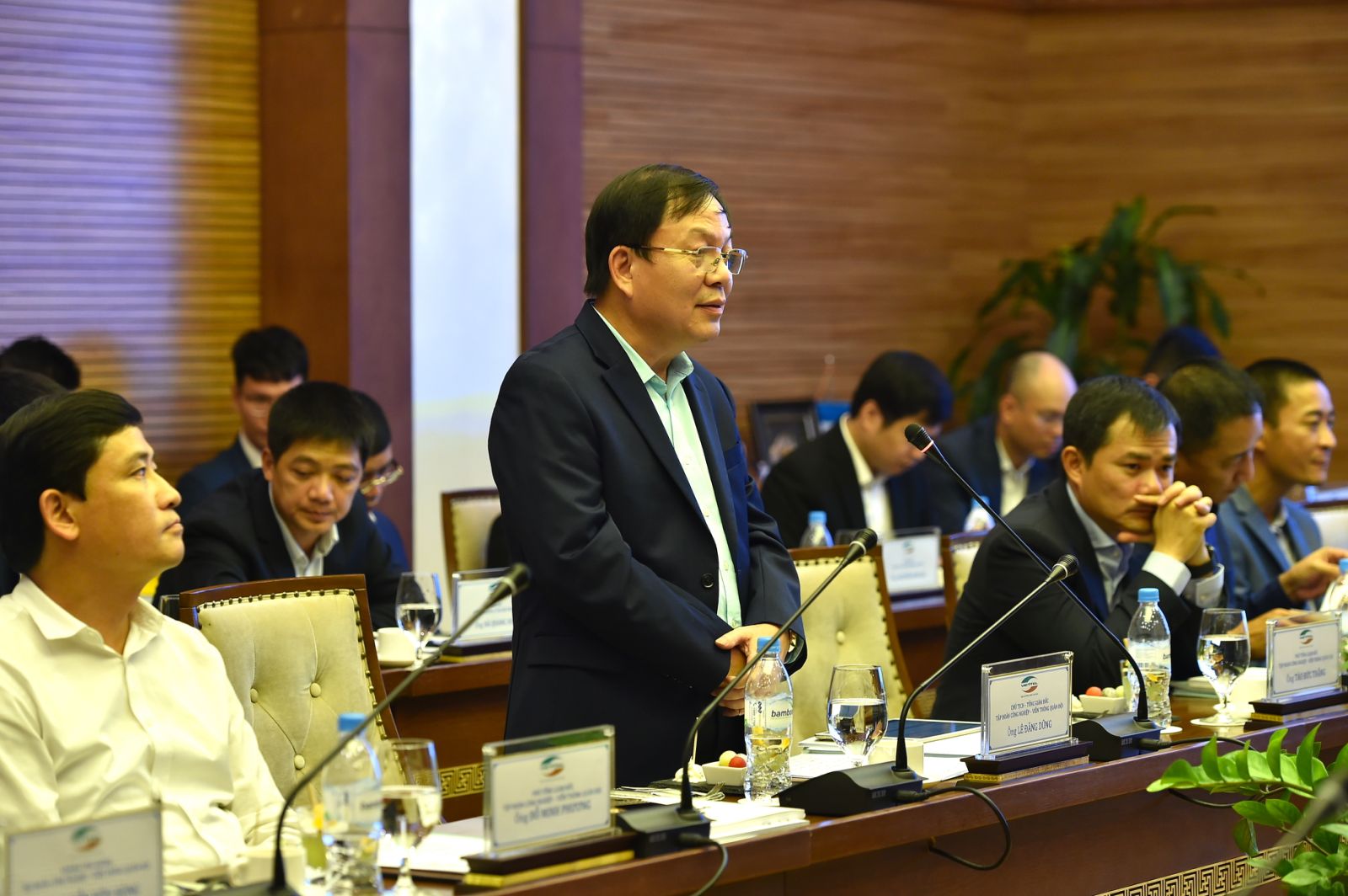 Major General Le Dang Dung – Chairman cum General Director of Viettel Group giving speech
Following the cooperation with Viettel, information security system in the real estate, tourism, hospitality, aviation and high-tech agriculture sectors of FLC Group has been guaranteed by leading experts. Accordingly, FLC Group and Viettel will carry on implementing comprehensive partnership-related matters for the term 2018 – 2022, which was agreed and signed in October 2018.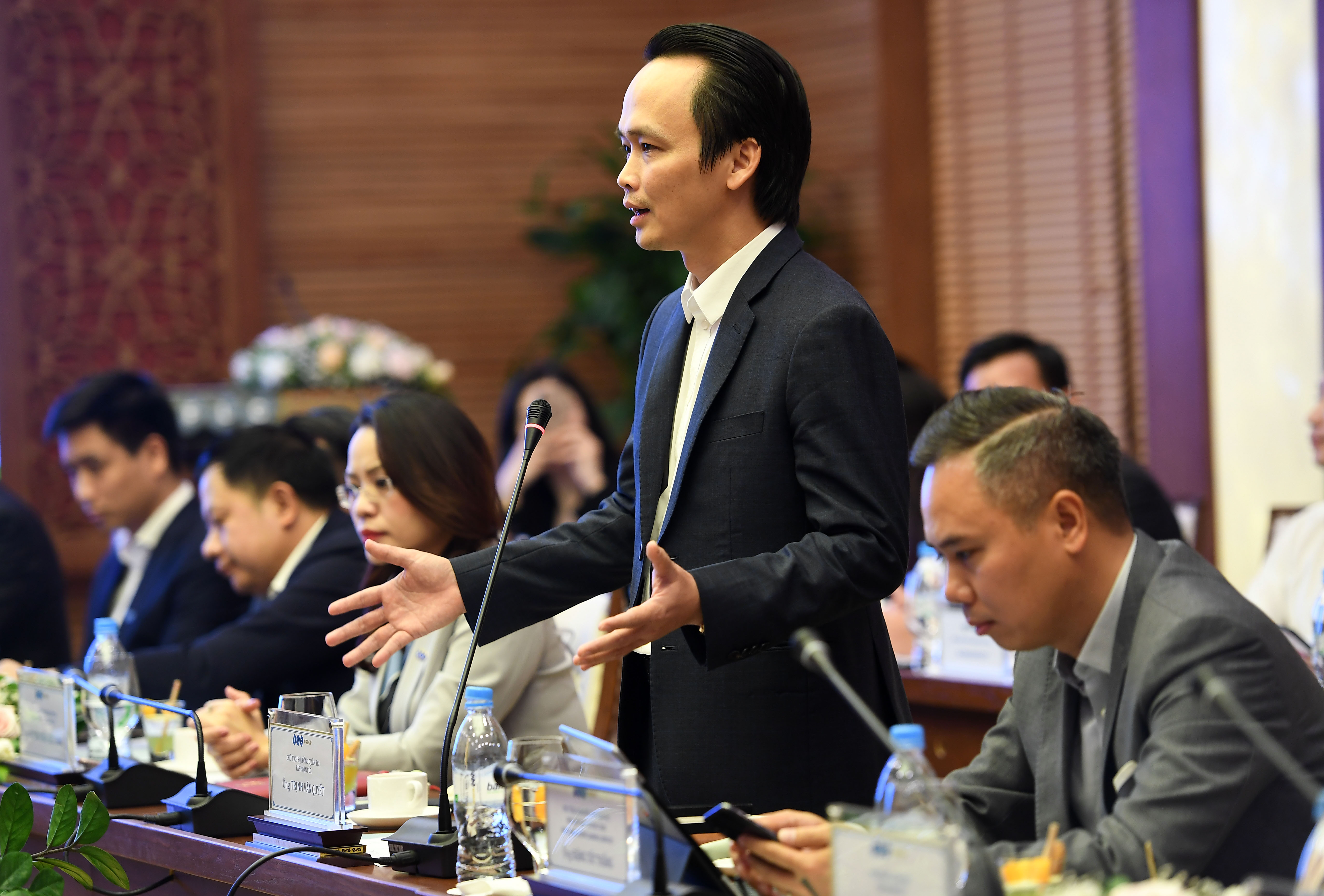 Mr. Trinh Van Quyet – Chairman of FLC Group
In details, Viettel will be accompanying with FLC Group throughout the digital transformation process in order to accommodate the customers with the most convenient experience, construct information technology and telecommunications foundation and integrate advanced, modern and efficient technologies into FLC Group and all of its member companies.
In the other way round, Viettel Group can utilize the products of FLC Group to optimize its customer experience through aviation services, hotel services, entertainment services with inclusion of golf, air ticket distribution via direct sales channels and digital channels developed and owned by Viettel.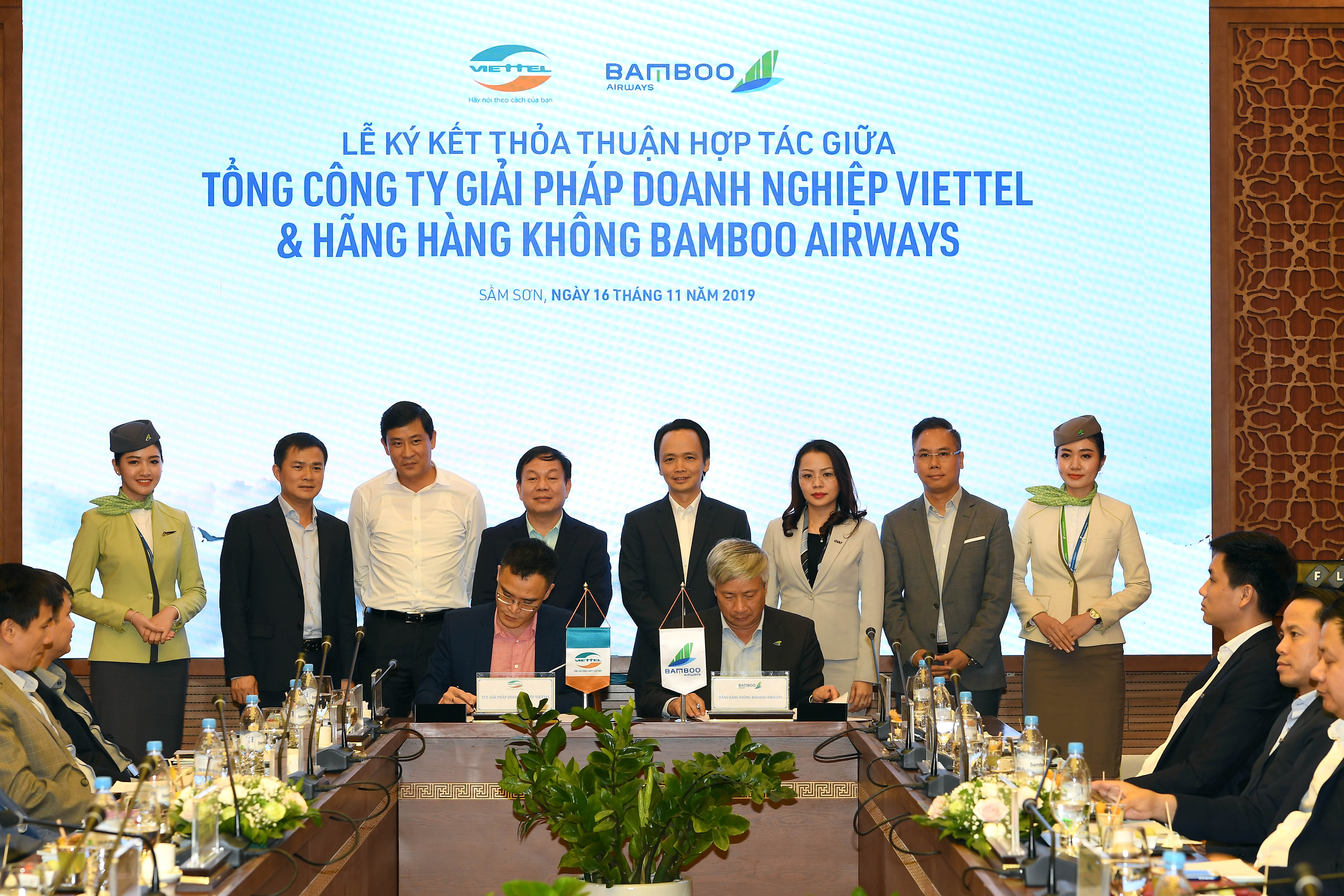 Partnership Signing Ceremony between Bamboo Airways and Viettel Solutions
At the event, the Partnership Signing Ceremony between Bamboo Airways and Viettel Solutions (VTS) also took place. In accordance with the agreement, Bamboo Airways and VTS will tackle a number of partnership-associated matters, such as developing loyalty program of the two parties, building ecosystems that enable the use of each other's services for the customers of both sides and researching and implementing wifi system in domestic and international flights.
As a 5-star oriented airline, Bamboo Airways up to now has completed 16,000 safe flights with the highest on-time performance rate in the Vietnamese aviation sector. The Airline expects to expand its fleet to 30 aircraft as early as the first quarter of 2020. These involve modern aircraft models such as Boeing 787-9 Dreamliner and the likes of Airbus A321neo and A320neo.
Background information of FLC Group
FLC Group is a multisector economic corporation that retains the most proactive and effective operation in Vietnam, with the main focus placed upon real estate investment and business, aviation, tourism services, hospitality, golf and high-tech agriculture. In addition to these core sectors, a number of extended business areas have also been receiving increasing investment from FLC Group. These encompass construction, financial investment, extraction and processing; pure water, education and health. Following the motto of pursuing sustainable development, FLC Group always aims to conquer higher targets and is a top choice of every partner and customer in both domestic and international dimensions.
Background information of Viettel
Military Industry and Telecommunications Group (Viettel) is currently an enterprise that possesses the highest brand value in Vietnam, which is priced at USD4.3 billion making itself one of the 500 most valuable brands worldwide. With a total of 11 countries across Asia, America and Africa that have been invested by Viettel, the Group possesses a market of about 330 billion people. Along with telecommunications and information technology, Viettel has also been engaged in high-tech research and development, as well as other sectors such as postal, construction, commerce, export and import and IDC.