"The socialization of investment resources has been regarded as the most effective way to develop tourism by the Government during recent years,"
That was the comment by Ms. Huong Tran Kieu Dung, Vice Chairwoman and General Director of FLC Group in a discussion on the theme "Vietnam's Tourism Sector – Capacity to Leapflog from the Efforts of Private Sector" in The Guide Awards 2019.
In the master plan on development of Vietnam's tourism by 2020, a vision to 2030 approved by Prime Minister, the role of the private sector in tourism development was strongly emphasized, with funds from this sector accounting for 90-92% of the total investment capital of VND1,931 trillion (equivalent to USD94.2 billion at 2013's exchange rate), while State budget funds accounting for 8-10%.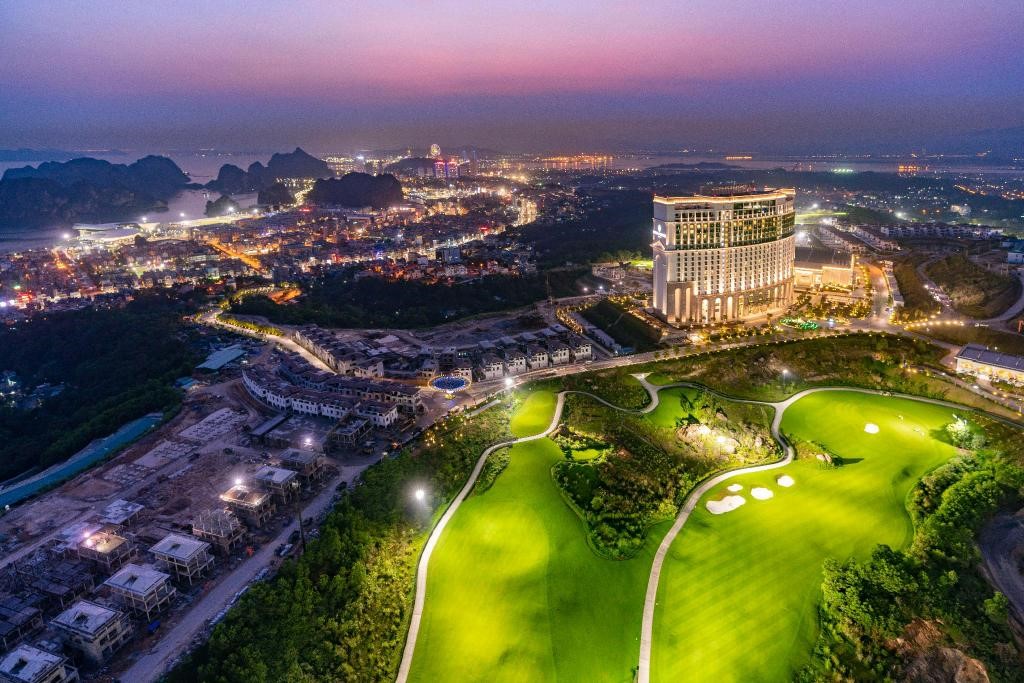 Various high-quality tourism infrastructure projects in operation are contributing to changing the face of Vietnam's tourism (Photo: FLC Ha Long)
Pioneer and dare to take risks
In 2018, regarding tourism competitiveness, Vietnam ranked 63rd among 140 countries and territories globally, jumping four places compared to the latest ranking (67th among 136 countries and territories). Vietnam also ranked 5th among ASEAN countries and 13th among 22 Asia-Pacific countries.
"Private corporations have clearly left their marks on the development of outstanding destinations in Vietnam, such as Da Nang, Nha Trang, Quang Ninh, Phu Quoc, ect," said Mr. Tran Dinh Thien Thanh, a member of the Economic Advisory Group to Prime Minister, former Director of Vietnam Institute of Economics.
"In the market, those are pioneering corporations which dare to take risks," he said.
Sharing the same view, Ms. Vu Thi Thu Thuy, Vice Chairwoman of People's Committee of Quang Ninh province affirmed significant contribution of large corporations in developing key projects such as Van Don Airport, Ha Long International Passenger Port, FLC Golf Club Halong and many 5-star hotels. It's the participation of the private sector that has helped to wakeup sleeping tourism potential of Quang Ninh.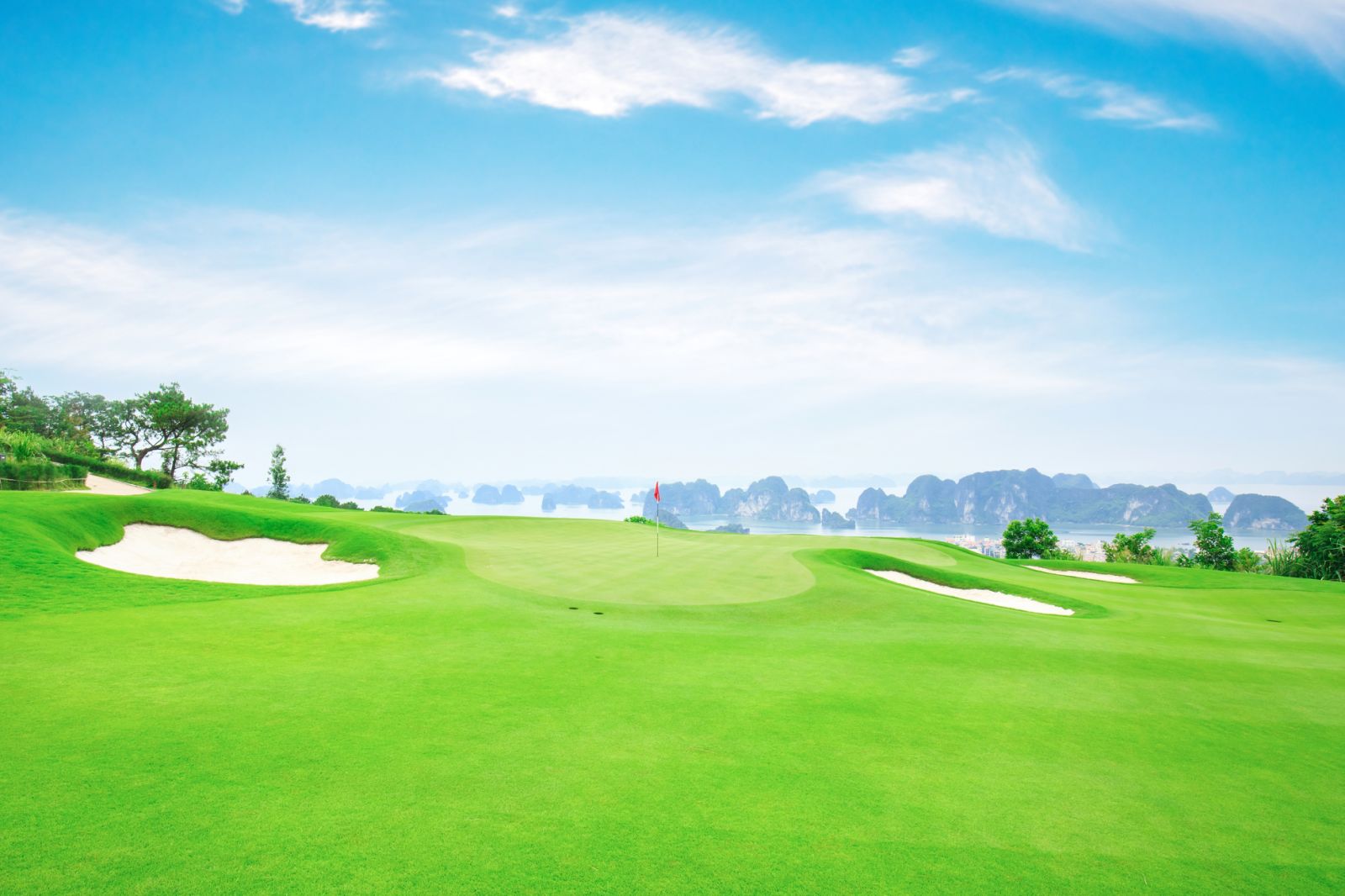 FLC Golf Club Halong
In the past, state-owned enterprises exclusively developed certain types of projects; however, private businesses have been now allowed to take part in those works with good results achieved.
Ms. Huong Tran Kieu Dung, General Director of FLC Group talked about the Group's strategy and direction in developing eco-resorts. The Group's synchronous investment strategy has helped bring out new faces to different localities.
For example, FLC Ha Long – a 5-star resort complex with full of high-class amenities emerged from a deserted wasteland with sloping terrain.
FLC Ha Long, since coming into operation at the end of 2018, has been a new tourist attraction, timely improving high-class tourism infrastructure of Quang Ninh which is still limited. The complex has been selected to host many big key events.
This proves the effectiveness of conversing unspoiled lands into attractive destinations, attracting high-class visitors to other potential places across Vietnam rather than just popular cities such as Hanoi, Ho Chi Minh City, or Da Nang.
FLC Group's projects such as FLC Ha Long have shown their observable effects. Specifically, the number of visitors to Quang Ninh reached a record of more than 12 million in 2018, and 11.3 million the first 9 months of 2019 according to local estimates, of which international arrivals were 4.2 million, contributing  VND22 trillion (USD947 million) in revenue.
Thanh Hoa and Binh Dinh, where FLC Sam Son and FLC Quy Nhon are located respectively saw 2-3 fold increase in tourist arrivals since those two complexes came to operation in 2015 and 2016.
Following the sharp growth in passengers, the number of flights to Phu Cat Airport increased from 3 to 5 flights per day before 2017 to an average of over 30 flights per day currently. In particular, Bamboo Airways is now operating 12 flights a day from other localities to Quy Nhon.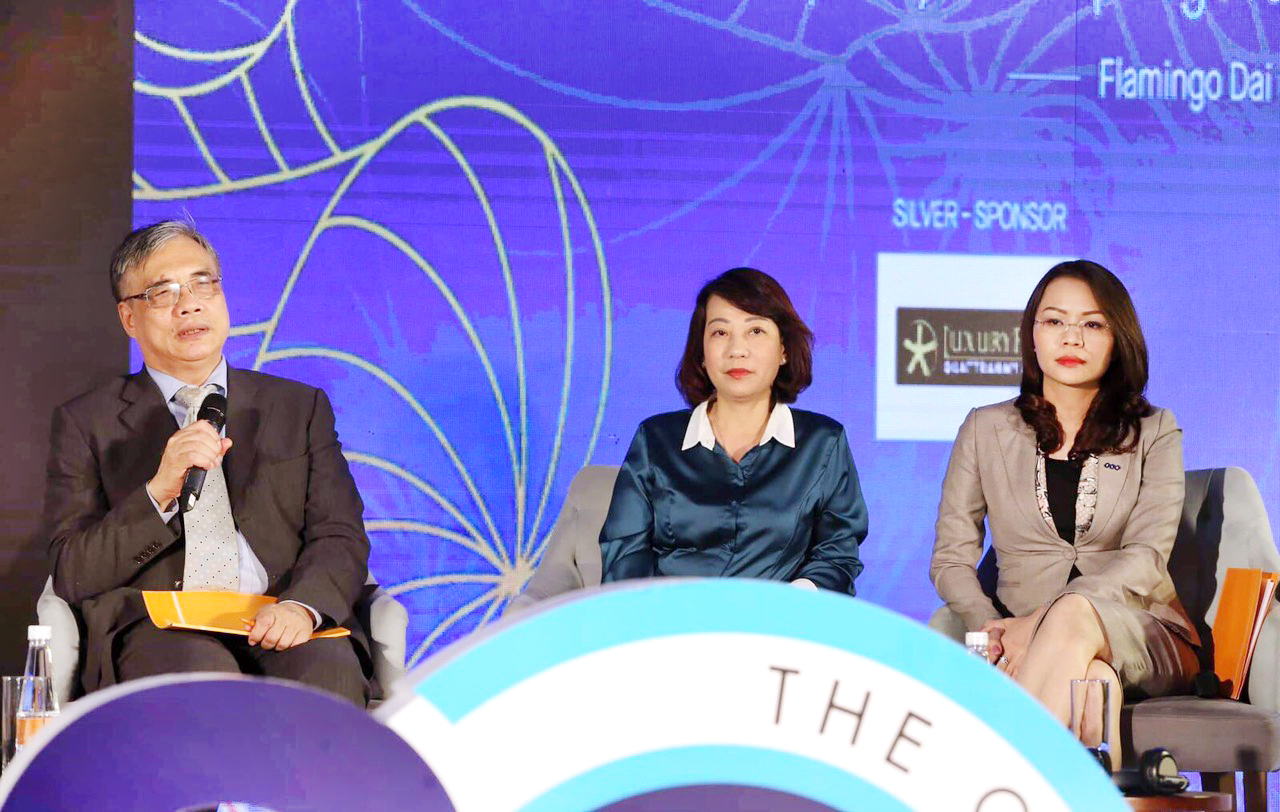 From left to right: Assoc. Dr. Tran Dinh Thien, Vice Chairwoman of People's Committee of Quang Ninh Province Vu Thi Thu Thuy and General Director of FLC Group Huong Tran Kieu Dung in a discussion in The Guide Awards 2019
Barriers still remain
One barrier in improving service quality and encouraging visitor return is limited capability of tourism human resources.
According to statistics of the General Department of Tourism, professionally trained tourism human resources in Vietnam accounts for only 43% of the total employment, andmore than half of them cannot speak foreign languages.
It is forecasted that the tourism industry will need about 1 million direct employees by 2020 and about 1.6 million by 2025. Accordingly, in the coming period, about more 100,000 trained workers are required by the market each year.
Such huge labor demand motivated FLC Group to develop FLC University commenced in August 2019 in Quang Ninh. The University will focus on three main training majors including tourism, aviation and high technology. With strict enrollment requirements and advanced teaching methods, FLC University is expected to improve workforce quality of Vietnam's tourism sector in the near future.
Additionally, there remain many barriers in developing large-scale investment projects in tourism.
"Each FLC Group'sresort project is constructed in an area of several thousand hectares; however, all procedures are required to be completed as for a small scale project. It might take 2-3 years to wait and finish all documents for some projects. Even in the Law on Investment, tourism projects are not subject to Incentive investment policies," Ms. Huong Tran Kieu Dung cited. She also suggested the Government study appropriate mechanisms, creating favourable conditions for developing high quality tourism infrastructure.
Also in The Guide Awards 2019, FLC Group was honored among Top 10 Travel Brands – Impressive Destinations. The award recognized great efforts of the private sector in Vietnam's tourism industry.