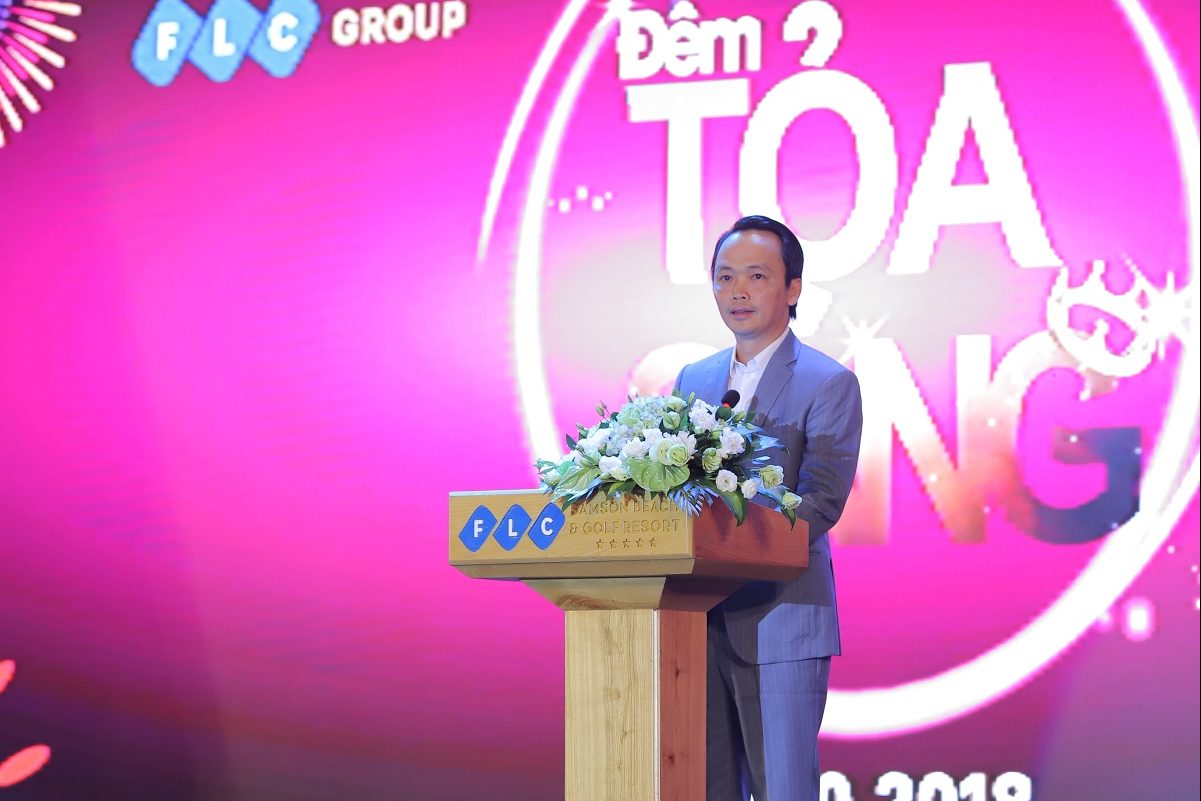 Good evening everybody – members of FLC Group,
Today, we gather here to celebrate the 17th anniversary of FLC Group.
As human beings, 17 years is not quite a long duration of time. The majority of people have just come to the stage where dreams are still being nurtured and future plans still remain as what they are.  Yet, as an ambitious enterprise like FLC Group, 17 years is sufficient for us to fulfil much more targets than those that an ordinary person can do.
Originated from a legal consultation and commercial business in a limited scale, FLC Group has strived to become one of the leading real estate brands in Vietnam, with the brand value and property increasing day by day.
There exist many contributing factors of such achievement. Among those, the most important factor is indeed you – thousands of members that have been working, dedicating and sharing mutual values which have been spread out in the development of FLC Group throughout its 17-year timeline.
Without you. FLC Group would not be able to possess a range of large-scale hospitality complexes that have left remarkable imprints on domestic and international tourism maps.
Without you, FLC Group would not be able to invest and execute nearly 200 projects, which span across many cities and provinces all over Vietnam.
Without you, FLC Group would not be able to successfully organize hundreds of launching events to establish one of the channels for effectively and sustainably mobilizing capital in support of investment activities of the Group.
Without you, FLC Group would not be well known for its "fast-paced execution" –  a word that the media has continuously used when evaluating the progress of FLC Group's projects in the recent years.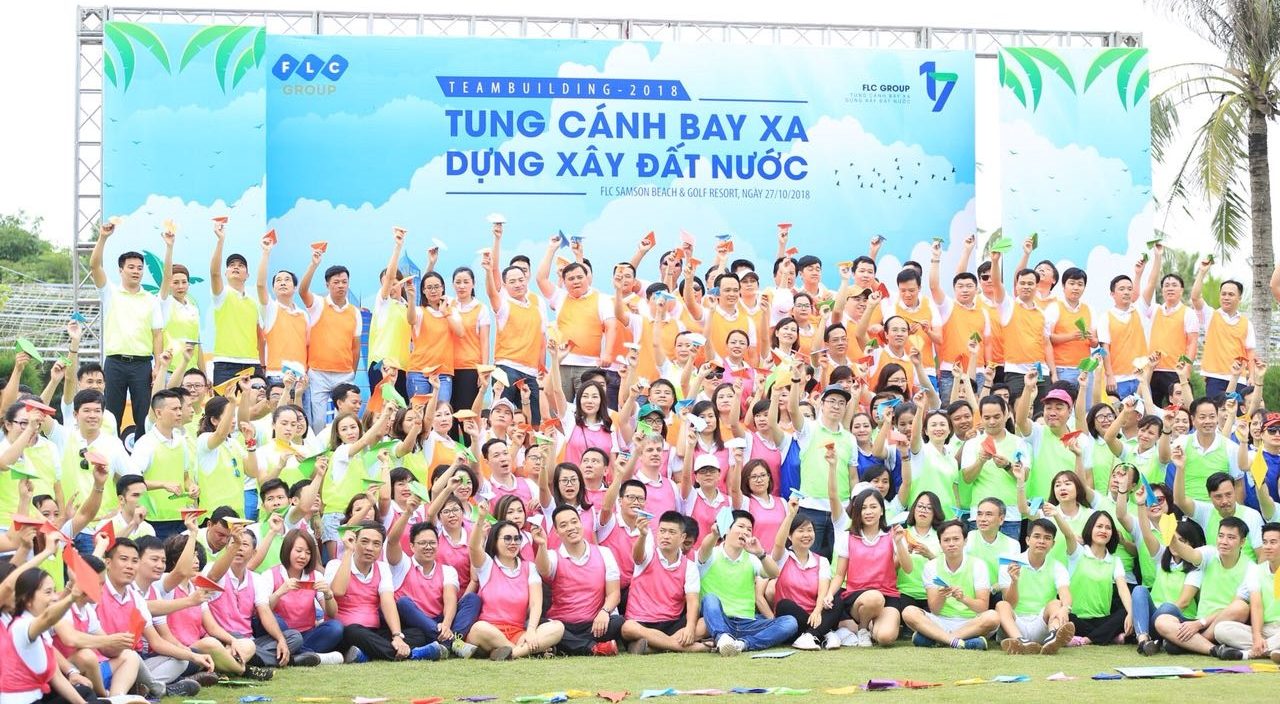 We are all aware that there would be no fast-paced execution that comes easily. Thousands of staff of FLC Group had to tackle with abundant difficulties and challenges to make FLC Group to be at where it is today. Nevertheless, such difficulties and challenges have generated special values, which I believe contributes to shape the brand as well as the pride of FLC people.
Such special values are indeed the commitment, dedication and strong desire to conquer. Above all, it is the braveness of the people that are familiar with seizing opportunities behind the challenges of the market. As soon as they find an opportunity, they fight with 200% of their power with a will and belief that nothing is impossible.
On behalf of the Board of Executives, I would like to express my gratitude to 10,000 people who currently work for FLC Group, as well as those who no longer accompany the Group but used to have great contribution to the success of FLC Group in the recent time.
I believe that the values and spirits that FLC people have nurtured and developed will be always kept in your hearts as a proud and respectful impression.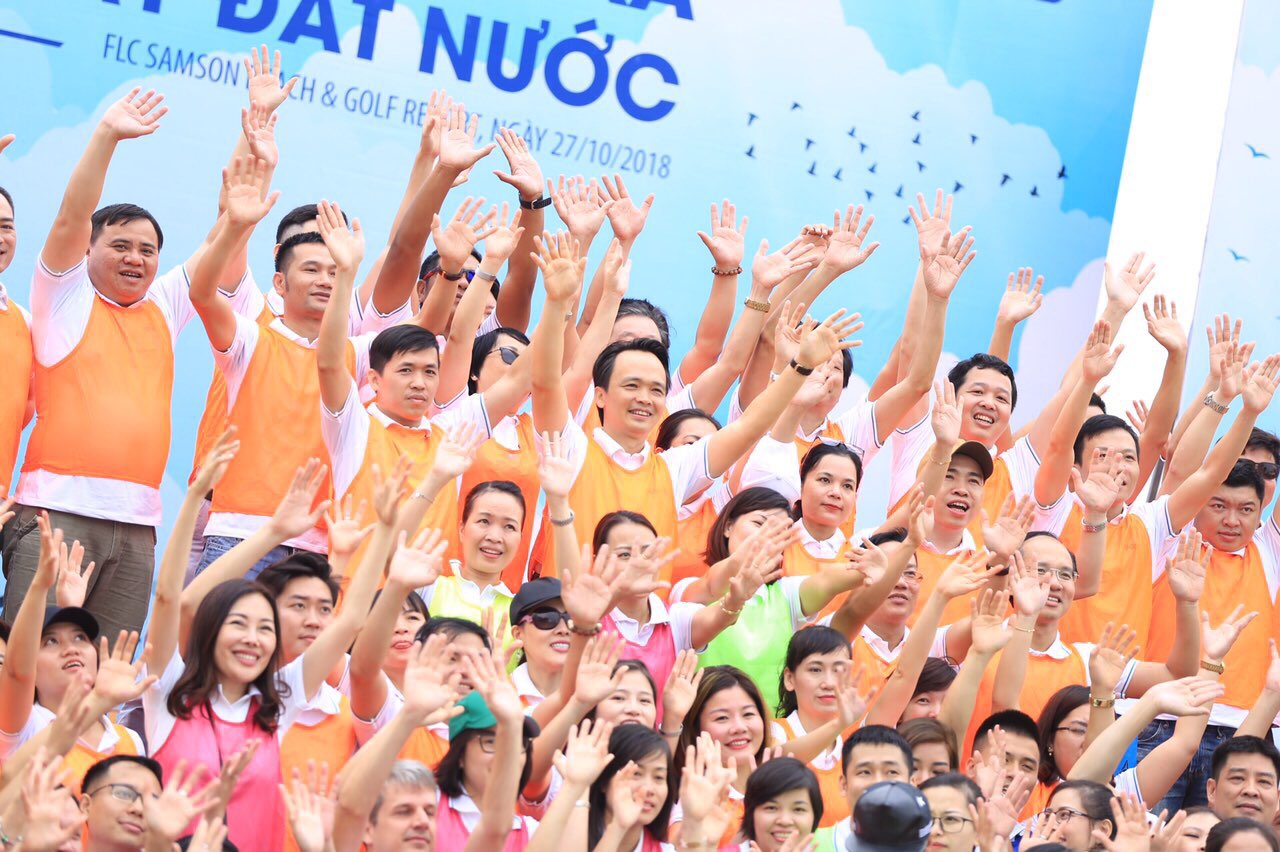 Ladies and gentlemen,
Looking back on the past, we see that we have fulfilled many great things. Yet, there still remain many greater and more challenging missions awaiting FLC people ahead.
FLC Group not only operates in its core sectors, in which we have gained quite a number of achievements in terms of hospitality real estate, but also will expand its business to many other prospective fields such as aviation and high-tech agriculture.
The products pf FLC Group will not only serve domestic customers, but also approach many international markets all over the world.
In the other words, it also means that the battle of FLC people will not be restricted in a single province or local area, but instead go beyond the border of Vietnam. The competitiveness therefore will become increasingly fierce.
In the context of the Industrial Revolution 4.0 being progressively prevailing, there will be numerous opportunities for us to approach innovative ideas, tools and equipment. A large number of lengthy and complicated procedures have been simplified thanks to the development of technology.
With a perception on the aforementioned matter in advance, the Board of Executives of FLC group has been cooperating with major partners in the field of technology with the purpose of accommodating FLC people with innovative tools to optimize the working time as well as the productivity.
However, I always think that there exists no tool that is more important than the intellect and the heart of each FLC person. If the heart can maintain a great passion, the intellect will lead the way turning such passion into reality by the most effective, creative and responsible means.
FLC Group needs and expects that every member will work with all of their intellect and hearts like that.
Only by doing so, we can continue bringing trusts to the customers and partners, creating values for ourselves and the enterprise, and simultaneously actively contribute to the sustainable development of the community.
Today success comes from yesterday effort. Future success depends on today actions. I hope that the 17-year milestone that we are celebrating today will be just the beginning of the new journeys, that
On this occasion, on behalf on the Board of Executives of FLC Group, I would like to express my gratitude to all of you for your hard work and dedication throughout the recent time.
I wish you all and your family the best of health, happiness and success. May our FLC Group strive more and more powerfully and sustainably in the future.
Finally, may all the success come to the Gala Night today.
Thank you very much.