Continuously being honored at international awards and most recently at the World Travel Awards (WTA) 2019, Vietnam tourism is reaching farther on the globe. These also open up golden opportunities for Vietnam to showcase and promote a better image to the international community.
 WTA's effects
Known as the "Oscar of the tourism industry", WTA is a prestigious event honoring the world's leading destinations, top quality travel service providers.
Among other excellent nominees, in the World Travel Awards (WTA) Asia & Oceania Gala Ceremony 2019 on October 12, Vietnam was named in four categories including: Asia's Leading Destination, Asia's Leading Cultural Destination, Asia's Leading Culinary Destination, Asia's Leading Cultural City Destination (for Hoi An).
In addition, airlines, travel agencies, amusement parks, resorts and hotels of Vietnam were also honored in national and regional categories. Most of these WTA winners are popular brands in Vietnam's tourism, such as Vietravel or FLC Hotels & Resorts with two awards which are "Asia's Leading Conference Hotel" for FLC Halong Bay Golf Club & Luxury Resort and "Vietnam's Leading Beach Resort" for FLC Quy Nhon Beach & Golf Resort.
More than one trophy, being honored at WTA in particular or at international awards in general proves that Vietnam's tourism has been adapted to the global tourism trends, or in other words, Vietnamese brands have proven their capability to perfectly meet the increasingly demanding standards of the international market.
These awards are even more meaningful when somehow helping to resolve the problem of capital limitation that Vietnamese tourism is facing. With limited funds, the question is how to effectively promote the national tourism.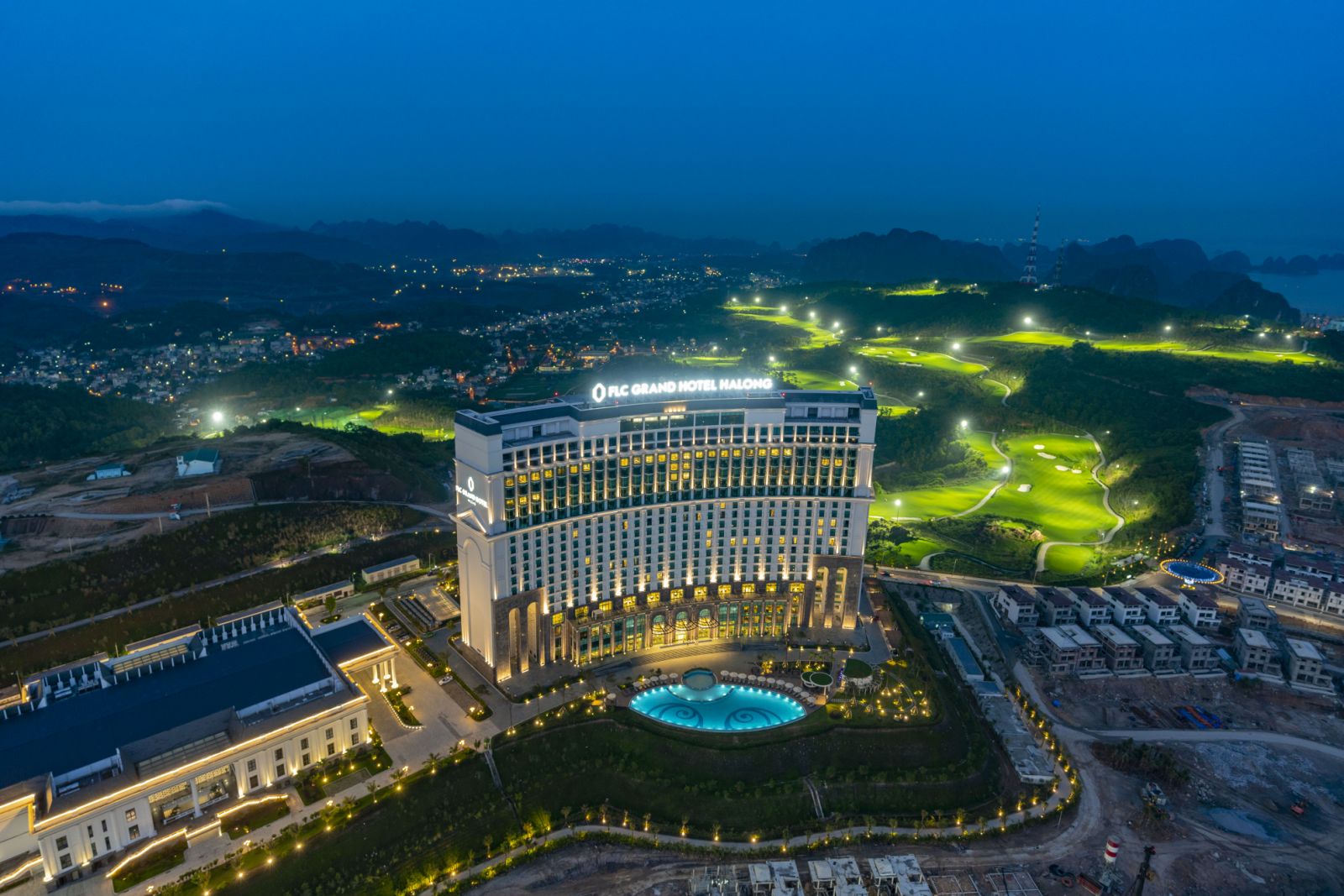 FLC Ha Long won "Asia's Leading Conference Hotel" award at WTA 2019
 Opportunities for Vietnam's tourism
While being favored with natural and cultural resources potential for developing tourism, Vietnam hasn't spent much on advertising and promoting tourism activities. According to the World Economic Forum, Vietnam ranked only 80th among 136 countries in terms of investment in tourism promotion. In 2017, Vietnam spent about USD2 million, while Thailand invested USD100 million, and other countries invested USD70-80 million on average.
Many international experts have recommended Vietnam increase this investment to about USD20-30 million. However, this modest number (compared to the international average) may still be impossible when state budget for tourism promotion in Vietnam is still limited.
"While other countries are spending hundreds of millions of dollars for advertising, Vietnam can only afford "a few million dollars". Then how to use it effectively," asked Deputy Prime Minister Vo Duc Dam. He also affirmed there was no other way than to prioritize quality, to motivate tourists to spend more; and then to use information technology in promotion.
In this context, being honored in international awards can be considered a golden opportunity to promote Vietnam's tourism to the global community without depending much on the state budget.
"In many localities, we can see some corporations acting as "tourism ambassadors". They actively participate in promoting local tourism to domestic and foreign markets, as well as stimulating tourism demand and development," said a representative of FLC Hotels & Resorts.
This representative also stressed the world's coveted prizes international awards are now considered as a reliable indicator of guarantee when evaluating a destination or a brand. Winning those global awards or having names in the world's rankings is one of the effective ways to present good impression to visitors who are searching for Vietnam.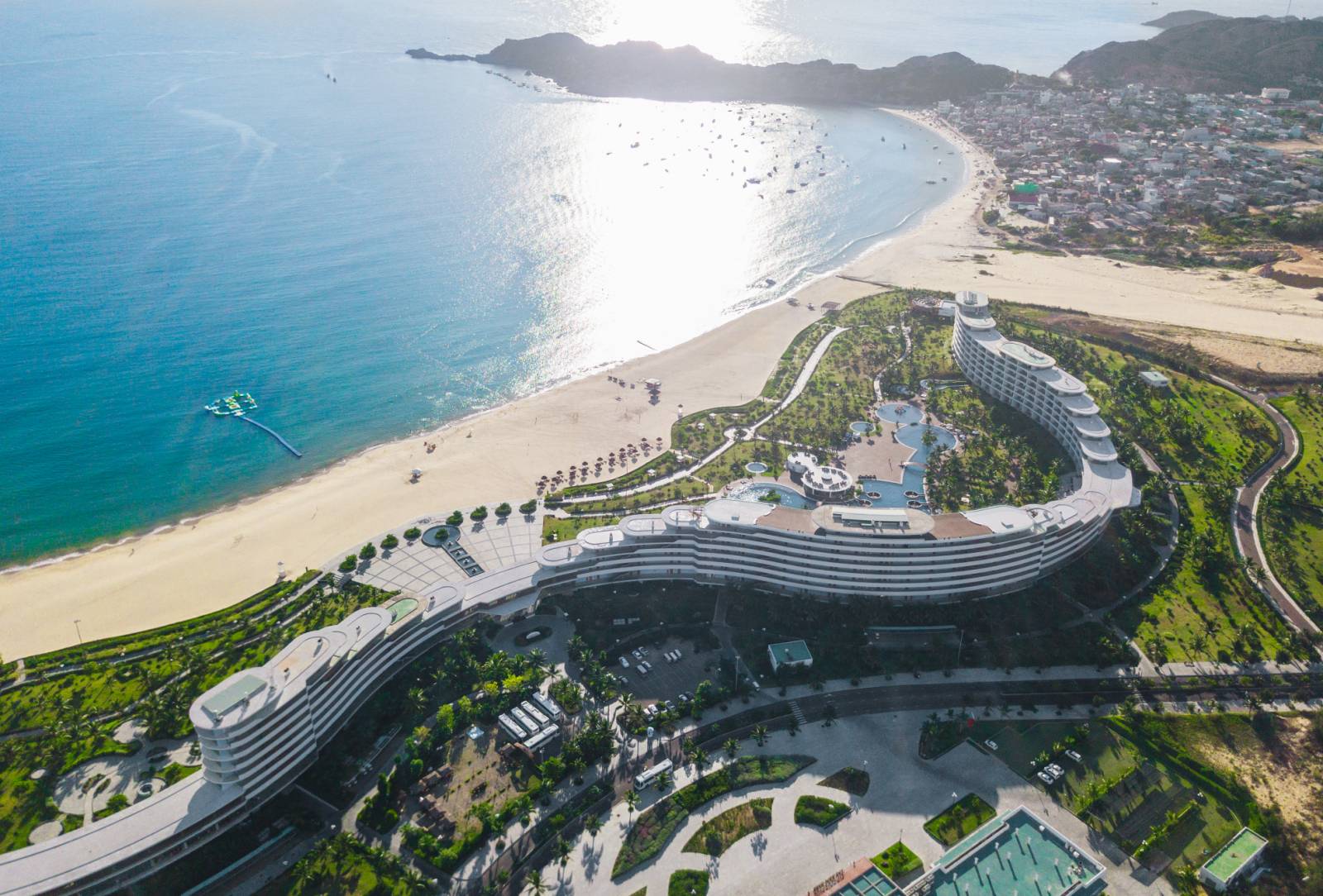 "Vietnam's Leading Beach Resort" FLC Quy Nhon is located along one of the most beautiful beaches in the South Central region
However, it's not enough to develop and promote the national tourism by just prizes or awards. A prestigious award may help to attract more visitors; however, to boost the retention rate, there must be more practical experiences provided.
"In the case of FLC Hotels & Resorts, we are developing all-inclusive resort complexes for various segments such as golf tourism, resort tourism, MICE tourism, etc., combining with cultural identities to diversify experiences for visitors. In particular, FLC Ha Long possesses the most impressive panoramic sea view in Vietnam and a golf course which is on par with beautiful golf courses of Monaco. Meanwhile FLC Quy Nhon is known for a 5-star hotel stretching over nearly 1km along the beautiful Nhon Ly beach.
However, those all advantages are not enough. There are still a lot of other factors such as space, landscapes, F&B and entertainment services, etc. Accordingly, visitors can fully experience the attraction of each destination," said the representative of FLC Hotels & Resorts. Therefore, the problem of promoting tourism in Vietnam is not a limited budget, or how to effectively use a few million USD. Ultimately, it's a story about the quality of infrastructure and services as well as corporate investment orientation in long term.