In the morning on March 4th 2019, the biggest amateur golf tournament in Vietnam – FLC Golf Championship 2019 commenced in a very exciting atmosphere at FLC Quy Nhon Golf Links with the participation of over 2000 domestic and international golfers.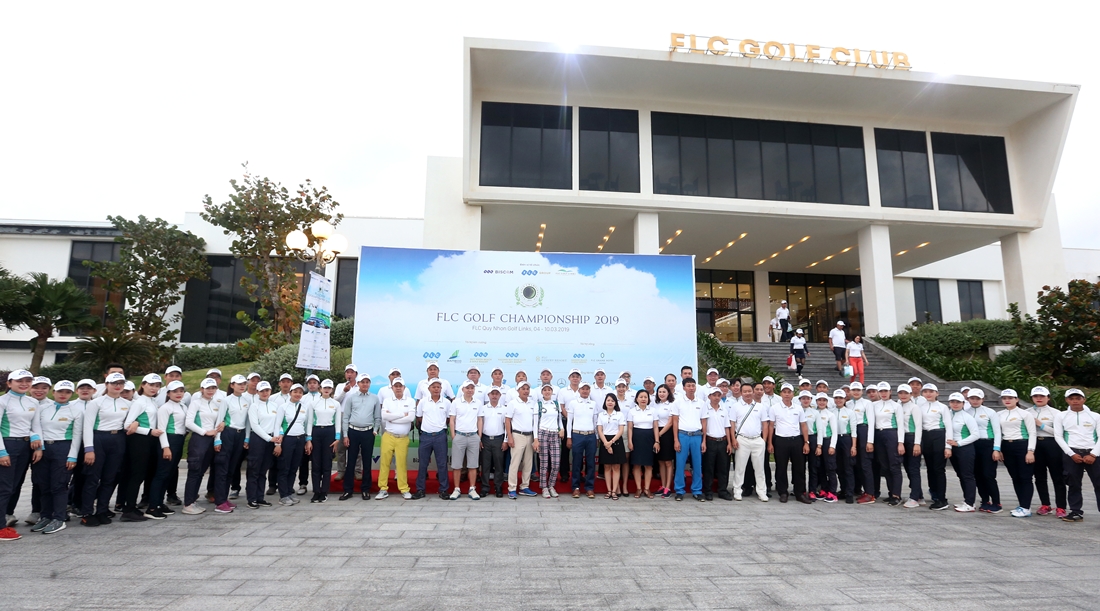 Golfers ready to compete at FLC Golf Championship 2019
2000 golfers competing for rewards worth VND-100 billion
Speaking at the Open Ceremony, Mr. Dao Nam Phong – Deputy General Director of FLC Group said: "In the purpose of creating a major and reputable playground for the golfers and accordingly contributing to foster the development of Vietnamese golf movement, FLC Golf Championship has been improved every single year in terms of both scale and reward value.
We hope that the tournament will be an opportunity for us – golf lovers all over Vietnam and the world to socialize, learn from each other, establish new relationships and reinforce existing ones."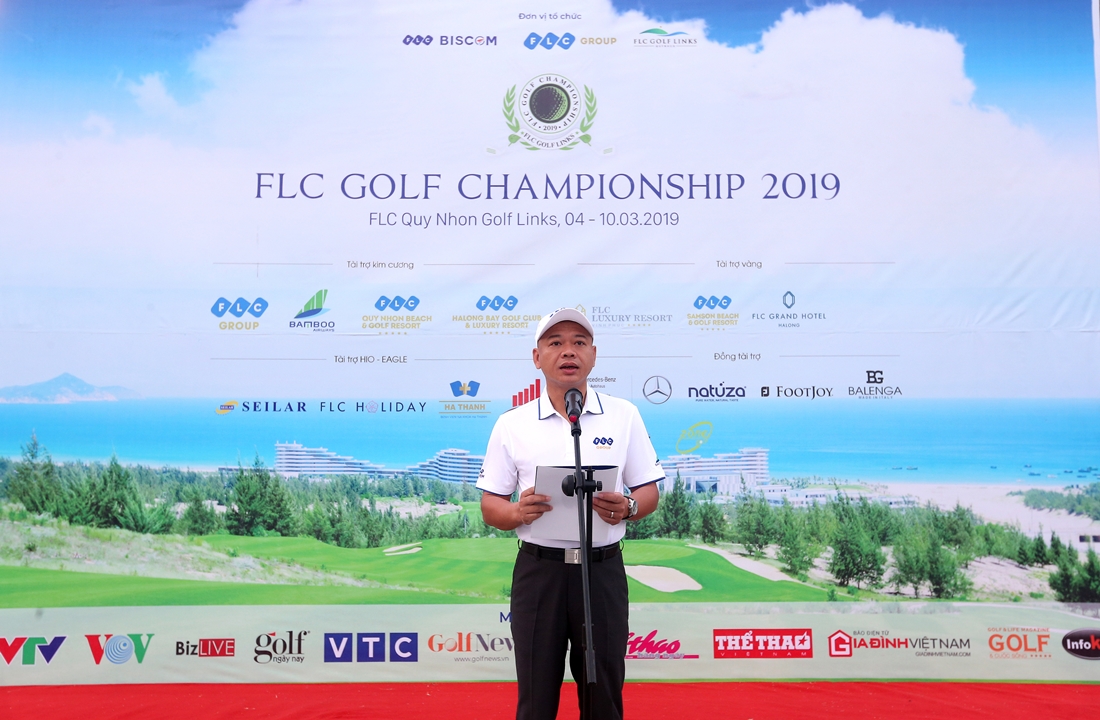 Mr. Dao Nam Phong – Deputy General Director of FLC Group giving speech at the Open Ceremony
According to the presentative of the Organizing Committee, the tournament had witnessed the attendance of many famous golfers in Vietnam. Among those, there were over 80 golfers from Vietnam Single Handicap Golf Club, which is sponsored by FLC Group and designated for high-class players with Handicap index of 9.0 or below. The participation of such advanced golfers had made the tournament much more exciting and challenging.
The tournament is divided into 04 tables, 03 of those are allocated for men and the other is for female golfers.
FLC Golf Championship 2019 is the most reputable annual golf tournament in a series of golf competitions organized by FLC Group in collaboration with FLC Biscom. The ultimate purpose of these golf competitions is to express the gratitude to the customers, partners and investors. Taking place from 4th to 10th March 2019 with the total value of massive reward exceeding VND-100 billion (approximately USD 4.3 million) and record number of participants, FLC Golf Championship 2019 has been recognized as the biggest amateur golf tournament ever in Vietnam.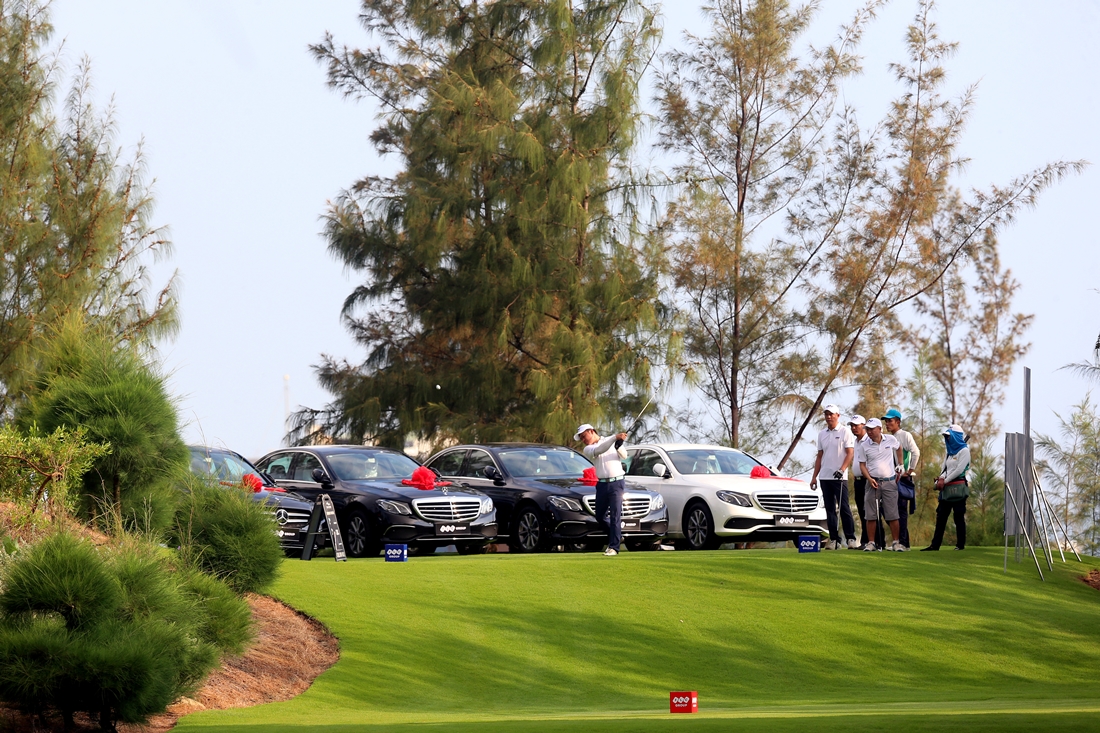 The tournament has massive HIO rewards encompassing 16 Mercedes C200 cars together with many other fascinating presents
Apart from HIO rewards that involve 16 luxury cars, the golfers also have an opportunity to receive VIP member cards allocated for golf courses in FLC system, hospitality vouchers at resort complexes of FLC Group, as well as many other valuable presents.
Especially, each golfer that seizes Hole-in-one reward will be entitled to the receipt of 4 Mercedes cars together with a range of other enjoyable presents.
Flying – Playing Golf – Receiving All-inclusive Hospitality Package
Differing from the 7 previous tournaments, FLC Golf Championship 2019 allows the tournament registration to be made via mobile phone application – FLC Biscom Group, which creates more flexibility for the golfers to register and make payment at their own convenience. Besides, this is also a pioneer tournament in terms of providing all-inclusive service in Vietnam. Such service involves flying – playing golf – enjoying hospitality – hunting for massive HIO.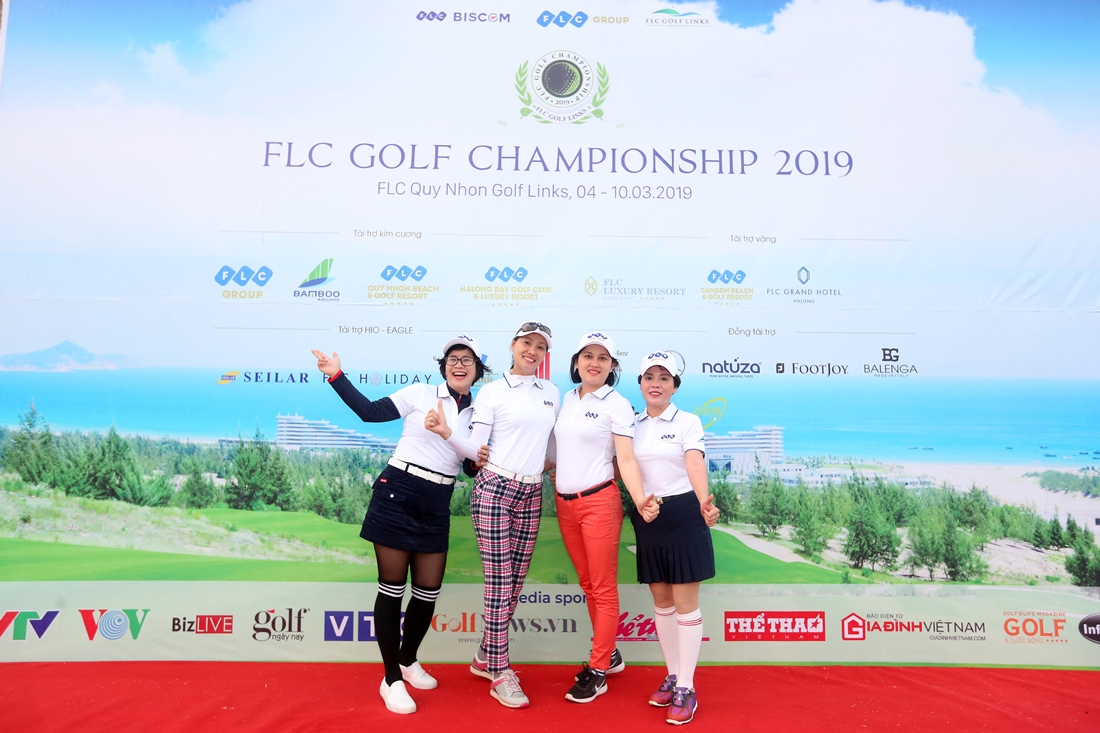 The golfers had enjoyed interesting experience with Bamboo Airways – the Airline of FLC Group
A representative of Bamboo Airways – flight provider of the tournament indicated: "Due to the significant rise in the number of golfers, we had to increase returned flights on the routes from Hanoi or Ho Chi Minh city to Quy Nhon, or from Hanoi to Ho Chi Minh city in order to meet the transport demand of the tournament.
The integration of large and reputable tournaments organized in a professional manner into the world-class golf courses has been implemented by FLC Group across many cities and provinces in Vietnam. This, together with high-quality aviation service is one of the targets to which Bamboo Airways has been orientating itself since its establishment. This has been partially done via flight routes that connect major cities and popular tourism destinations in Vietnam".
FLC Group registering strategic partnership with VGA
As part of the tournament's agenda, this morning FLC Quy Nhon Golf Links witnessed the Strategic Partnership Signing Ceremony between Vietnam Golf Association (VGA) and FLC Group with the intention of tightening the connectivity between the business and appropriate authorities. The ultimate purpose is to lift the standing of Vietnamese golf to a new level.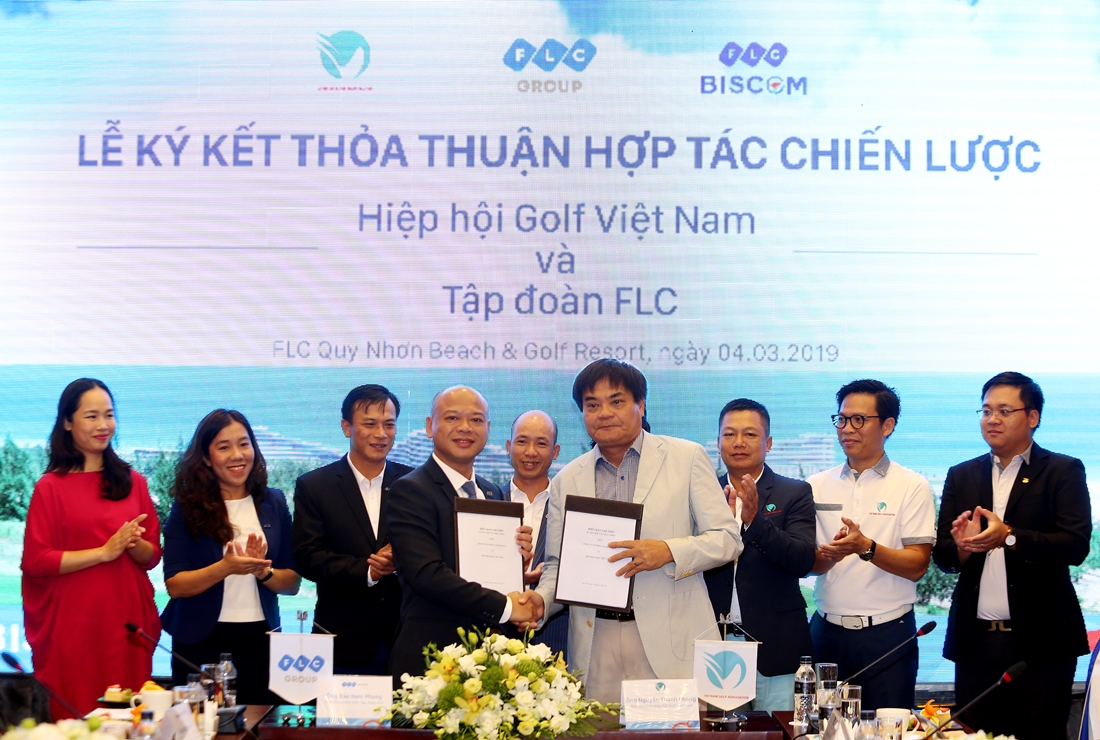 Representatives of VGA and FLC Group signing the strategic partnership agreement
Accordingly, FLC Group pledges to be a pioneer in assisting in fostering golf movements and simultaneously accompanying with activities and events organized by VGA in support of the development of Vietnamese golf. By doing so, the role and standing of VGA in both national and international dimensions will be further recognized and improved.
Along with that, VGA will patronize golf activities of FLC Group, FLC Biscom as well as other member companies with regards to expert matters in organizing competitions and setting up a roadmap for major tournaments, such as youth tournament, amateur tournament and professional tournament. One of the tournaments that VGA and FLC Group collaborate to organize in the upcoming time is Bamboo Airways Open 2019, which will take place along with Asian Tour in Quarter 3 of 2019 at FLC Quy Nhon.
Mr. Nhu Van Hoan – General Director of FLC Biscom said: "Since the date of establishment, FLC Group has always paid attention to developing golf in both professional and amateur tiers. In each tier, we have distinctive approach.
Following the strategic partnership with VGA, we highly expect to finalize the golf tournament ecosystem of the Group in particular and Vietnam in general, creating the most professional playground for the golf lovers in Vietnam. Correspondingly, the standing of Vietnam will be improved on the regional and international tourism maps, contributing to the general development of the national tourism.
FLC Biscom Golf is a technological application, which can be installed via Google Play or App Store, to facilitate golfers to book tee-time and make online payment on mobile devices for all the golf courses that are under the management of FLC Biscom.

From now to March 31st 2019, FLC Biscom will kick off promotion program called "Tet FLC Biscom", which involved the price of VND-599,000 (USD 25.79) per 18 holes including the fee for attached services such as pitch, caddie and golf buggy. This special offer is designated for the first-time booking via FLC Biscom Golf.