"The Grand Opening of FLC Ha Long once again affirms the commitment of FLC Group in terms of strategic orientation in the investment of high-class tourism products. The born of FLC Ha Long adjacent to the World's Natural Heritage – Ha Long Bay has made the tourism of Quang Ninh province in particular and Vietnam in general become more attractive", said Deputy Director General of Vietnam General Department of Tourism – Mr Ngo Hoai Chung at Opening Ceremony of FLC Hạ Long Bay Golf Club and Luxury Resort on December 15th, 2018.
The Grand Opening Ceremony witnessed the attendance of senior officers from central and local ministries, departments as well as leaders of over 40 cities and provinces all over Vietnam.
Over 1,000 guests had been through beautiful moments enjoying exciting art performances with the participation of many famous artists. The spotlight lies with the magnificent firework display, which lasted for 15 minutes at FLC Grand Hotel Ha Long.
Throughout the harmonious combination of sound and light of the fireworks in the night sky, the program had enabled the audiences to enjoy the beauty of the Wonder of the World in a new way.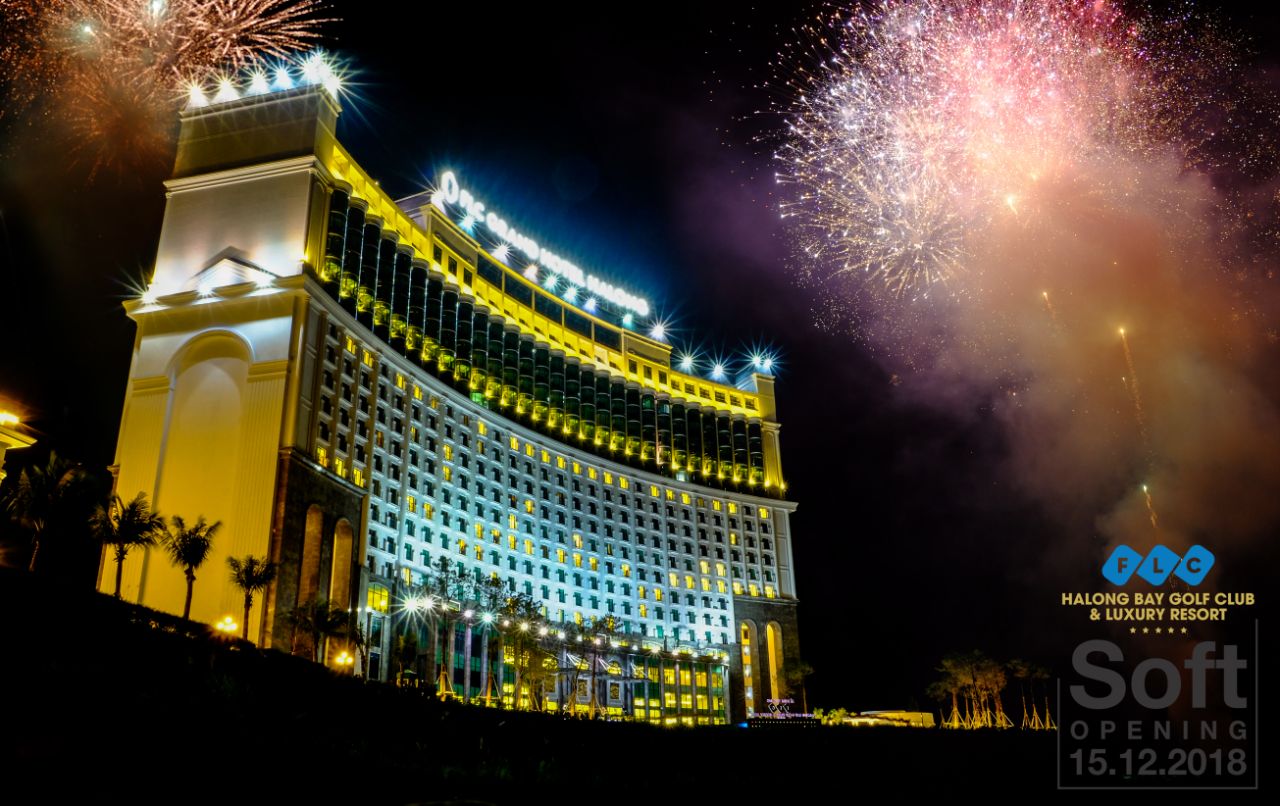 Firework display at the Opening Ceremony of FLC Ha Long
 Motivation for developing regional tourism
Speaking at the event, Mr. Ngo Hoai Chung specified FLC Group as a strategic investor which has strong potential and prestige demonstrated through large and distinctive tourism products that have substantially contributed to the Vietnamese tourism.
"Hotels, resorts and golf courses invested by FLC Group are not only high-quality and beyond the visitors' expectation but also a motivation for fostering the development of tourism services of the entire region. Moreover, FLC Group has shown attention in building the culture and civilization of tourism in the purpose of lifting up the standing of Vietnamese tourism in the global dimension".
"As such, the appearance of FLC ha Long will contribute to improve the capacity and quality of tourism services of Quang Ninh in particular and Vietnam in general", said Mr. Ngo Hoai Chung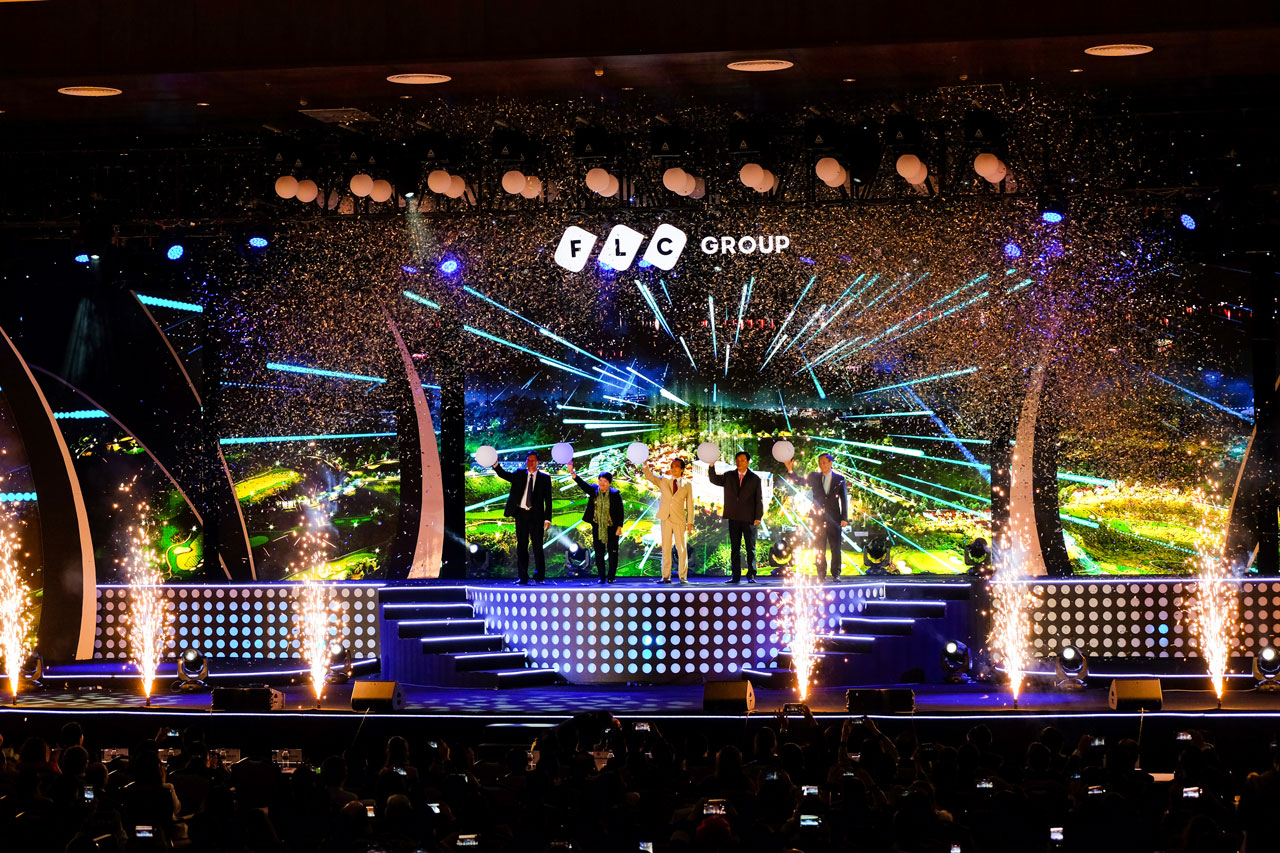 Central and local senior officers and FLC Group carrying out Opening Ceremony of FLC Ha Long
Following the opening of FLC Ha Long, the complex will welcome thousands of visitors participating in many important events such as: Closing Ceremony of National Tourism Year 2018, ASEAN Tourism Forum 2019 (ATF 2019) and Travex Fair. All of these will take place during January 2019.
"The selection of FLC Ha Long as a venue for such major events demonstrated the belief of Vietnamese tourism sector in Quang Ninh province as well as the reputation of FLC Group", affirmed Deputy Director General of General Department of Tourism.
"When there was still absence of a very important amenity – a conference centre, we turned up and developed 1,500-seat FLC Ha Long International Convention Centre.Ha Long used to lacke a golf course. Now it has been already accommodated with FLC ha Long Golf Course", said by Mr. Nguyen Duc Long – President of Quang Ninh People's Committee. Such words of his were expressed in the pride and happiness as Ha Long has now had another construction that meet high-class tourism demand of Quang Ninh.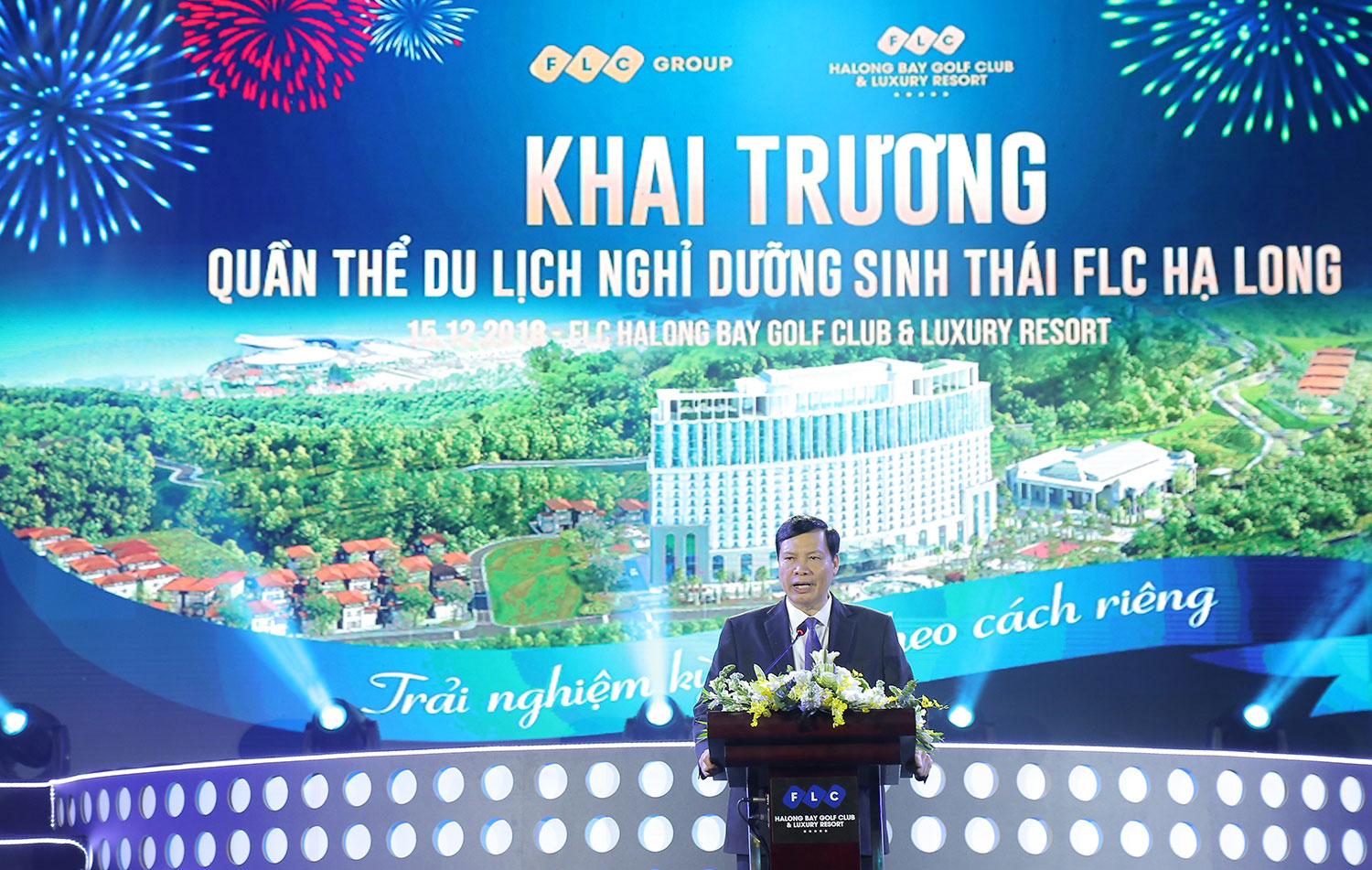 Mr. Nguyen Duc Long – President of Quang Ninh People's Committee
 Masterpiece construction in middle of wonder
Recalling the first days visiting the site for survey purpose, Mr. Trinh Van Quyet – Chairman of FLC group described the aerial view of Ha Long Bay as a magnificent scene that millions of tourists would dream to see once in the lifetime.
"Such stunning scene made us realize that this is an opportunity and also one of the major challenges with which FLC Group must tackle to create an outstanding and distinctive construction –  a masterpiece in the middle of the world wonder".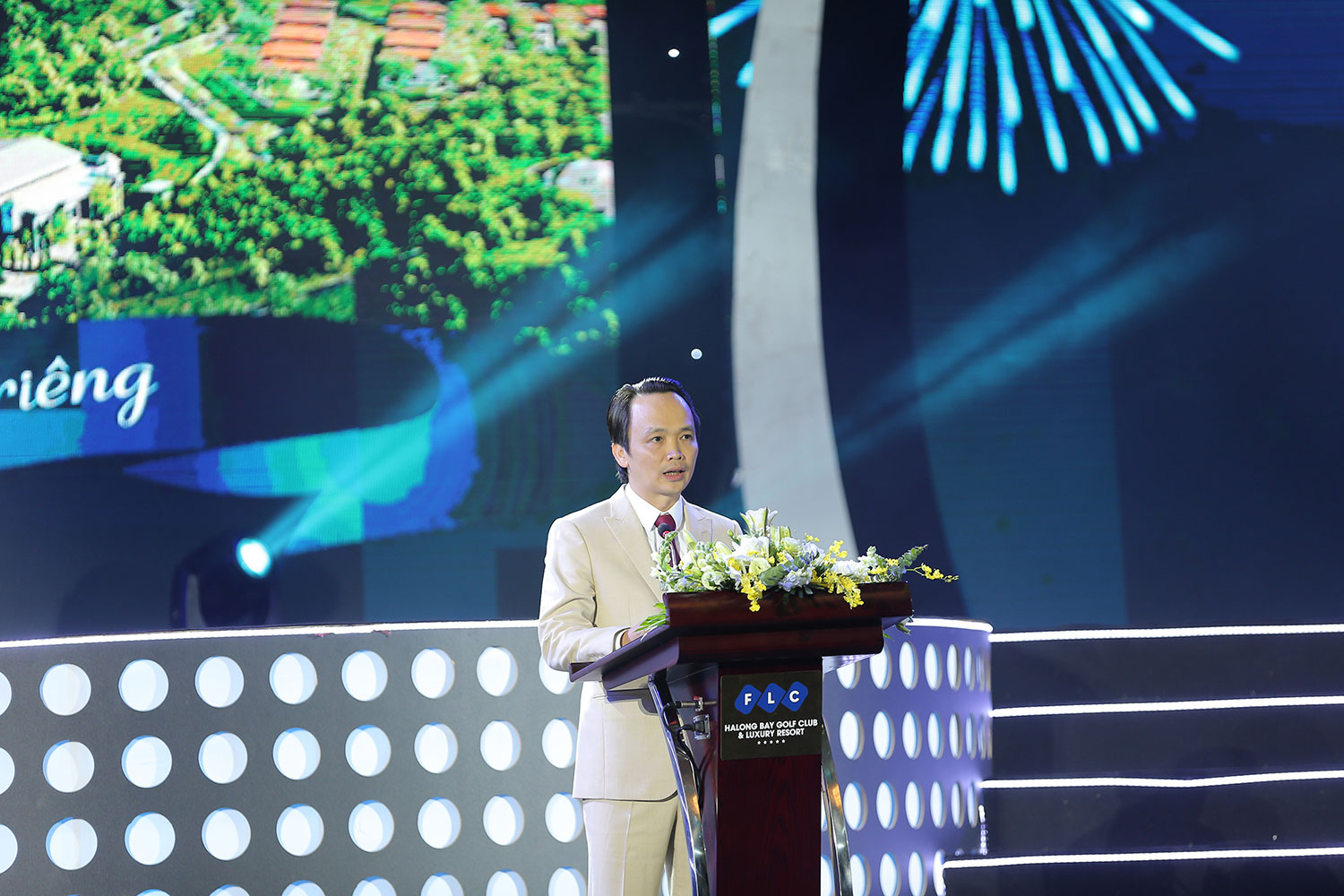 Mr. Trinh Van Quyet – Chairman of FLC Group
This is the continuation of the projects that FLC has built on complex types of terrain such as wetland area in Sam Son, deserted sand area in Quy Nhon and semi-deserted sand area in Quang Binh. With regards to FLC Ha Long, the challenge for the construction lies with its position being in complex hill terrain, constituted from layers of stone and coal underneath. During the executing process, appropriate construction method with inclusion of solutions for landslide and erosion prevention had been thoroughly considered in order to minimize potential impacts upon the neighboring community.
FLC Ha Long is one of a few hospitality projects possessing ideal position: it is situated on top of the high hill with its rear side facing the mountain and the front side embracing the panoramic view of the sea. The visitors can benefit the scene of the wonder or Ha Long city in their entirety from any position in the project.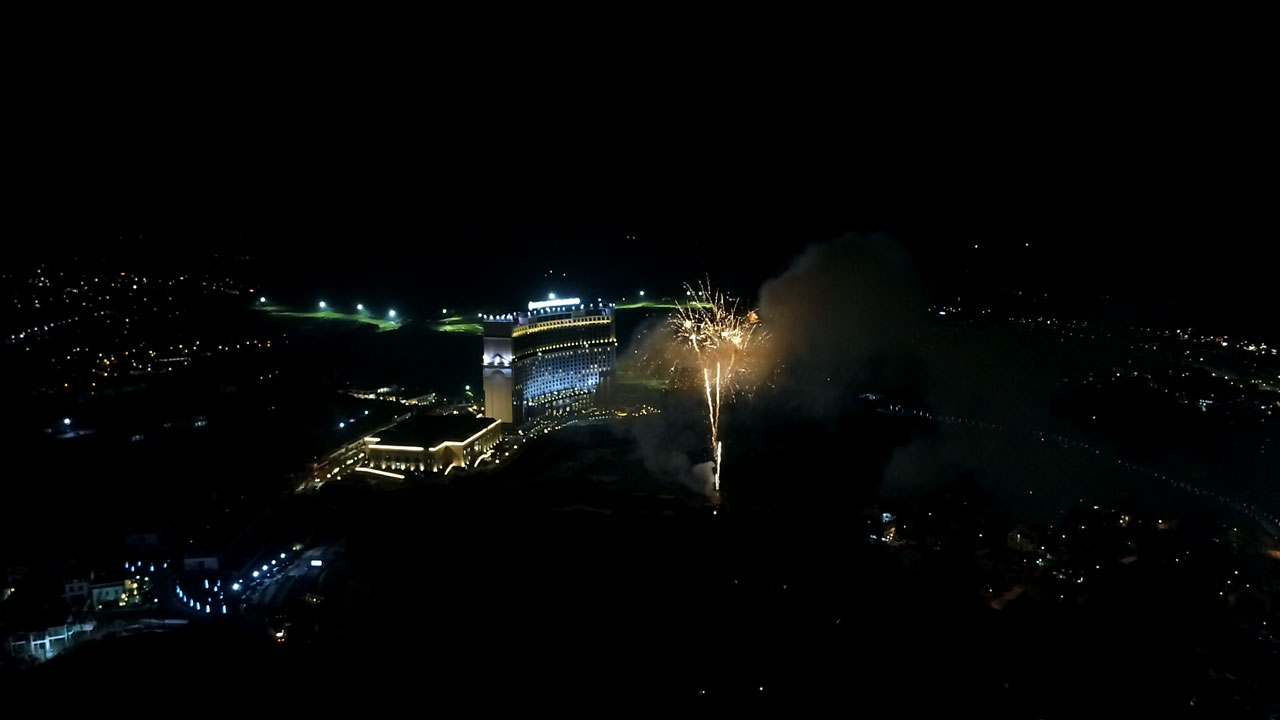 FLC Ha Long possessing extremely stunning view towards the Natural Wonder of the World
With a total area of nearly 200ha and total investment capital of nearly VND10,000 billion (over USD429 million), the project encompasses over 30 world-class sections with inclusion of 649 hotel rooms, which can accommodate over 1,500 visitors, over 300 European-style villas, an international convention centre, a golf course, Club house and infinity swimming pool.
In 2018, Quang Ninh had received plenty of good news. For the first time, Quang Ninh had welcomed over 10 million visitors with therein over 5 million international tourists. The year 2018 was also the first time a number of major infrastructure constructions were completed at once. These include van Don International Airport, Ha Long International Harbor and Ha Long – Van Don highway. Their completion had created motivation for the economic development of one of the three primary economic areas in the Northern region.
In this context, the presence of world-class resort complexes like FLC Ha Long or Bamboo Airways' newly operated routes to Van Don Airport in the coming time will contribute to form high-end tourism infrastructure. This is not only to help businesses to make their marks, but also to enhance the attractiveness of Quang Ninh's tourism. The ultimate purpose is explicit: making Ha Long become a destination that is worthy of its current precious potential.