On May 20, FLC Group held "FLC International Fishing Competition 2019" at FLC Samson (Thanh Hoa) with the participation of more than 200 domestic and international anglers.
 Most of competitors come from famous fishing clubs in Korea, Malaysia, China, etc. and from Vietnamese provinces such as Thanh Hoa, Hanoi, Hai Duong, Hung Yen, Nam Dinh, etc. Especially, various professional anglers have joined the Competition in many seasons.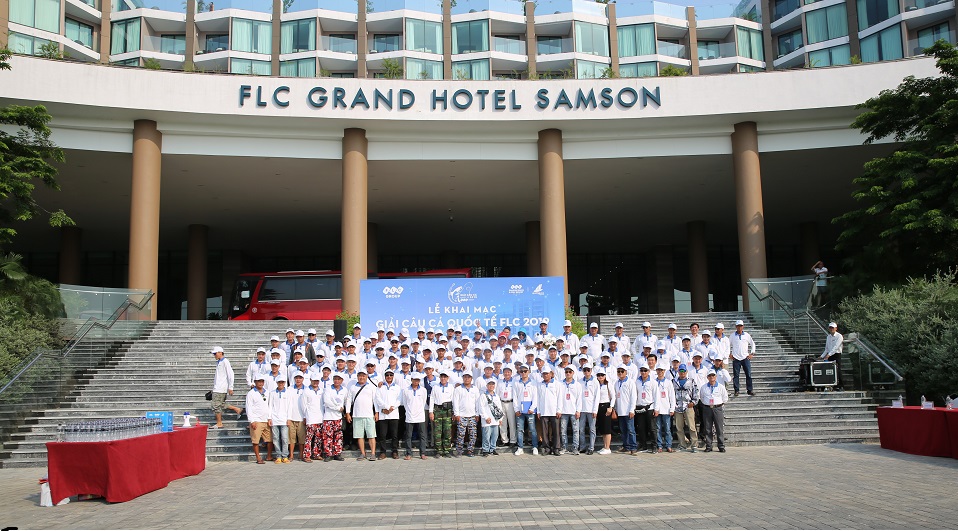 More than 200 participants joined the Competition at FLC Samson
After the Opening Ceremony, the Competition officially started with great concentration of anglers. The scoring was based on fishing outputs. Accordingly, players used their own tips to get as much fish as possible in the fastest time.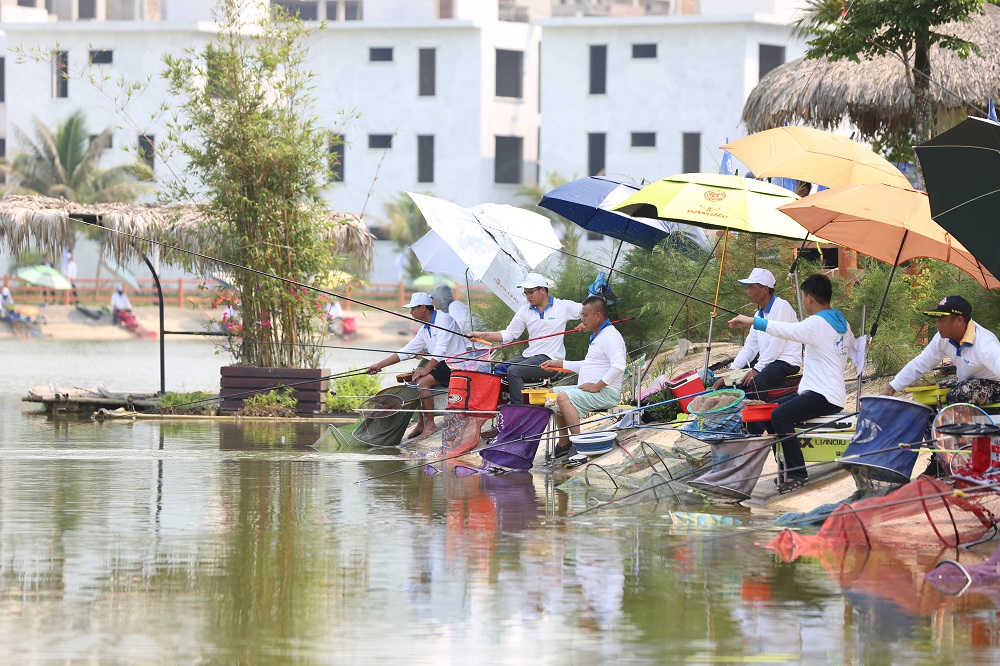 Participants competed in a lake of 40ha inside FLC Grand Hotel Samson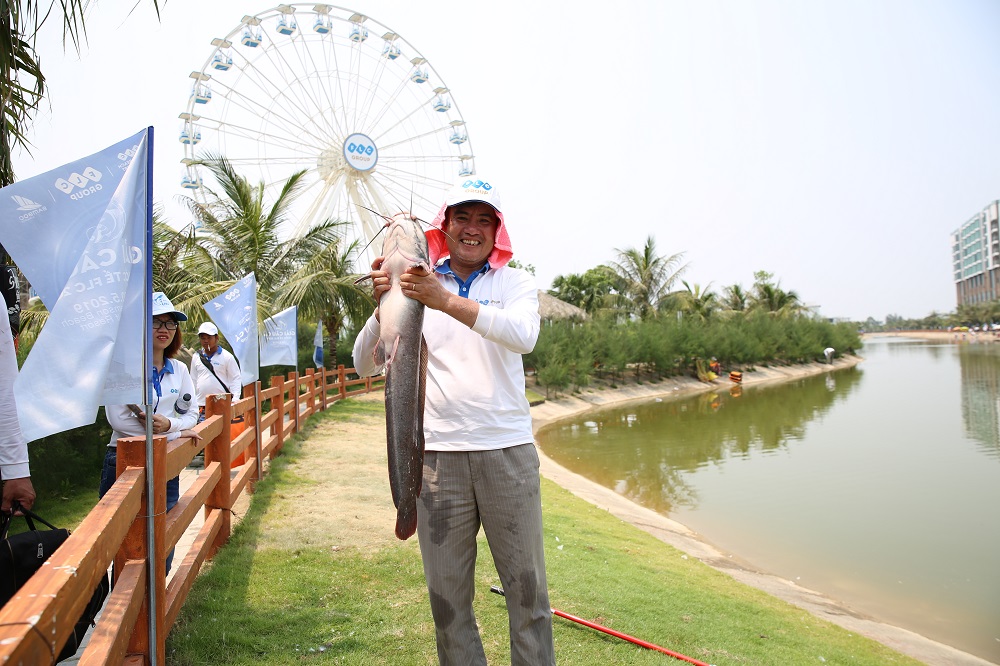 Participants were joyful to share their results
In the end, the winner was Hoang Trung Linh (China) with 29.02 kg of fish and received the first prize worth up to VND30 million (USD1,292). Le Ba Chan (Thanh Hoa) won second prize worth more than VND20 million (USD862) with 19.05 kg of fish.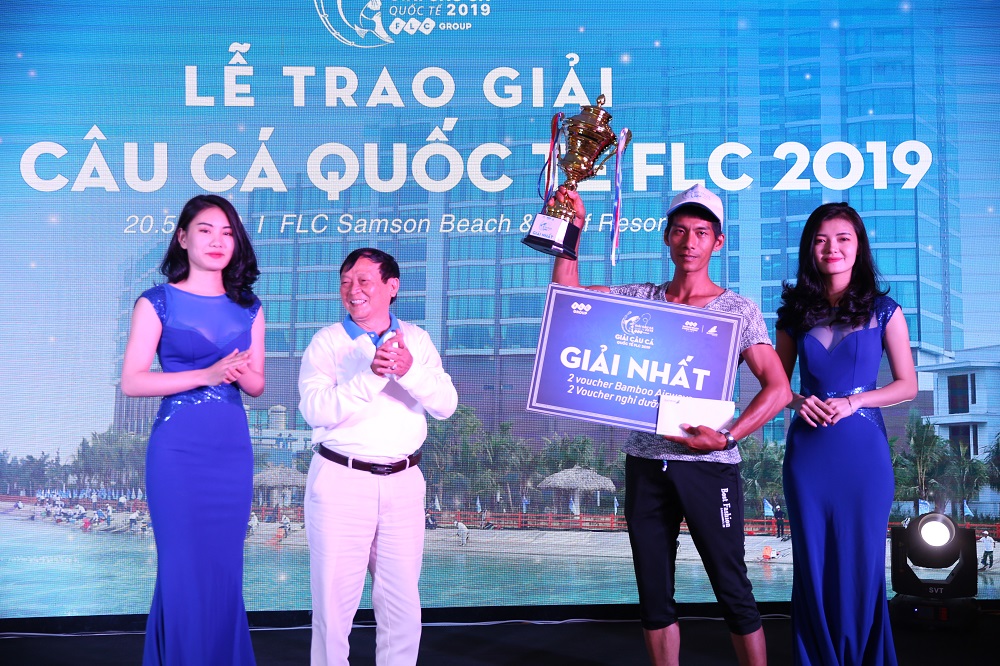 Chinese angler won the competition
The third prize came to Hoang Van Dai (Hai Phong) with 13.72 kg of fish and received VND11 million (USD474).
Angler Ngo Van Chinh (Hai Phong) caught 9.360 kg of fish and won fourth prize. Additionally, the organizer had a prize for the biggest fish; and Dang Minh Hao (Hai Phong) won the prize with a fish of 5.495 kg. Two anglers received more than VND5 million (USD215) each.
In addition, 25 consolation prizes were awarded to high-performing anglers, each worth nearly VND4 million (about USD172) to encourage and cheer the players.
The awards are redeemed for vouchers of flight tickets by Bamboo Airways – the airline owned by FLC Group and vouchers at FLC Hotels & Resorts across the country.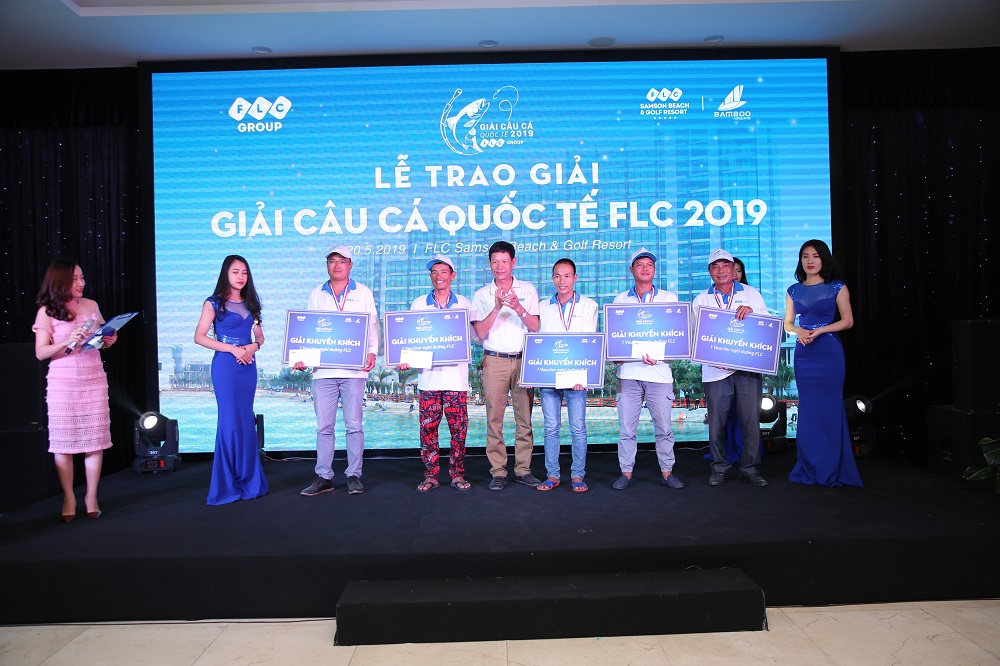 Participants received prizes at the Gala
"This is the second time I participated in FLC International Fishing Competition. This is a professional competition, bringing out a meaningful opportunity for domestic to international anglers to meet, exchange and promote this sport," angler Nguyen Viet Hoan said.
After the Competition, all the fish were released to the lake. According to the tournament rules, contestants must use non-toxic bait and have fish baskets submerged during the fishing time. All regulations aim to preserve the ecological environment in FLC Samson and Sam Son beach in general.
The FLC International Fishing Competition had a successful 6th season which was well-attended, joyful and exciting.
Previously, since 2014, the Competition has been organized annually at different FLC Group's resorts such as FLC Vinh Phuc, FLC Samson or FLC Quy Nhon. The Competition has lured hundreds of domestic and international fishing clubs.
This year, the Event took place at FLC Samson – a resort complex located on beautiful Sam Son beach, comprehensively integrating high-class amenities serving diverse hospitality demands.
FLC Samson is a popular name in the domestic hospitality market with the largest saltwater swimming pool and the most swimming pools in Vietnam.
With an 18-hole links golf course, two 5-star hotels with 1,000 rooms, an international convention center with a capacity of 1,300 seats and various other amenities, FLC Sam Son has become an attractive destination for not only anglers who join the Competition but also travelers, especially from the northern region of Vietnam.