In the evening on December 4th, the Opening Ceremony of National Innovative Start-up Festival 2019 (Techfest Vietnam 2019) with a theme of "consolidated capacity" officially took place at FLC Ha Long International Convention Centre.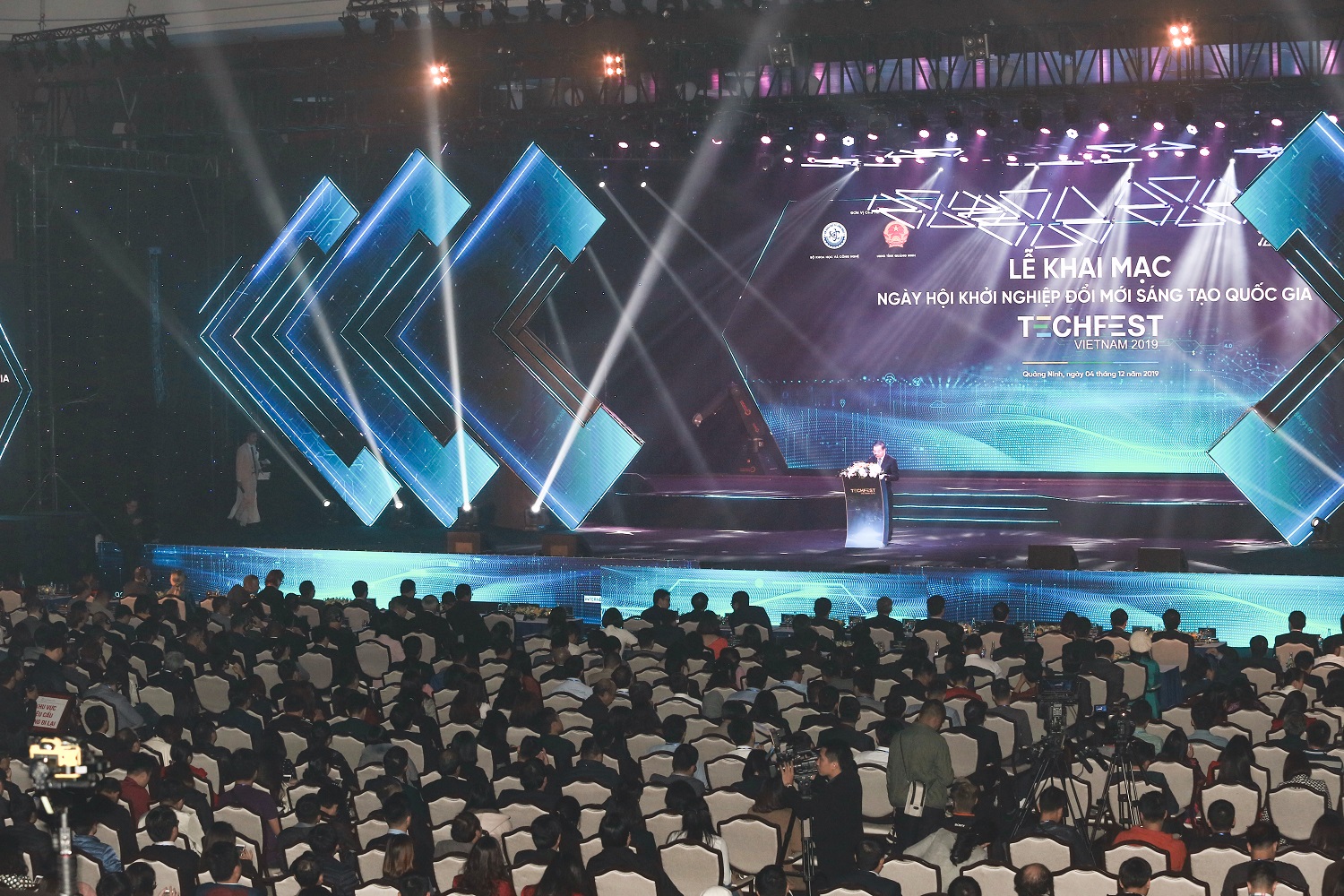 Open Ceremony of Techfest Vietnam 2019
Connecting technological quintessence
The event witnessed the attendance of Mr. Vu Duc Dam – Member of Party Central Committee cum Deputy Prime Minister, Mr. Chau Van Minh – Member of Party Central Committee cum President of Vietnam Institute of Science and Technology and Mr. Chu Ngoc Anh – Member of Party Central Committee cum Minister of Science.
On the side of Quang Ninh's authority, there was the presence of Mr. Nguyen Xuan Ky – Provincial Secretary cum President of Quang Ninh People's Council, Mr. Ngo Hoang Ngan – Provincial Standing Deputy Secretary, Mr. Nguyen Van Thang – Provincial Deputy Secretary cum President of Quang Ninh People's Committee, together with over 1,000 domestic and international delegates, investors and start-up experts.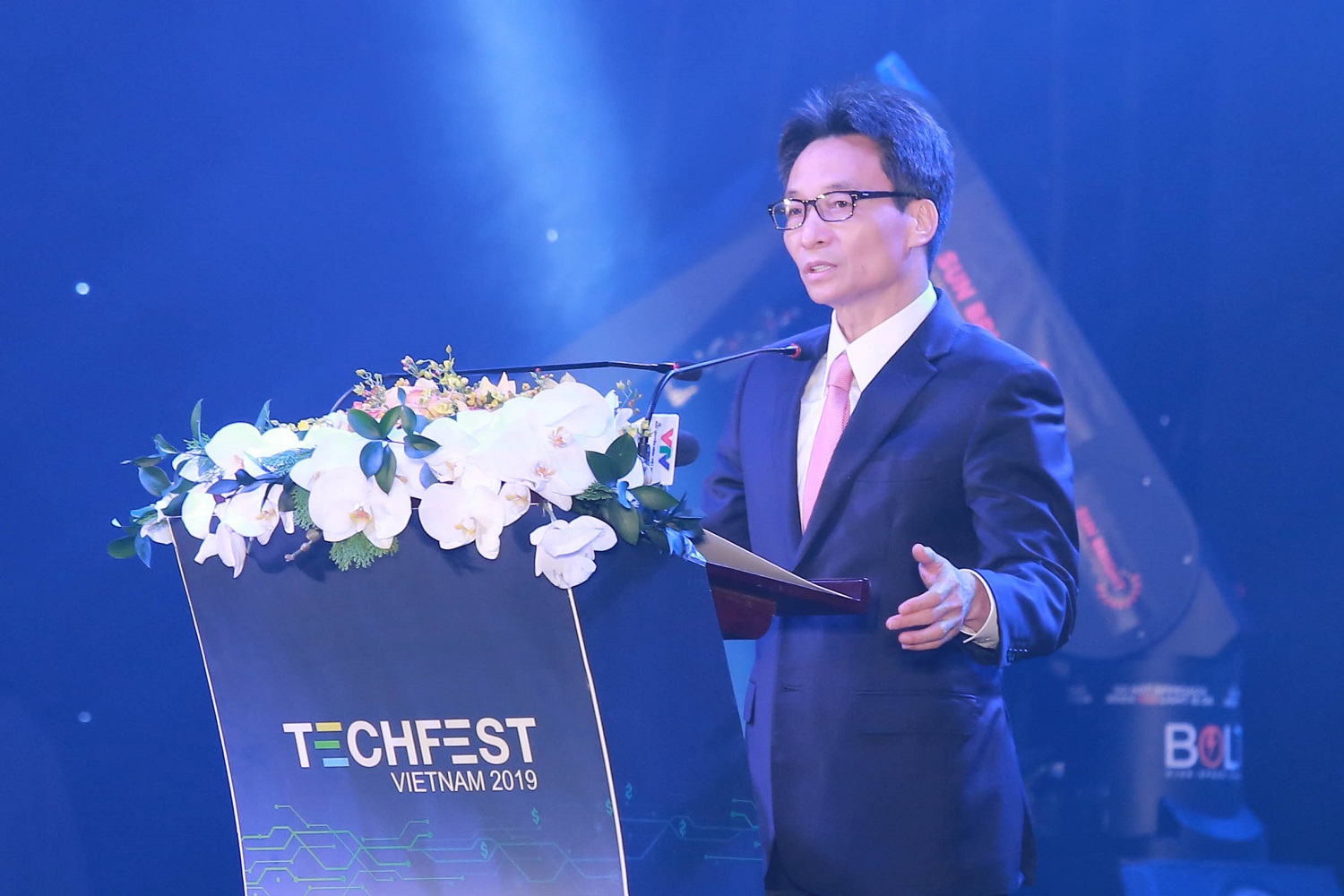 Deputy Prime Minister Vu Duc Dam giving speech at the event
Speaking at the Opening Ceremony, Deputy Prime Minister Vu Duc Dam expressed high appreciation for the right steps of the innovative start-up movement, and also reckoned that the Industrial Revolution 4.0 is a premise for the evolvement of connectivity, and that Vietnam still has many businesses to do in order to take full advantage of the 4.0 era.
"The innovative start-up community is a group of those who are always willing to move forward, be prepared for failures and take risks so as to strive powerfully.  This is done by creating new ideas, new products, or even new segment of the market on the basis of innovative technologies. By doing so, the growth of a local area, a business, a community or a nation can be accelerated", emphasized Deputy Prime Minister.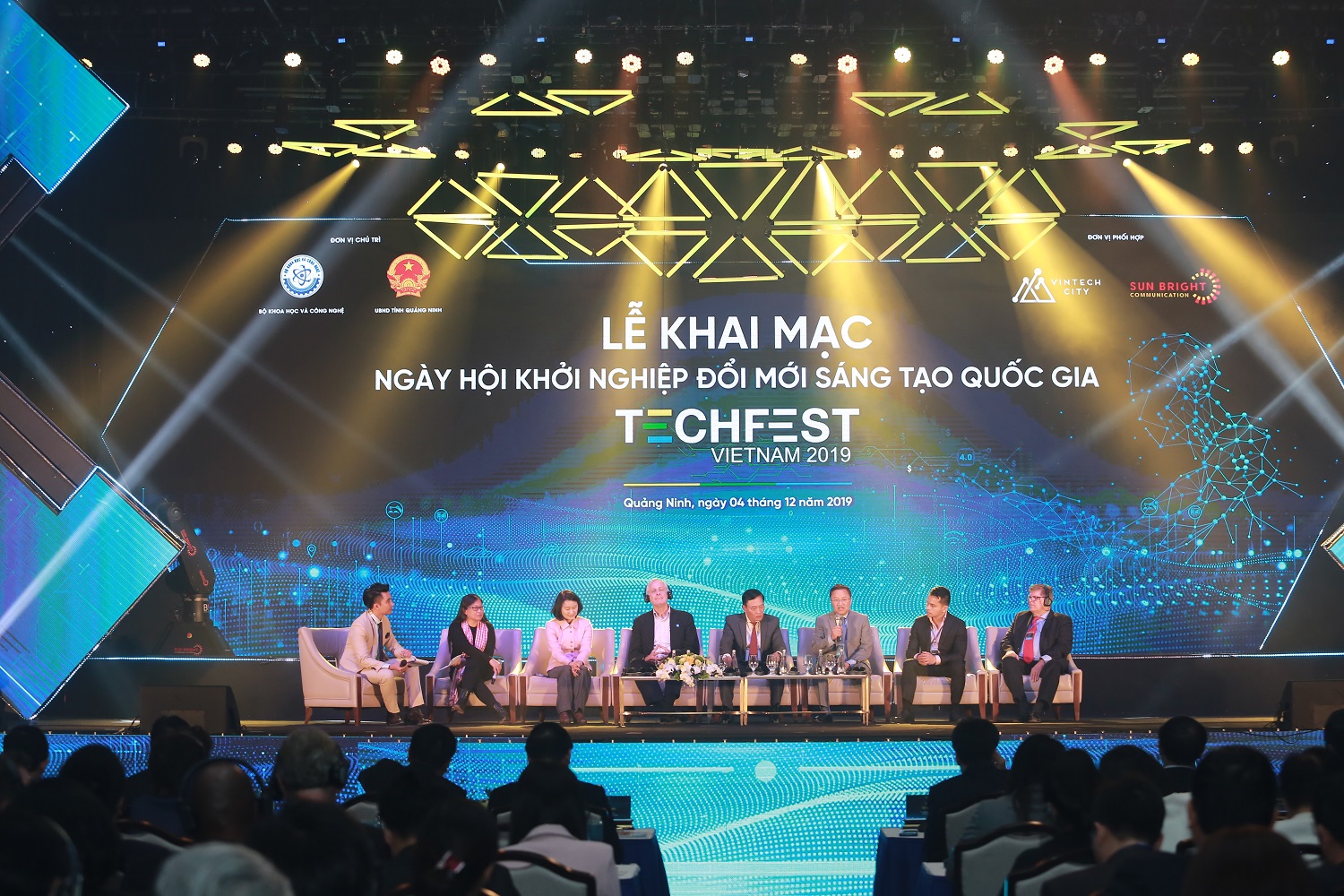 Domestic and international speakers participating in talk show session
According to the evaluation of international organizations, Vietnam stands in the group of the 3 biggest innovative start-up ecosystems in ASEAN. The first 10 months of 2019 alone witnessed the total value of the capital derived from 29 announced businesses reaching USD 751 million. The scale of major businesses has been increasingly go up, reflecting that the potential appearance of unicorns – innovative start-ups valued at above USD 1 billion in Vietnam is very realistic.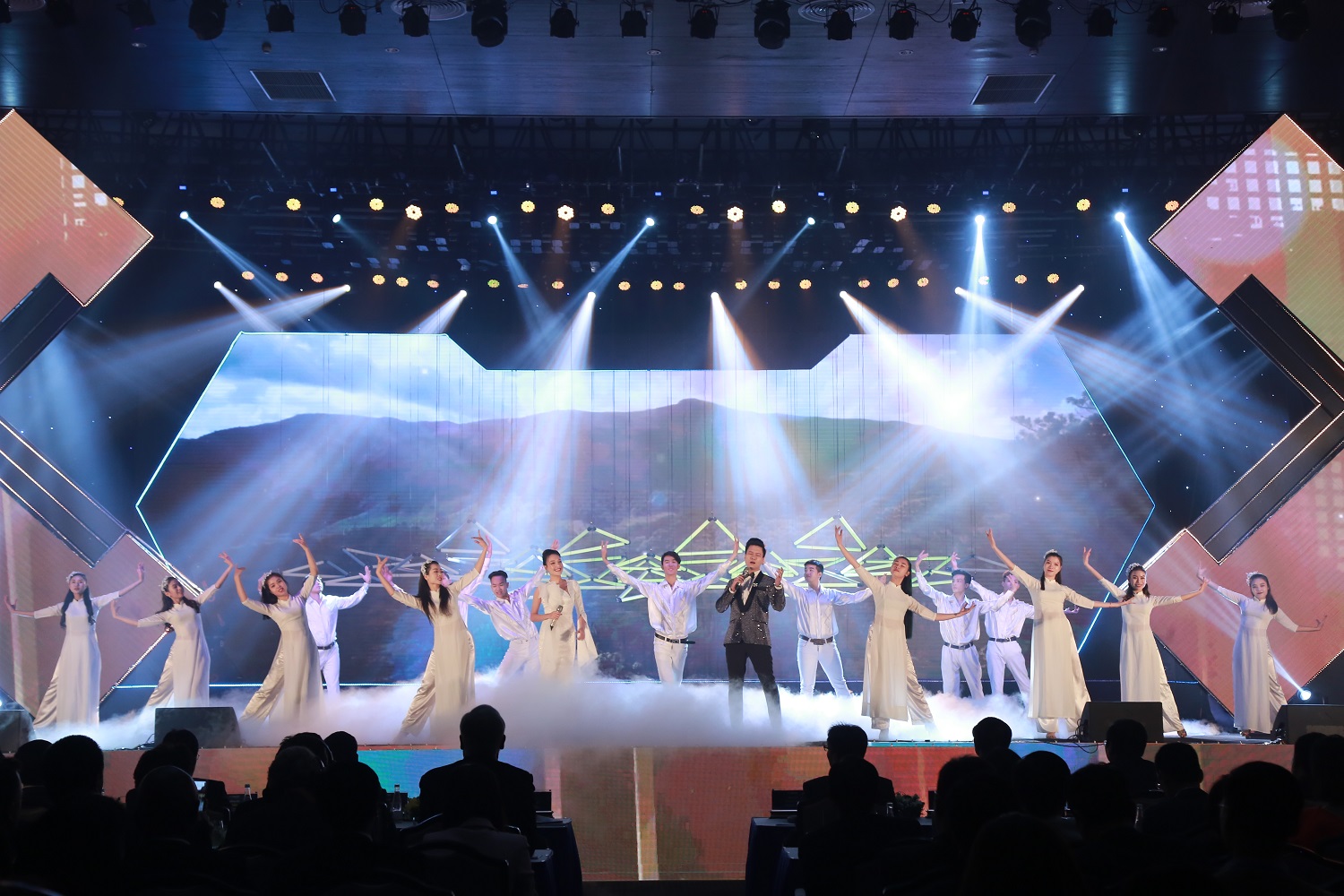 The stage impressing the audiences by fascinating art performances
Apart from the delivery of important information pertaining to the start-up ecosystem, the Opening Ceremony of Techfest 2019 also impressed the audiences by the magnificent stage of FLC Ha Long with inclusion of fascinating art performances. Among those, the 4-year journey of Techfest Vietnam had been lively recreated by the use of the most innovative technologies such as hologram and LED screen-interacted dancing. Especially, the presence of Robot programmed by AI technology together with special lighting and sound effects had provided over 1,000 delegates with plenty of unforgettable impression.
Top destination of new trends
As the biggest annual event designated for the community of innovative start-ups, Techfest Vietnam 2019 has welcomed about 300 businesses and start-ups, over 100 investors, and over 200 speakers and experts in the field of start-up.
Taking place from December 4th to December 6th, Techfest 2019 concentrates on the primary pillars of the start-up ecosystem, which encompasses technology, finance, human resource as well as consulting policy makers about matters related to attracting domestic and international resource. This is considered as an opportunity for businesses to participate in an investment connection event, get updated on the newest technology and innovative start-up trends derived from the regional and international start-up ecosystems.
Therefore, the preparation work of Techfest Vietnam 2019 involving venue, stage and agenda had been considered thoroughly and finalized by the Organizing Committee with the company of many large businesses. These include FLC Group and FLC Ha Long Bay Golf Club & Luxury Resort, which is also the venue of the Opening Ceremony.
Accommodated with modern facilities as well as experience in organizing and operating conference and large events, FLC Ha Long International Convention Centre with the capacity of 1,500 seats has become an ideal location to actualize spectacular and stunning technology displays, which extremely impressed the audiences.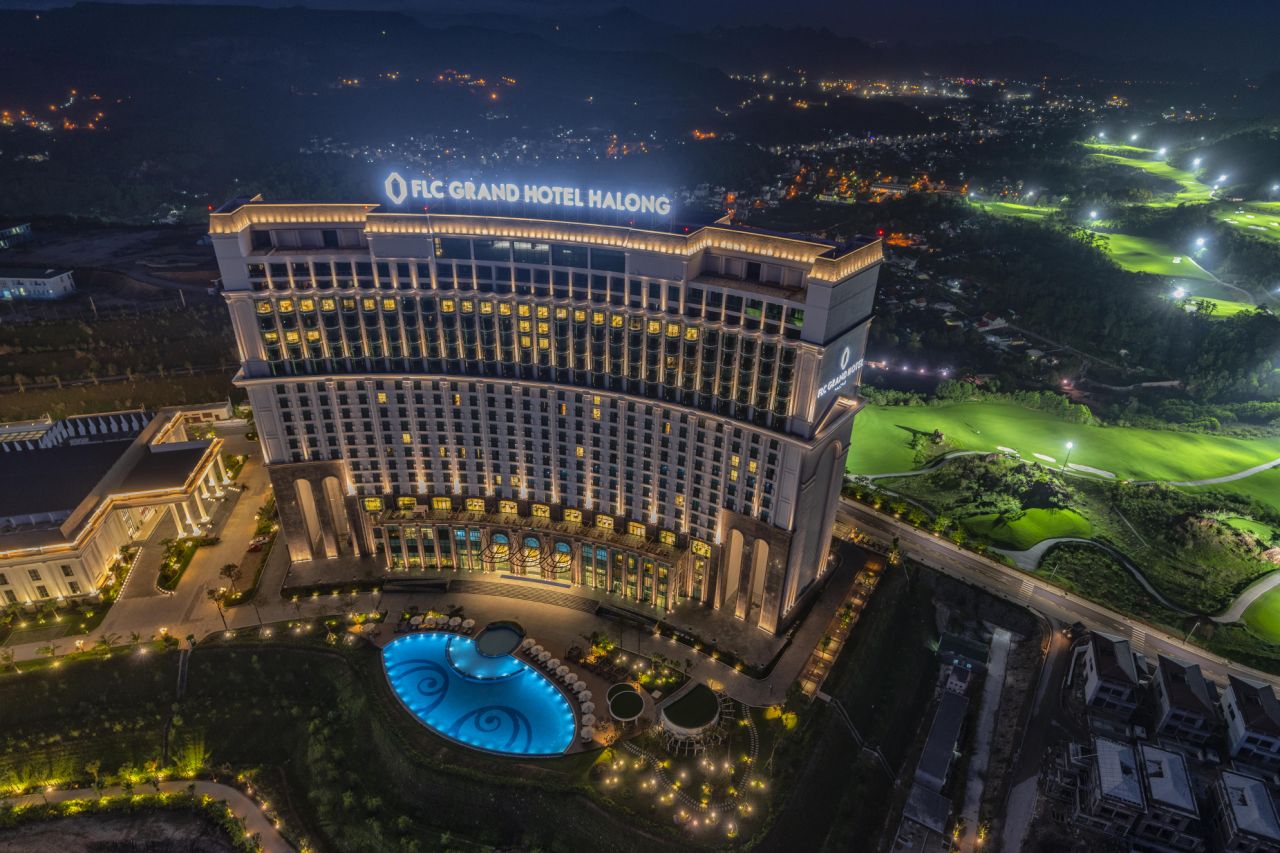 FLC Ha Long Bay Golf Club & Luxury Resort
In addition, with over 700 hotel rooms, FLC Ha Long is truly a luxury and high-class accommodation amenity, where the delegates, guests of the event including many domestic and internationally experts and speakers can enjoy exciting tourism and hospitality experience besides the event.
In the "new heaven of tourism" – Quang Ninh, FLC Ha Long is regarded as one of the largest and most comprehensive tourism infrastructure. Situated on the altitude of 100m and possessing a panoramic view of the World's wonder – Ha Long Bay, FLC Ha Long also impresses the visitors by over 30 world-class facilities such as high-end accommodation, 18-hole golf course, infinitive swimming pool and a range of in-style restaurants, spas and bars.
By the successful organization of the Opening Ceremony of Techfest 2019, FLC Ha Long continues making statement on the attractiveness of the top destination, following major events in both domestic and international dimensions such as Closing Ceremony of National Tourism Year 2018; Opening Ceremony of ASEAN Tourism Forum 2019; Final Round of Sao Mai 2019; ASEAN +3 Singing Competition, etc. Previously, this complex had been honored in World Tourism Award as Top Asian Convention Hotel
The event is expected to welcome over 6,000 guests. Techfest Vietnam 2019 is seen as an opportunity for Quang Ninh and also FLC Ha Long to continue connecting and promoting their leading products and services. Noticeably, the event also acts as an occasion on which the province can rely on to attract sources of investment capital and foster the development of innovative start-up activities.