"I believe that tickets for Hanoi – Tel Aviv direct route will be sold well in Israel, and I will also become one of the first buyers," Ambassador Nadav Eshcar said.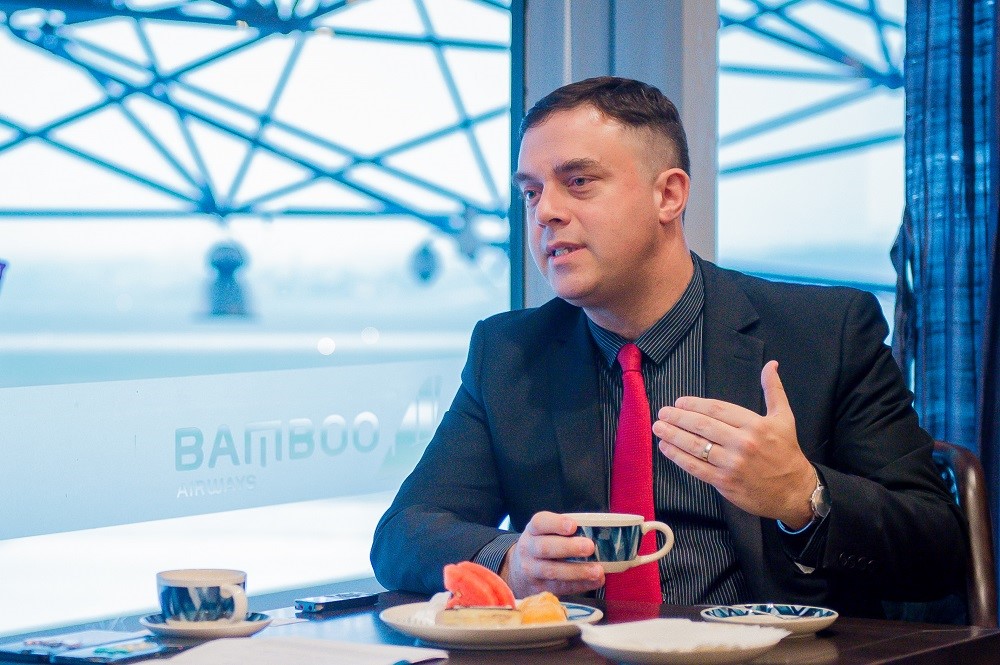 Ambassador Nadav Eshcar thought that Vietnam – Israel direct route is essential at the moment.
Great room to develop
Statistics reveal that the cost Israelis are willing to pay for trips through air-transport to Asia is estimated to be about USD900 – USD1,300, equivalent to VND20 million – VND30 million. This country's residents take roughly 4 million trips per year. Moreover, on average, each Israeli spends 4-10 days on travelling abroad, which indicates the great potential of Israeli market.
Israel is also identified as one of Vietnam's potential markets. In 2018, about 32,000 Israelis came to Vietnam by air, up 24% on year and up 40% compared to 2016.
In 2006, Vietnam and Israel signed an air transport agreement, creating favorable conditions for airlines to operate regular routes between the two countries.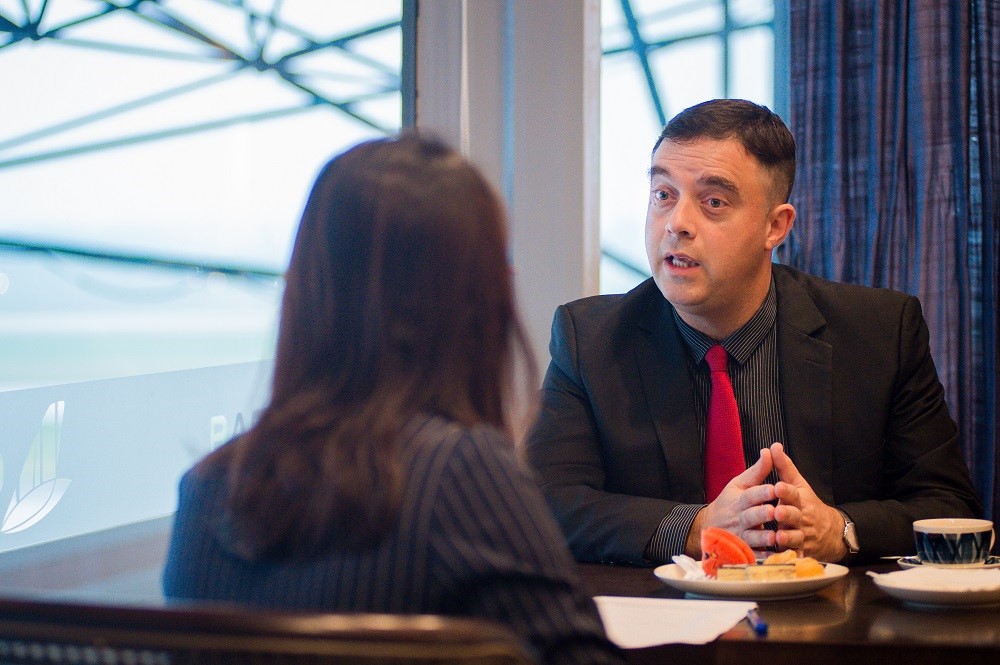 Ambassador Nadav Eshcar affirmed that he will support all airlines that plan to operate the direct routes linking the two countries with fairness.
However, up to now, the lack of direct flights between Vietnam and Israel has left passengers no choice but taking transit flights of foreign airlines with 1 or 2 stop-over points lasting from 15 to even 47 hours.
This has caused serious inconvenience for Israeli tourists as the majority of Israelis travel by plane while Asia has become the increasingly popular destination for Israelis.
Currently, the Israel Embassy in Vietnam is making every effort to support Vietnamese carriers in many aspects, including procedures, visa policies. "Mechanism and policy issues are currently being specifically planned. In addition to accompanying Vietnamese carriers before and during the exploitation of regular flights, the Embassy also plans to increase its budget to serve the extensive promotion of this route to a large number of people", the Ambassador emphasized.
Currently, the Government of Israel is supporting 250,000 euros for airlines flying to Israel with the frequency of 1 flight/week, 500,000 euros for the ones with the frequency of 2 flights/week, etc.
In September 2019, EI AI Airlines – an Israeli airline operated a trial charter flight to Tokyo, and the demand far exceeded their expectation. Just a week later, EI AI Airlines decided to turn this route into a regular one, and this is now a route that brings them big revenue, Ambassador Nadav Eshcar said.
Efforts of Vietnamese airlines
Israeli Ambassador to Vietnam Nadav Eshcar said most passengers prefer to fly directly from Vietnam to Israel rather than taking transit flights which usually take time, effort and money.
In his viewpoint, a Vietnam – Israel direct route in the present time is necessary. "The direct route will satisfy the needs of trade and transportation of the two countries' people. Not only will it facilitate the growth of tourism, but also create ample opportunities and connections in the economy, thus promoting the bilateral cooperation of Vietnam and Israel," the Ambassador said.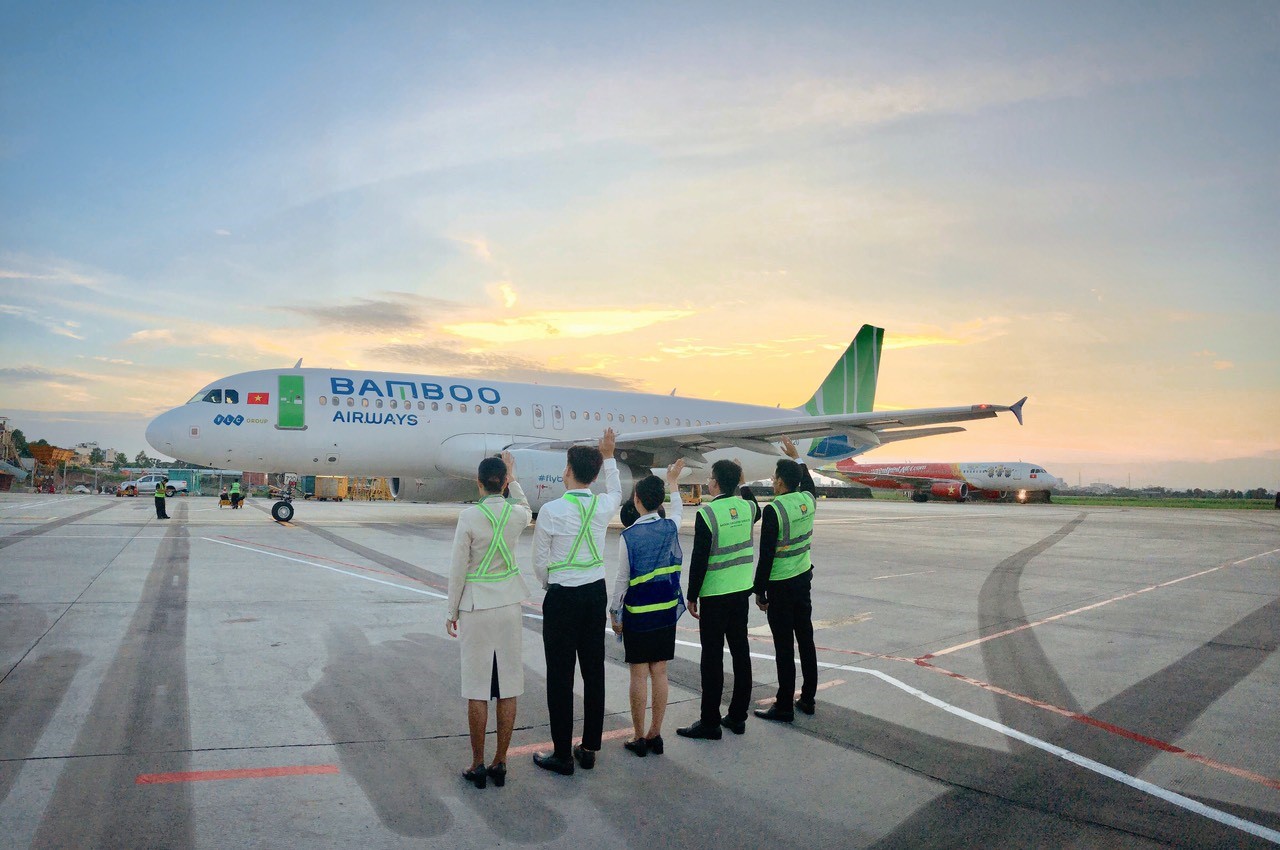 In the initial stage, Bamboo Airways plans open the direct route connecting Hanoi – Tel Aviv with the frequency of 3 round trips/week.
The ​​Vietnam – Israel direct route is being researched and promoted by some Vietnamese airlines.
"The Middle East market including Israel is one of the potential markets but it hasn't been exploited because of several reasons. Currently, Bamboo Airways is seriously researching, exploring and deploying the first steps of preparation to actualize the idea of ​​the first direct route connecting Vietnam – Israel", Deputy General Director of Bamboo Airways Nguyen Ngoc Trong said.
The Deputy General said that the Airline is aggressively promoting the negotiation and cooperation with the Embassy of Israel in Vietnam, the Vietnamese Embassy in Israel, the Civil Aviation Administration of Vietnam, and airports in Israel, etc. to quickly exploit the operation of a direct route connecting Hanoi – Tel Aviv, a city in Israel having a lot of Vietnamese residents, with a wide-body Boeing 787-9 Dreamliner, as early as QII/2020.
In the initial stage, Bamboo Airways plans to exploit Hanoi – Tel Aviv direct flights with the frequency of 3 round trips/week, which will be gradually increased according to the number of passengers. After the flight route is put into operation, the flight time from Vietnam to Israel is expected to reduce by 40% – 80% – a reduction of to 9 hours.
Appreciating the efforts of Vietnamese airlines, Ambassador Nadav Eshcar affirmed that he would fairly and greatly support all carriers in operating the direct flight.
"In my opinion, Bamboo Airways is currently the most suitable Vietnamese airline for exploiting a direct route between Vietnam and Israel," he said and explained that the biggest obstacle that all Vietnamese airlines currently facing is the complicated procedures which take a lot of time and money.
The Ambassador believed that Bamboo Airways is an airline with an impressive development. In particular, the Carrier has successfully exploited 30 domestic and international routes within 10 months of operation, while still ensuring the quality of service at every stage.
Especially, the model of a private airline allows Bamboo Airways to be autonomous in mobilizing resources, developing business plans, thereby significantly reducing procedural issues for new flight routes.
"I have flown with Bamboo Airways when I was on my business trips or traveling with my family, and I was impressed by its 5-star-oriented service. Bamboo Airways is currently one of my favorite airlines. I hope the Carrier will keep maintaining and promoting this strength in the future," said the Ambassador.