On December 5th, the second FLC International Fishing Tournament 2019uccessfully took place at FLC Quy Nhon Beach & Golf Resort with the participation of over 300 domestic and international fishers.
The participants of FLC International Fishing Tournament are fishers from many countries such as China, Korea, Malaysia and numerous provinces in Vietnam.
Speaking at the Open Ceremony, Mr. David Vanhove – Deputy General Manager of FLC Quy Nhon said: "FLC International Fishing Tournament 2019 is organized following the success of many previous competitions with the purpose of creating a regular and professional playground for domestic and international fishers and also upholding healthy sport activities.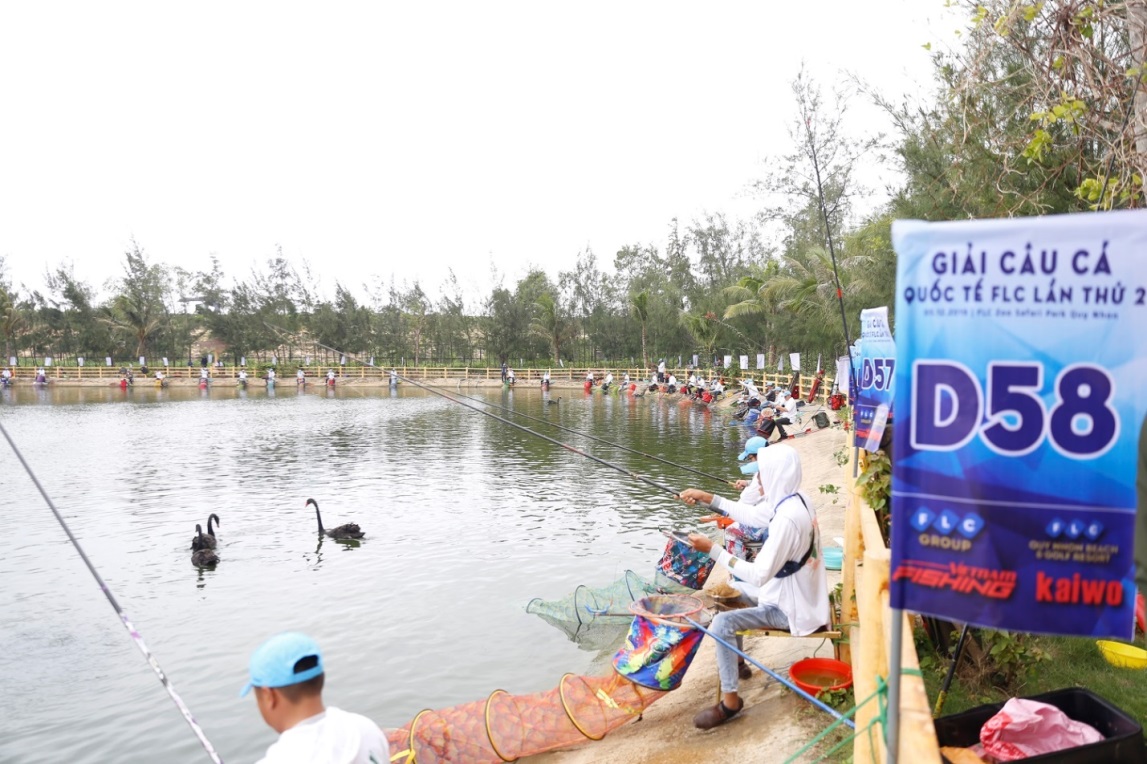 Swan Lake at FLC Zoo Safari Park Quy Nhon – the venue of the fishing tournament
As soon as the Open Ceremony was over, the fishers began the competition at Swan Lake – artificial freshwater lake with the total area of nearly 4ha situated in semi-wild FLC Zoo Safari Park. The Swan Lake is designed with large open space and many mini islands, which act as a home for white swan, black swan, mandarin duck, ruddy shelduck and many species of tropical fish.
According to the statute of the tournament, the competition participants must follow a number of rules, such as using nontoxic bait to ensure clean environment and water source of the hospitality complex; and placing fish baskets under the water to keep the fishes alive for release after the competition.
Unlike previous competitions, over 300 fishers were divided into 4 tables and had to go through two rounds. The final result will be based on the accumulated points of both rounds.
In the evening of the same day, the Gala evening took place at FLC Quy Nhon International Convention Centre as an award ceremony to honor the most excellent fishers with the total value of rewards exceeding VND-300 million (nearly USD 13,000). This is sponsored by FLC Group and fishing equipment brands such as Kaiwo and Vietnam Fishing.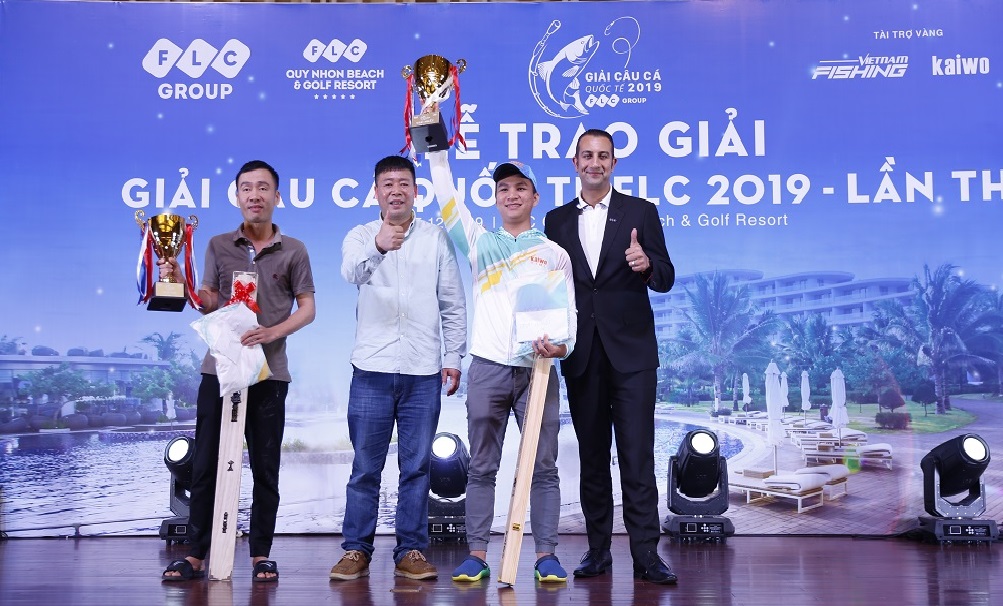 With the highest accumulated points after two rounds, fisher Dang Hoang Huy had grasped the First prize of the competition with the reward equivalent to over VND-60 million (nearly USD 2,600).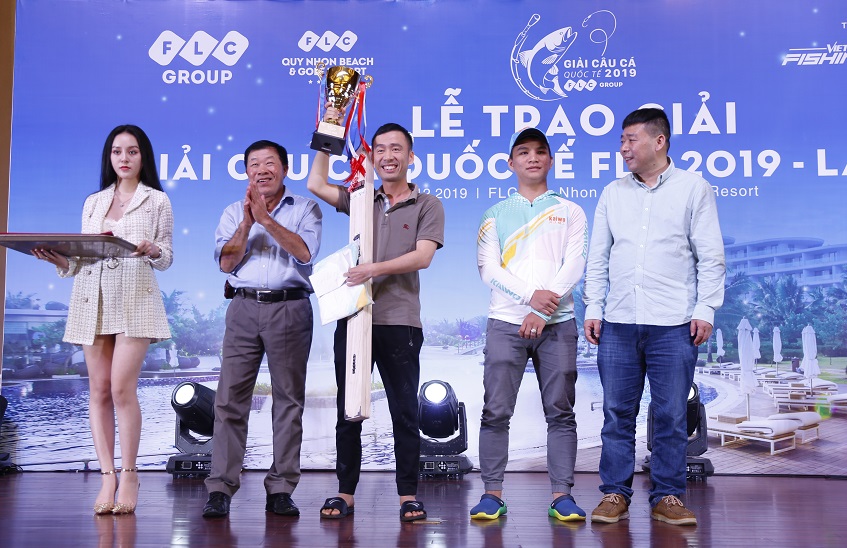 The first runner-up prize belongs to fisher Dao Son Tung from the Northern Hand Fishing Club with the reward worth nearly VND-40 million (over USD 1,700).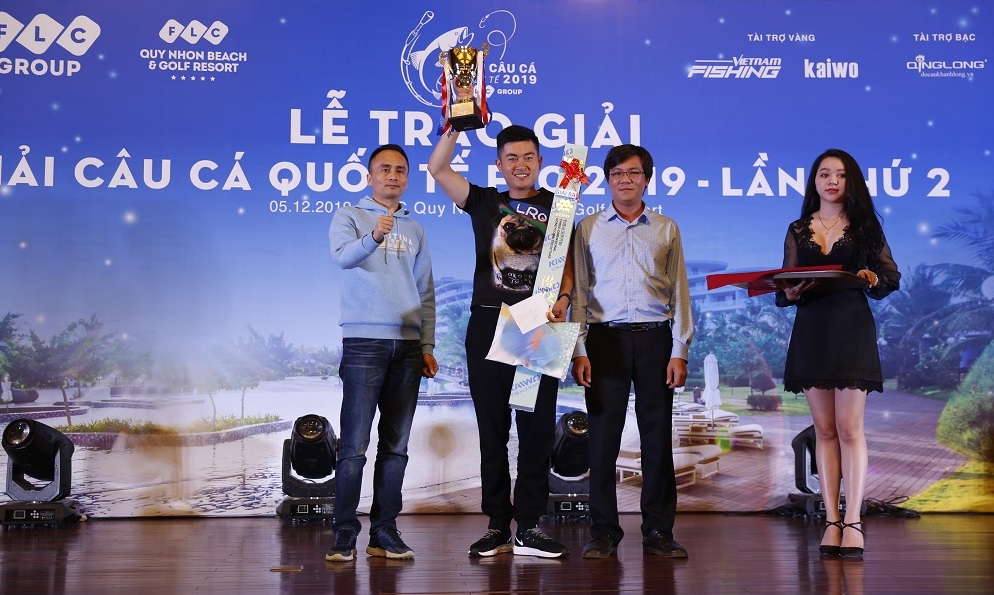 Young fisher Thai Hoang Son seized the Second Runner-up position, which is subject to a reward value of over VND 26 million (over USD 1,100), while the Third Runner-up prize was handed to fisher Tran Van Dat.
This year, the Biggest Fish prize has been awarded to Mr. Nguyen Van Tru with a fish weighed over 8kg.
In order to encourage and support the fishers, 25 Consolation prizes had been given to those who achieved high result. Each prize is valued at over VND 7 million (approx. USD 300). The rewards encompass cash, hospitality vouchers to be used at FLC Hotels & Resorts, Kaiwo fishing rod and a set of high-class fishing outfit.
Previously from 2014, FLC International Fishing Tournament had been organized on annual basis at FLC Vinh Phuc, FLC Samson and FLC Quy Nhon and witnessed the participation of a large number of domestic and international fishing clubs.
In 2019, FLC International Fishing Tournament 2019 – the first was held at FLC Samson with the presence of over 200 talented fishers. Among those, there were many fishers that have accompanied with FLC International Fishing Tournament throughout the years.
FLC International Fishing Tournament – the second is a fascinating and challenging competition, which provides the fishers with enjoyable relaxing moments at one of the top resort complexes in Vietnam.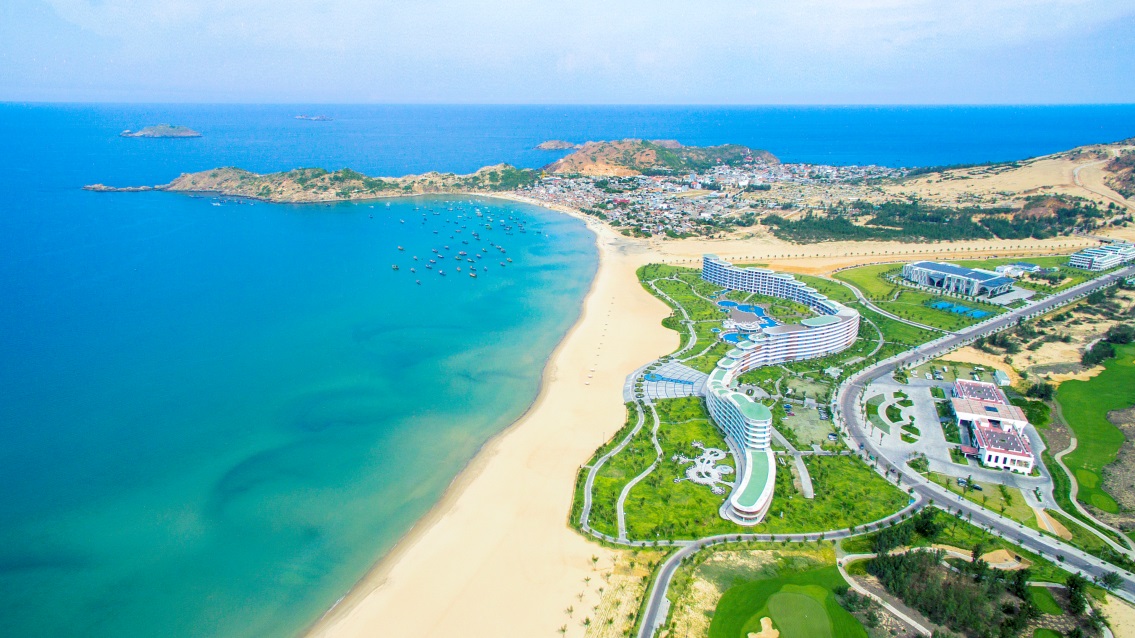 FLC Quy Nhon Beach & Golf Resort
Before and after the tournament. the fishers had an opportunity to look around 5-star FLC Quy Nhon Beach & Golf Resort with the high-end comprehensive service – utility system integrated into the stunning coastal space of the Central region.
With a world-class 36-hole golf course in links type as well as numerous outstanding amenities such as hotel, villa, luxury resort, 1,500-seat international convention centre, Safari zoo, spa, external saltwater swimming pool and many other facilities, FLC Quy Nhon has become an attractive destination in the view of not only those who participated in the fishing tournament but also domestic and international visitors.