VnEconomy – "The majority of people working at FLC Group are youngsters, so we do not focus too much on the decency. We treat each other in a way that does not merely adhere a relation between superiors and subordinates, but foremost one amongst companions in the same journey", said Ms. Huong Tran Kieu Dung to VnEconomy in an interview conducted on the Vietnamese Women's Day (20/10).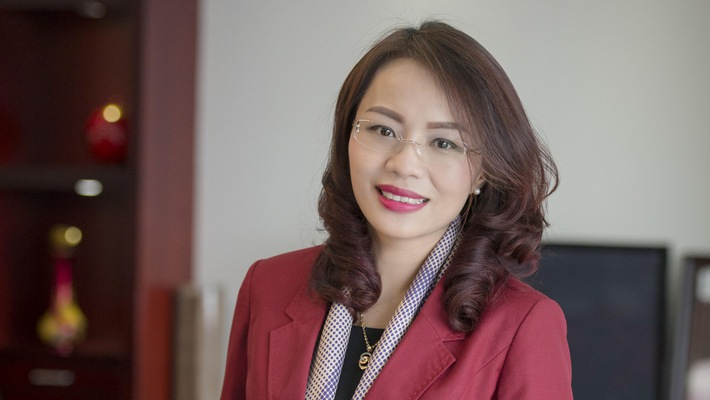 Having a doctorate degree in Law and experience working in many domestic and oversea law firms, what is the destiny that has lead you to become a businesswoman and now the General Director of FLC Group?
Apart from law, which has always been my passion, business is an area that attracts me. While I was still in the university, I used to do part-time job after school and be engaged in small business with my family. After graduating from the university, I used to launch a company specialized in import-export operation.
As time goes by, I realized that it would be very difficult to do big things by myself
When joining FLC Group, I saw that this is indeed an ideal work environment, where I can utilize my strengths and discover more potential of myself. There is a mutual point between me and many senior officers of FLC Group, which is that we have been professionally trained for law and that we have practiced law for a long time.
We share mutual perspective with regards to the enthusiasm, the willingness to take on challenges; and incessant effort in exploiting and conquering new targets. The ultimate aim of these lies with the benefit of the employees, the business, the society and the nation.
In the other words, the environment and strategic orientation of FLC Group are truly in line with what I have always been pursuing in my career.
In fact, this is not the first time you are in charge of this position – General Director of FLC Group. What are the underlying factors behind this come-back?
The previous time when I was in this position had given me much experience. That was the transition period of FLC Group in terms of the scale as a large number of major hospitality real estate projects were introduced to the market.
When I came back this time, FLC Group was being in the middle of implementing the strategy on expanding its business to other sectors, such as aviation and high-tech agriculture.
It is obvious that the larger scale the business reaches to, the more challenges it has to encounter. However, I see challenges as opportunities for us to continue gaining more and more success.
As the most powerful lady of the Group, are you usually overwhelmed by pressure?
Comparing to the majority of domestic businesses, the proportion of female senior officers in FLC Group is relatively substantial. In particular reference to the Board of Executives of the Group, female members are predominant over their male counterparts.
Our management apparatus operates smoothly and has explicit decentralization. At FLC Group, everyone is equal in terms of responsibility. Each individual must be fully proactive and responsible in order to ensure the effective operation of the Group in every aspect.
Therefore, I do not feel overwhelmed. I can manage to keep the balance at work.
In addition, at FLC Group, the equality in the superior-subordinate relation remains as the core of our culture. The employees are authorized to freely speak out and express their opinions to their superiors.
So, does it mean that you can criticize the Chairman of the Group – Mr. Trinh Van Quyet?
Yes, it does.
My personal ideas as well as those of other members in the Board of Executives are normally taken into consideration by the Chairman, followed by appropriate actions or amendments if necessary.
For us, that is the sharing at work in support of the development of the business.
The majority of people working at FLC Group are youngsters, so we do not focus too much on the decency. We treat each other in a way that does not merely adhere a relation between superiors and subordinates, but foremost one amongst companions in the same journey.
Female leaders are sometimes easy to be in the bias towards one of the two extremes: they might be too tough or they might be too soft. Which way do you choose to lead a large enterprise with thousands of employees?
As long as I am a leader, I must be one who strictly adheres to disciplines and be drastic in management work. Otherwise, the apparatus will be ineffective and unproductive.
Yet, it does not necessarily mean that I have to be tough and keep distance from my subordinates.
Listening to the employees and resolving difficulties when required, according to my opinion, are proper ways to create a friendly working environment, and to make everyone feel that they are truly a certain part of the team.
Morality and Patience
You took on the position of General Director while FLC Group was just stepping in a new business area – aviation, which implicated major challenges such as suspicion of the business's capacity. How would you tackle such challenges?
The only answer for that question remains with action.
Throughout realistic actions, I strongly believe that the trust in our capability and contribution towards the community will surely be nurtured and grow up as the time goes by.
I can say that you are a very beautiful and feminine lady. According to your view, is good look an advantage of businesswoman?
In business communication, no matter what gender, the appearance of a person is very important since it defines the very first impression.
In my view, the physical beauty is not enough. We need to always learn and improve ourselves to have a beauty in terms of soul, intellect and spirit.
To me, the morality and patience in Buddhism are always pattern for thinking and acting. If a leader can maintain an innocent heart and a solid spirit, a strong pronounced ripple effect will be created to connect all the members of the team, and thereby generate solidarity power for the business.
As a businesswoman, what is your goal of life? Earning money and enriching for yourself, or another thing that is much greater?
As human being, obviously every single person wants to earn money and makes himself/herself rich in a proper way. Yet, when the time come sooner or later, they will realize that money is not the most important thing in life.
Having a job that suits my passion and is meaningful enough to generate values for the society is indeed the goal wo which I always orientate myself. I am happy for and proud of being able to work with colleagues that share the same vision and goal.
With the perception upholding "think different, do different", we always determine the aim and mission as being a pioneer in exploiting and awakening potential lands and developing FLC Group to become one of the most powerful and reputable Vietnamese brands in the international market.