After accompanying with many cities and provinces all over the country such as Quang Ninh, Quang Binh, Vinh Phuc, Hoa Binh, Bac Lieu, etc… in Covid-19 preparedness and control, FLC Group continues donating 3 Covid-19 diagnostic test systems that worth nearly VND 9 billion.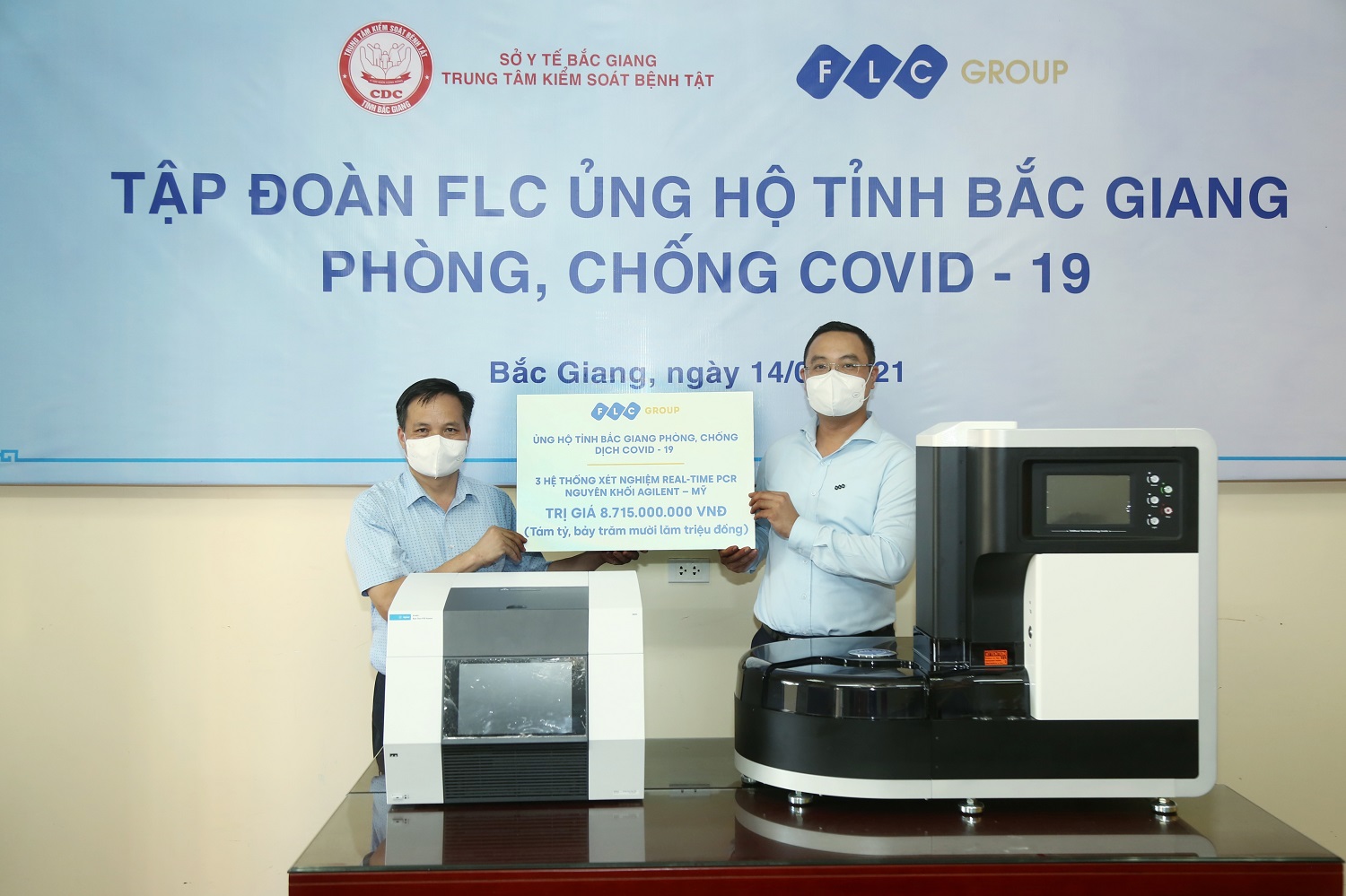 FLC Group donates 3 covid-19 diagnostic test devices, which cost nearly VND 9 billion, to Bac Giang
 On June 14th 2021, at Bac Giang Centre for Disease Control, FLC Group donated 3 Covid-19 Real-time PCR systems to Bac Giang province. The total value of these systems is nearly VND 9 billion. Each includes automatic DNA/RNA extraction device and Real-time PCR device, produced by Agilent (US).
These diagnosis test systems will contribute to improve testing capacity for Bac Giang, which is one of the most urgent missions in the context that some areas still remain as hot spots and that Bac Giang is fostering testing procedure in order to fully focus on stamping out the disease from now to June 21st.
Expressing gratitude to the frontline functional force, the leader of FLC Group indicated that joining efforts to fight against the pandemic is a responsibility and also a commitment that FLC Group has comprehensively carried out in the entirety of its business sectors.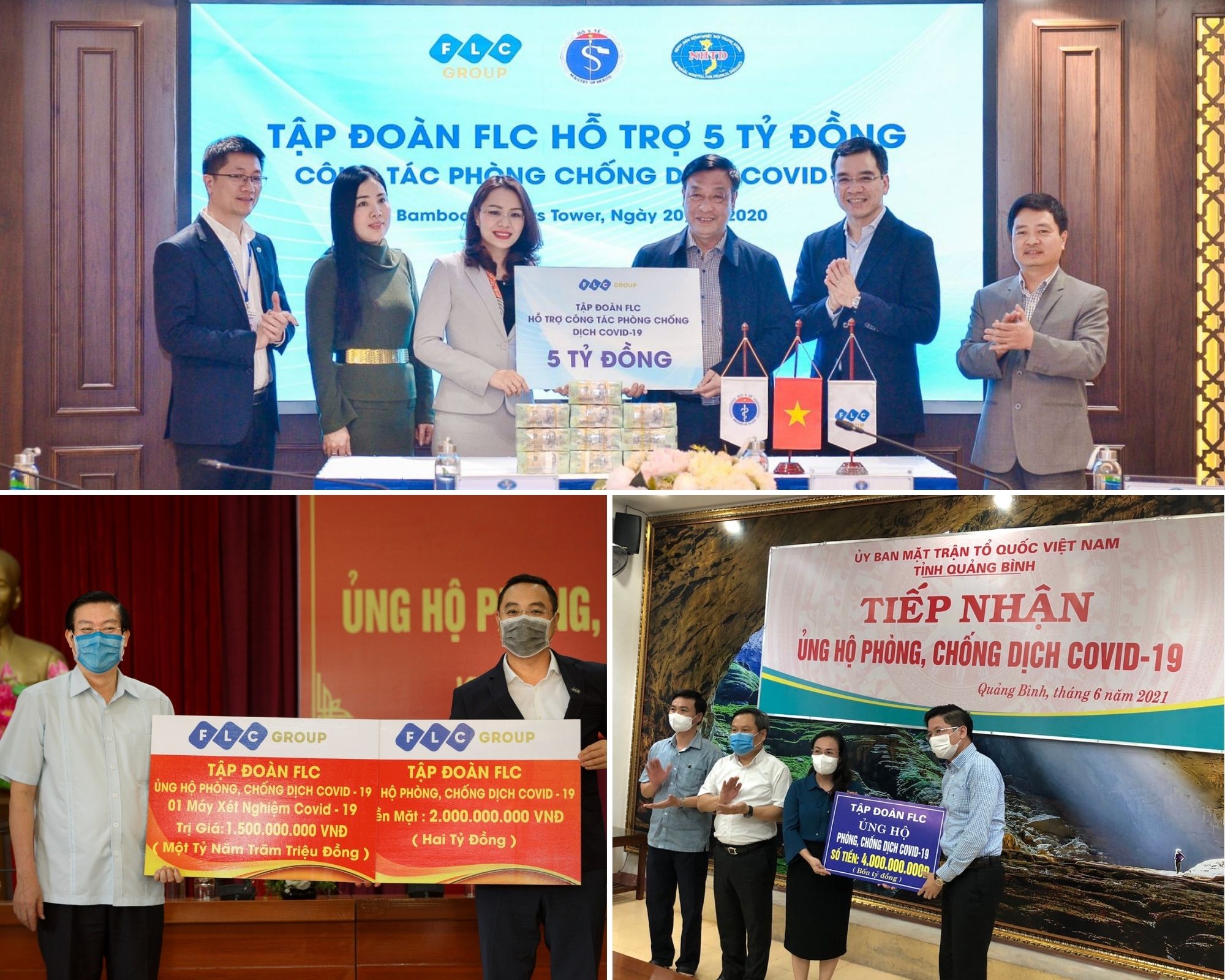 FLC Group has accompanied with many cities and provinces in Covid-19 prevention and control with the total budget estimated to be more than VND 120 billion since the beginning of 2020
Previously, FLC Group also donated VND 4 billion to Quang Binh in support of buying vaccine; donated VND 3.5 million to Vinh Phu in support of Covid-19 prevention and control fund and buying Covid-19 Real-time PCR device; assisted Quang Ninh with 2 fully-automatic real-time PCR systems; and donated to the Covid-19 prevention and control fund in many other localities such as Hai Duong, Hoa Binh, Bac Lieu, etc.
Since the start of 2020, FLC Group has accompanied with many hot spots on the epidemic and natural disaster to assist in purchasing medical materials, tools and equipment, building houses of gratitude, giving scholarships, etc. with the total budget being estimated to be more than VND 120 billion. In the coming time, FLC Group will continue to disburse dozens of billions of VND to support the vaccine fund as well as Covid-19 prevention and control activities across many localities.
Joining efforts in all fields
Besides, FLC ecosystem has also implemented many policies that support flexible or free cancellation 48-hour prior to check-in time so as to ensure the benefit of customers, especially those in quarantined areas.
Noticeably, in the aviation sector, Bamboo Airways has also implemented many practical programs and activities to make joining efforts with the entire country in the recent time.
In 2020, Bamboo Airways shipped 100 tons of medical goods and essentials for free to hot spots on disasters in Vietnam.
In Vietnam, Bamboo Airways often provides free transport services regarding to medical tools and equipment, as well as donates thousands of return tickets to doctors, nurses and volunteers in order to asssit cities and provinces that encounter the pandemic.
Up to now, Bamboo Airways has served nearly 8,500 passengers, who are foreigners (citizen of Latvia, Czech, UK, Italy, Korea, etc.) and Vietnamese (from Philippines, Kuwait, Qatar, Taiwan, Malaysia, Korea, Australia) returning to their home countries. The Airline had also transported nearly 200 tons of medical goods to the UK, Germany, Czech, etc.
In additions, the Government's 5K measures have also been strictly followed throughout the entire organization. These include maintaining body temperature check and health declaration; requesting staff to wear mask all the time; improving disinfection; providing hand sanitizer gel/spray in all office buildings and complexes; and adjusting service criteria with the purpose of enhancing disease prevention and control.