FLC Group signed a comprehensive cooperation agreement to be a strategic partner with Vietnam Cable Television Corporation (VTVcab). The Signing Ceremony took place at FLC Samson on May 17, 2019.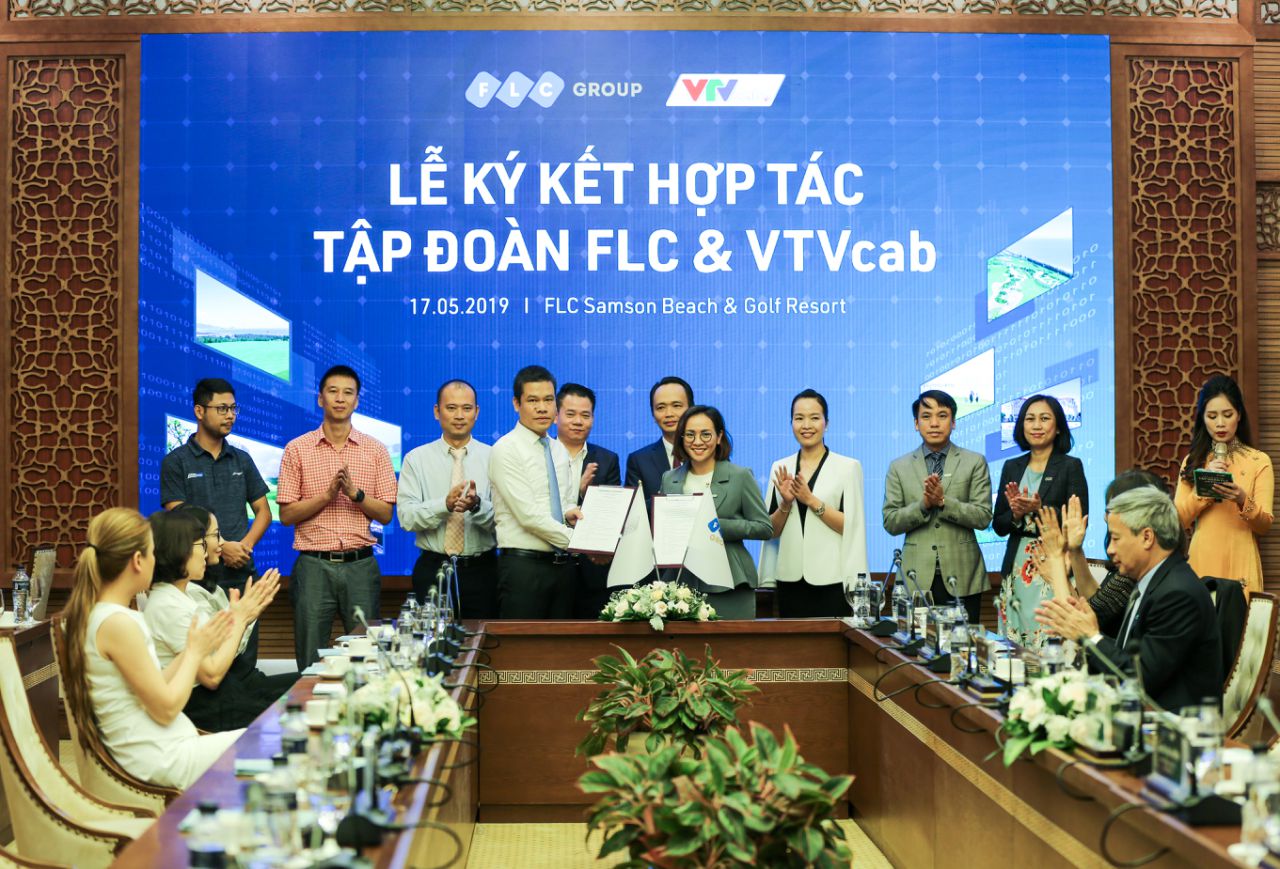 The Signing Ceremony of Comprehensive Cooperation between FLC Group and VTVCab at FLC Samson
The Ceremony had the attendance of Mr. Hoang Ngoc Huan – Chairman of VTVcab; Mr. Trinh Van Quyet – Chairman of FLC Group, and senior representatives of the two parties.
 Comprehensive cooperation, especially on golf
Adhering to the signed agreement, FLC Group and VTVcab will establish comprehensive cooperation, supporting the two parties' business goals, boosting coordination to develop and implement mutual packages of products and services. The ultimate goal of the partnership is to create an optimal ecosystem, taking advantage of competitiveness of each party.
One of the most noticeable contents in the agreement is that the two parties will coordinate to launch golf programs to be broadcasted on VTVcab 23 –HD Golf Channel – the first channel specialized in golf in Vietnam. Accordingly, the channel will do live broadcasts of golf tournaments organized by FLC Group, and the two parties will cooperate to create in-depth contents related to this particular sport.
Speaking at the Event, Mr. Hoang Ngoc Huan – Chairman of VTVcab said the cooperation would help to provide audiences with better experiences and high-quality entertainment services. This timely satisfies needs of Vietnamese sport fans for professional contents, especially about golf.
"An advantage of FLC Group is to own and operate a system of golf courses that meets international standards. FLC golf courses stretch across Vietnam and have been chosen as venues for hundreds of prestigious and high-quality tournaments. Along with staff having extensive golf expertise, FLC Group will work closely with VTVcab to create unique and professional information in golf field to VTVcab23 viewers. The two parties will work together to diversify broadcast contents with more attractive topics.
"The cooperation can help this "royal" sport to get closer to the public, thereby promote the development of golf and golf tourism in Vietnam," Mr. Trinh Van Quyet, Chairman of FLC Group emphasized.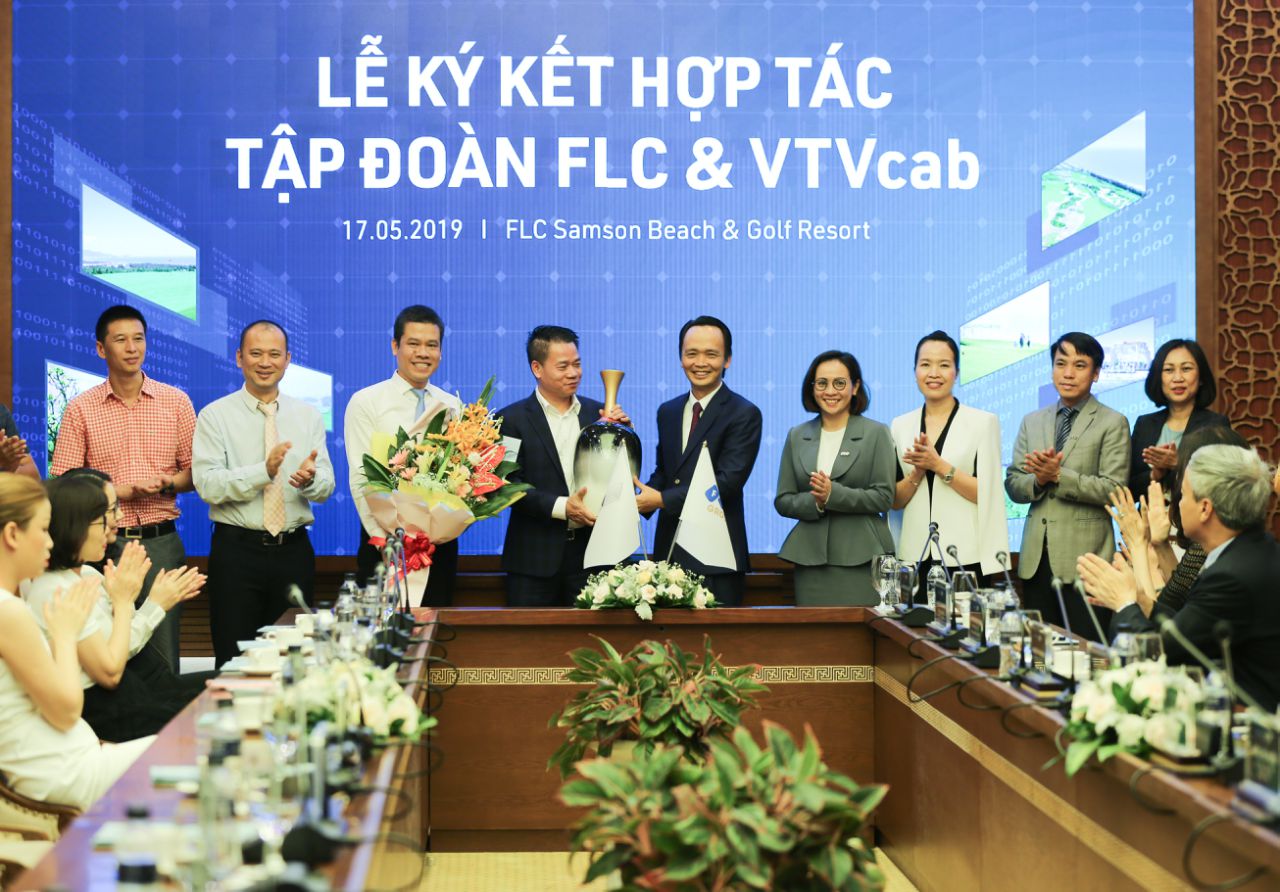 The close connection between the two prestigious brands is expected to result in high quality products, promoting Vietnam's golf development.
Wholly owned by Vietnam Television Station, VTVcab, with nearly 25 years of experience, is Vietnam leading producer and distributor of contents on multi-platforms. The Station possesses 200 domestic and international television channels across 60 provinces and cities nationwide.
FLC Group is one of the leading dynamic and profitable conglomerates in Vietnam, with key areas including resort real estate, golf courses, aviation, high-tech agriculture, etc.
The partnership between two prestigious brands with one in hospitality real estate, golf courses and the other in media and communication promises to benefit the public with high-quality entertainment products and services, diversified contents, and outstanding amenities, especially in golf field, one of the greatly potential industries in Vietnam.
 Elevating golf experiences in Vietnam
According to Forbes, Vietnam has the fastest golf growth in Asia in recent years. This impressive development is resulted from well-planned investments by large corporations in building top-class golf courses located on Vietnam's most beautiful landscapes and beaches.
Notably, FLC Group is operating international-standard golf courses in Sam Son, Quy Nhon, Ha Long and most recently Quang Binh with FLC Quangbinh Golf Links – the largest links golf course in Vietnam. FLC Group plans by 2022 to develop 100 golf courses in 63 provinces and cities nationwide.
In 2018 alone, FLC Group and FLC Biscom jointly organized nearly 200 prestigious tournaments, attracting thousands of domestic and international golfers. With the operation of Bamboo Airways, FLC Group and FLC Biscom are gradually completing an "all-in-one" ecosystem, connecting golf courses – hotels & resorts – flights, bringing local and foreign golfers the most satisfactory experiences.
Thanks to enormous investment in golf by large businesses such as FLC Group, the number of golfers in Vietnam increased from 2,000 – 3,000 in 2005 to 20,000 – 30,000 currently. However, this number  just accounts for roughly 0.3% of  the whole population of nearly 100 million people in Vietnam.
"Golf is a "green industry "that brings massive benefits to the economy and has direct impacts on tourism which is oriented to be a key economic sector in Vietnam. We hope to have connection with different reputable partners in different fields, including media such as VTVcab to promote and develop golf in the right direction to the world statue," said the representative of FLC Group.
Previously, on May 10, Redstrike – a prestigious British management & consulting firm and Michael Campbell – the world's leading golfer and the champion of US Open Tour 2005 expressed their desire to cooperate with FLC Group to develop a golf academy that meets international standards. The objective is to train qualified golfers to compete in big tournaments, and boost the development of professional golf in Vietnam.