On October 21st 2018, at FLC Samson International Convention Centre, Thanh Hoa, Military Industry and Telecommunication Group (Viettel) and FLC Group signed an agreement on comprehensive partnership for 2018 – 2022 period in order to foster the application of information technology in the management and operation of business.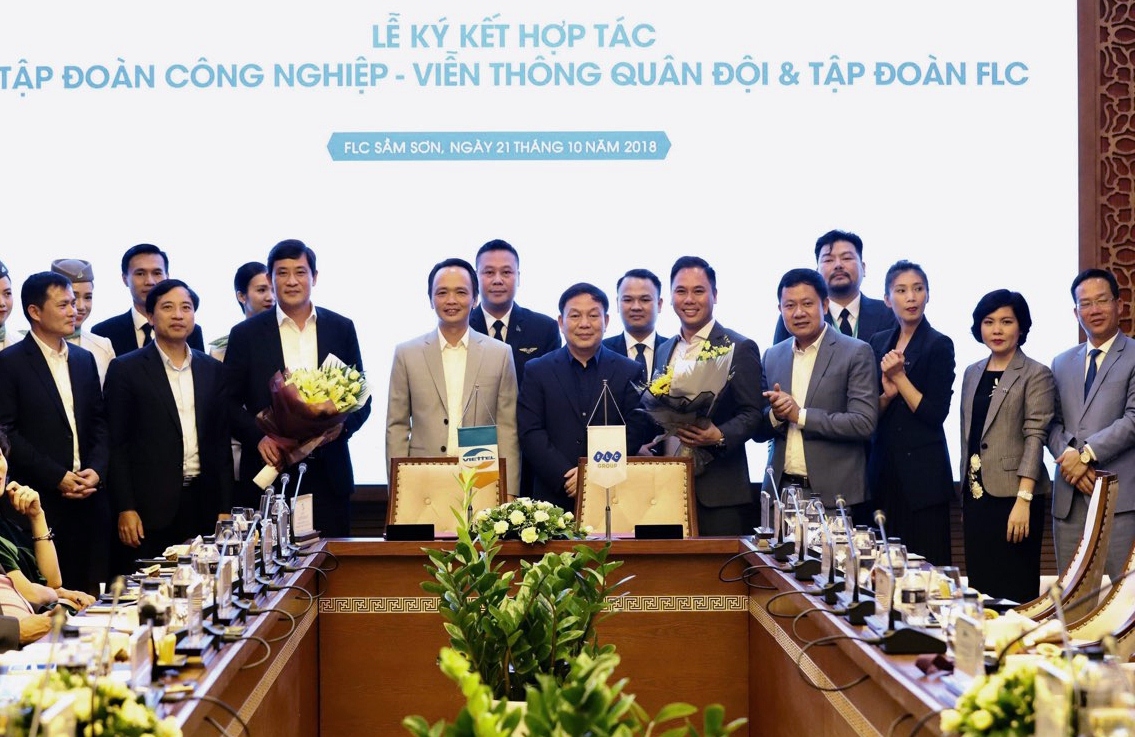 On the side of Viettel, the Signing Ceremony witnessed the attendance of Mr. Le Dang Dung – Chairman cum General Director of Viettel Group. Meanwhile, FLC Group is represented by Mr. Trinh Van Quyet – Chairman of FLC Group. The event also welcomed the presence of many other senior officers of both the parties.
Revolution 4.0 – Inevitable Tendency
Speaking at the Signing Ceremony, Mr. Le Dang Dung – Chairman cum General Director of Viettel Group indicated that Viettel for a long time has been known as an enterprise specialized in providing telecommunication services. Yet, in the context of Revolution 4.0 having significant influence upon all the sectors, Viettel had established a corporate solutions company to assist businesses in digital transformation and smartening business operation activities.
With regards to Revolution 4.0, the leader of Viettel Group indicated that there exists an explicit opportunity for Vietnam to blend itself into the global development, and that the leading role of large businesses is of special importance in order to take advantage of such opportunity.
Sharing the same perspective, Chairman of FLC Group – Mr. Trinh van Quyet reckoned that in the context of the Vietnamese Government determining digital economics as one of the essential pillars of the national economic growth, Revolution 4.0 is an opportunity and also a challenge for corporate group.
Should a business wants to survive and develop, it needs to rapidly approach newest trends of technology in terms of business and production model as well as management and operation system.
Large-scale businesses, which operate in multi sectors like FLC Group, is currently in need of cooperating with leading reputed partners in the field of technology, e.g. Viettel Group, in order to improve adaptive capacity and make the most out of opportunities generated by the digital era.
Especially, after the born of Bamboo Airways, FLC Group has set a target of expanding flight network to international destinations, rather than keeping it remain within Vietnam. As a 5-star oriented Airline, Bamboo Airways has received a great deal of investment resource from FLC Group, demonstrated through the signing of a number of trade contracts that worth billions of USDs and the registration of partnership with top technological and service partners.
"As such, the partnership between FLC Group and Viettel Group is considered to be crucial and extremely necessary", emphasized Chairman Trinh Van Quyet.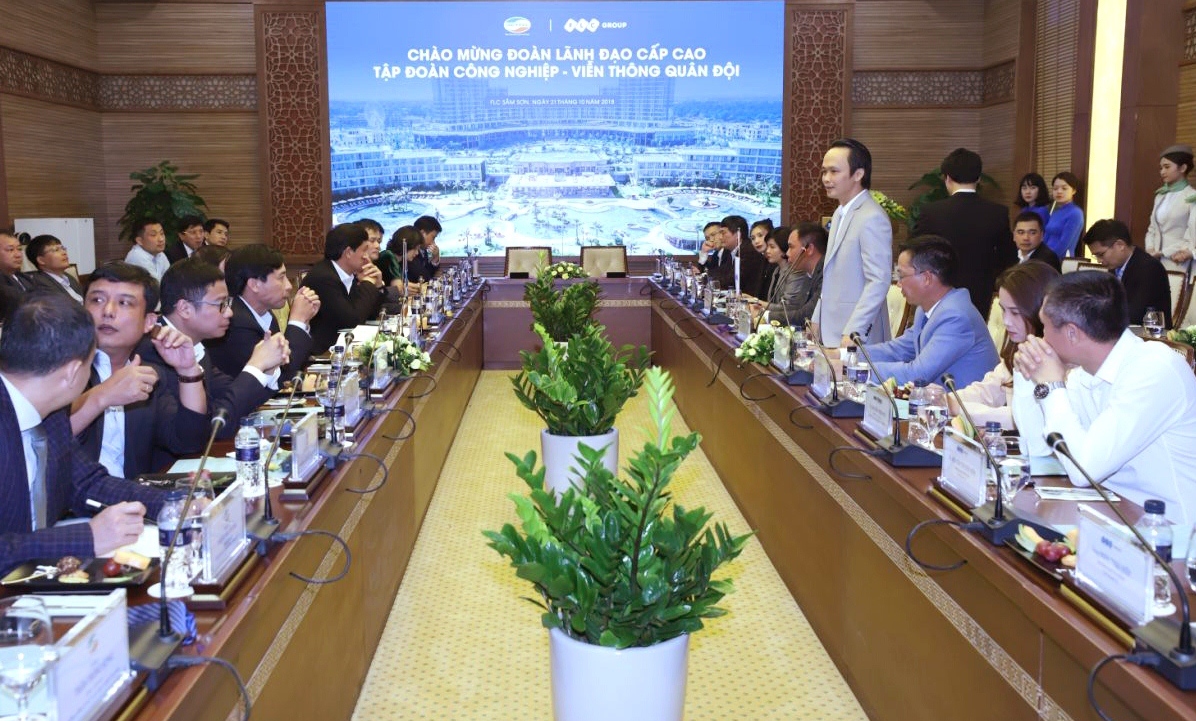 Mr. Trinh Van Quyet – Chairman of FLC Group giving speech at the Signing Ceremony.
Hợp tác cùng đồng hành phát triển
Cooperating to together develop
Based on the comprehensive partnership, Viettel and FLC Group will cooperate to build and promote packages that contain products and services of both sides with the purpose of optimizing the inherent strengths of each party.
In details, Viettel will be accompanying with FLC Group during the process of digital transformation to provide the customers with the most convenient experience, and thereby construct information technology – telecommunication platform. By doing this, all the member companies and individuals of FLC Group will be accommodated with modern, innovative and efficient technologies.
Concurrently, Viettel is willing to support FLC Group to approach 60 million customers in the domestic market and another 40 million customers across over 10 countries worldwide.
In addition, Viettel will be able to integrate products of FLC Group to optimizing customer services, including air transport, hotel, entertainment with inclusion of golf, and distributing air tickets via direct and digital sale channels developed and owned by Viettel.
In the meantime, FLC Group will be able to utilize many achievements of Viettel Group in the field of technology and management. For example, non-paperwork office – Voffice; digital signature – CA; digital invoice – Sinvoice; smart camera; logistics; radio chatter to be used on 4G platform – VoLTE; digital payment – ViettelPay; information security; etc. These smart applications are of special help not only if real estate and hospitality tourism but also areas that involves many technological elements such as aviation and high-tech agriculture.
Mentioning about the vision and development strategy, Mr. Le Dang Dung expressed: "Like FLC Group, if Viettel wants to do something, it must be substantial. In the other words, it must be done in national and international dimensions. Based on this mutual point, Viettel sees FLC Group as not only a partner but also, importantly, a companion.
Despite so, this is the very first time Viettel works with a private enterprise. Yet, after the Signing Ceremony today, all the barriers between a state-owned enterprise and a private enterprise has been eliminated", stressed Mr. Dung.
Following the signed partnership agreement completed today, the leader of Viettel Group has expressed absolute trust in the success of the digital transformation of Vietnamese businesses, which implicates new opportunities for the citizen, the businesses and the nation.
Having high appreciation for the partnership with Viettel, the Chairman of FLC Group expects this agreement will act as a premise to open numerous new cooperation opportunities for senior officers, managerial individuals of not only the Group but also its member companies. The ultimate purpose is to continue acquiring more and more effective partnerships in the future.
Prior to the official Signing Ceremony, FLC Group and Viettel have gone through a long time cooperating via a number of projects in the field of technological infrastructure, network security, trade payment system, electronic booking designated for resort complexes of FLC Group as well as other real estate projects.