On December 1st 2020 in Hanoi, FLC Group and Suntory PepsiCo Vienam officially signed agreement on strategic partnership with many important contents in support of maximizing the potential and strengths of each party in the field of investment, production, business, supply and communication.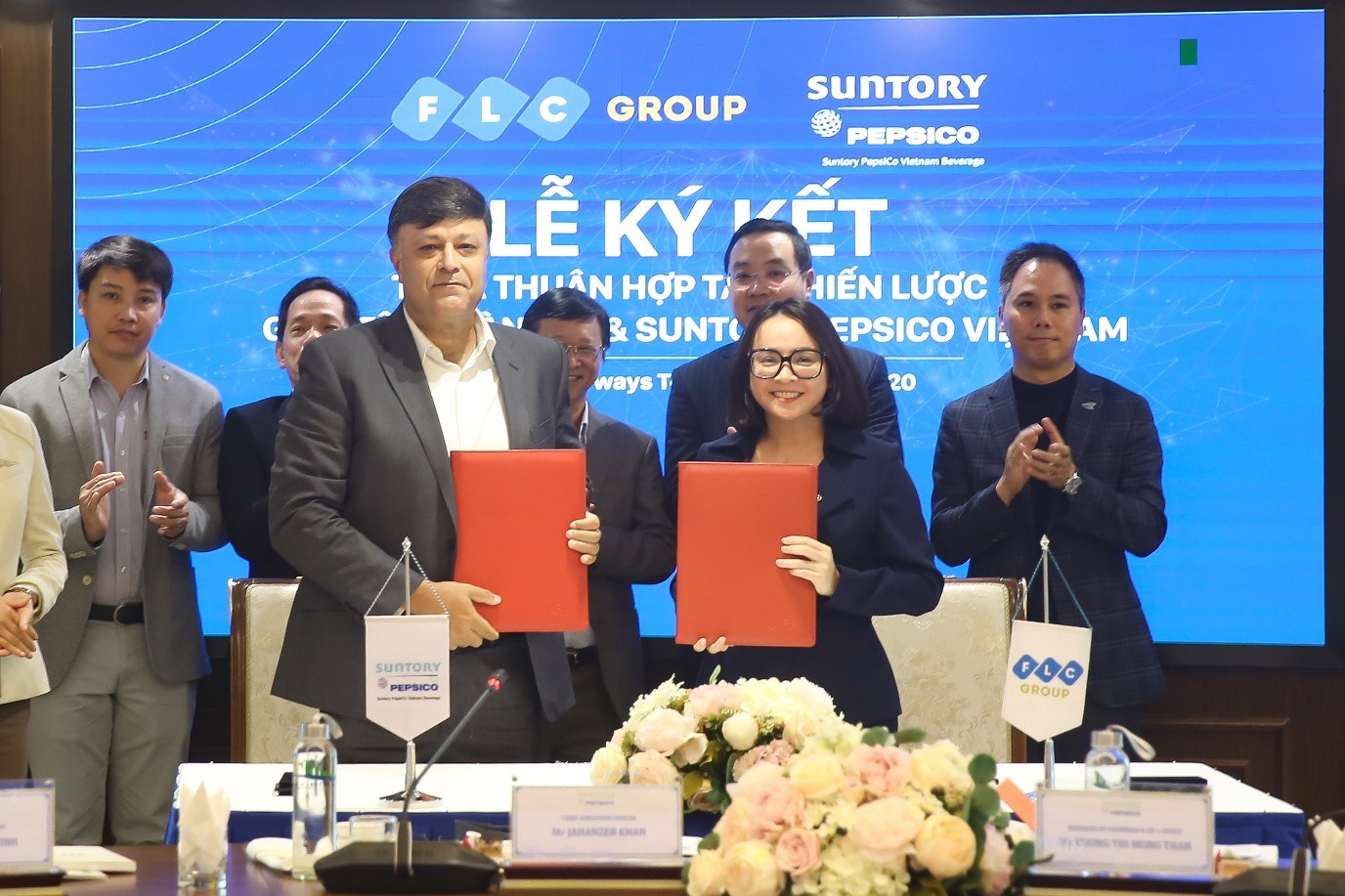 Signing Ceremony of Strategic Partnership between FLC Group and Suntory PepsiCo Vietnam
 According to the agreement, FLC Group and Suntory PepsiCo Vietnam (SPVB) will establish comprehensive strategic cooperation with principle of prioritizing products and services of each side. Simultaneously the cooperation will allow the two parties to optimize the database and business network in order to expand the influence of each brand as well as products and services in the market.
Besides, both FLC Group and SPVB will also promote marketing and communication with the purpose of increasing the value of brand image via the media and also the set of strategic customers of each party.
At the signing ceremony, a number of detailed cooperation terms had been discussed and approved; these will correspondingly be executed as soon as the beginning of December. These involve SPVB cooperating with FLC Biscom (FLC Group's company that operates golf courses and yacht services) to integrate advertisement into golf courses operated by FLC Biscom. Along with that, SPVB and FLC Group will also collaborate organizing many events/programs in 2021 under Pepsi and Bamboo Airways brands with inclusion of numerous practical social activities in support of the community.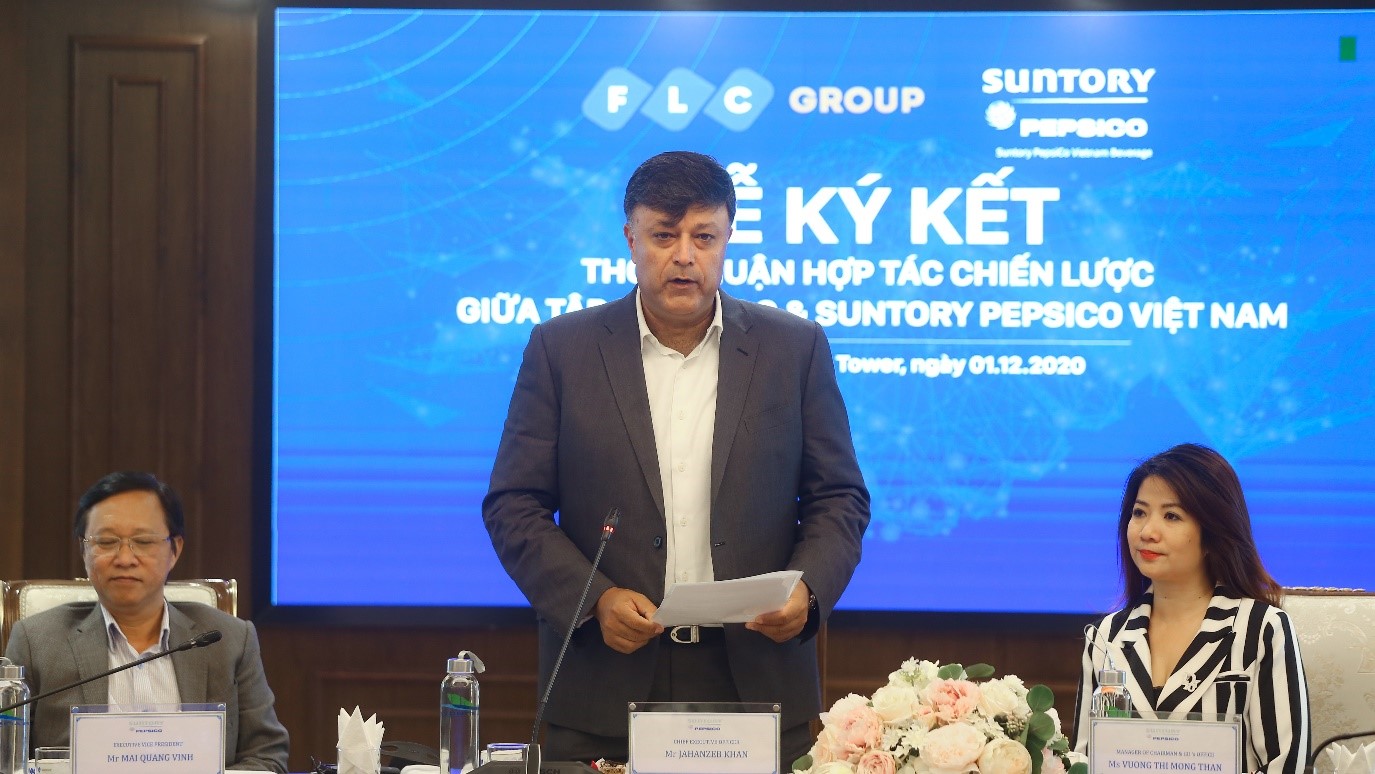 Mr. Jahanzeb Khan – General Director of Suntory PepsiCo Vietnam speaking at the event
"FLC Group is an enterprise that operates and develops in various sectors and has been recognized for high-end hotels and resorts, golf courses and air transport. The strategic partnership with the target of thriving for sustainable development and effective cooperation in community supporting program will create practical values for the people of Vietnam. We believe that based on the strength in product quality and distribution network, Suntory PepsiCo Vietnam will be a trustworthy partner of FLC Group", indicated Mr. Jahanzeb Khan – General Director of Suntory PepsiCo Vietnam.
With high appreciation for the leading role of Suntory PepsiCo Vietnam in the beverage sector as well as its sustainable development plan being maintained through many years of operation, Mr. Dang Tat Thang – Deputy Director of FLC Group, General Director of Bamboo Airways reckons that both FLC Group and Suntory PepsiCo Vietnam do share many mutual mindsets, especially one of being a pioneer in delivering top quality products and services to consumers.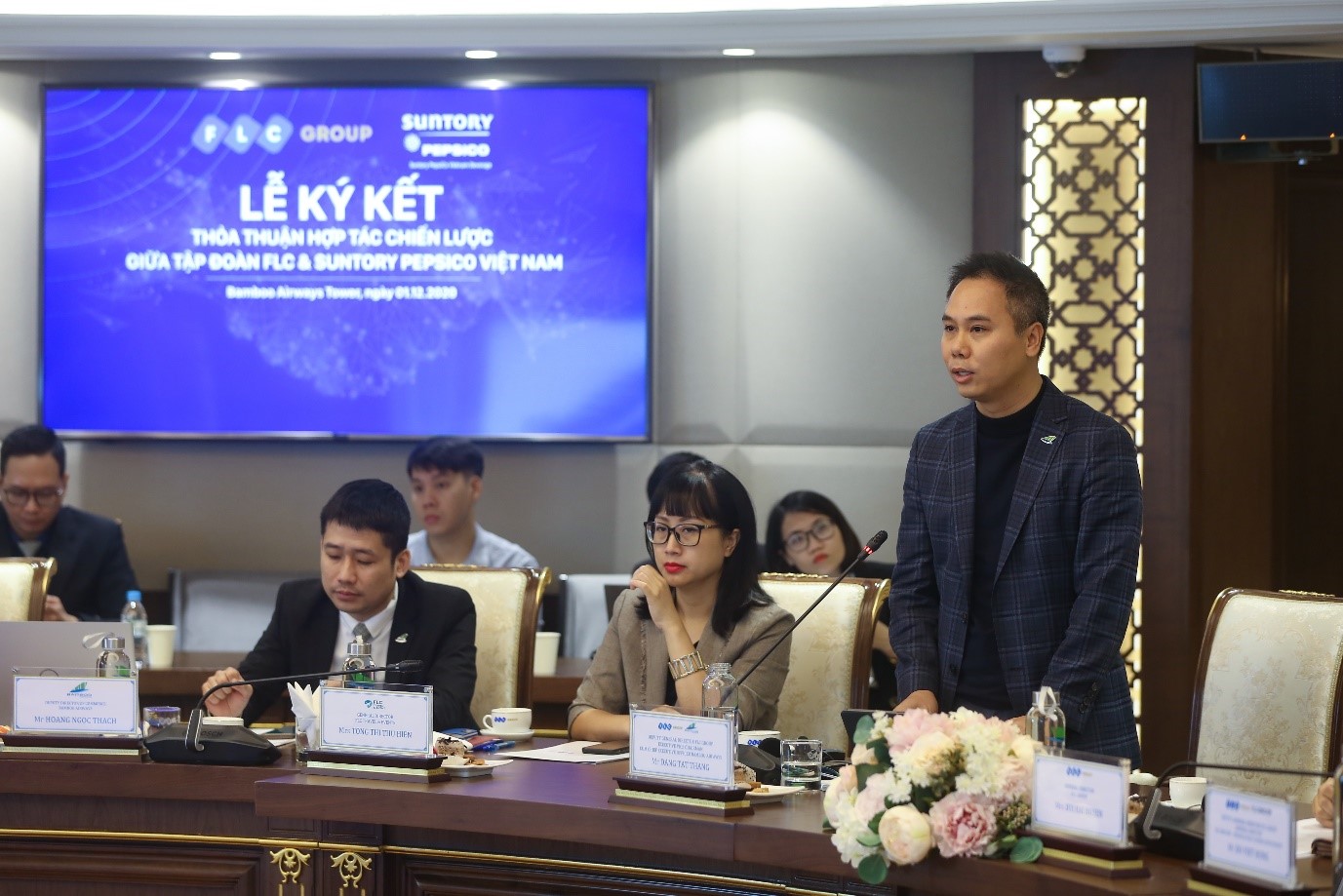 Mr. Dang Tat Thang – Deputy Director of FLC Group, General Director of Bamboo Airways
 "The ecosystem of diverse products of FLC Group and one of Suntory PepsiCo Vietnam can absolutely assist each other in an effective manner in order to sustainably develop together and offer massive values to the Vietnamese society and market", affirmed Mr. Dang Tat Thang.
At the event, much information regarding to business activities of both sides had been brought forward for discussion in order to implement and open more cooperation opportunities in the shortest time possible.
FLC Group has been researching the feasibility of investing in hundreds of projects in multiple sectors all over the country. In the recent years, the Group has also created impressive imprints thanks to the success of world-class golf resort complexes.
Most recently, on November 28th, FLC Grand Hotel Quy Nhon in Binh Dinh officially came into operation. Parallelly, FLC Group has been finishing off the final work of FLC Sea Tower Quy Nhon and preparing for its opening in the upcoming time. This is a hotel, shopping centre, high-class apartment complex situated right in the heart of Quy Nhon city.
With the capacity of 1,500 rooms that can accommodate up to 3,500 guests, FLC Grand Hotel Quy Nhon is now one of the biggest hotels in Vietnam at the moment.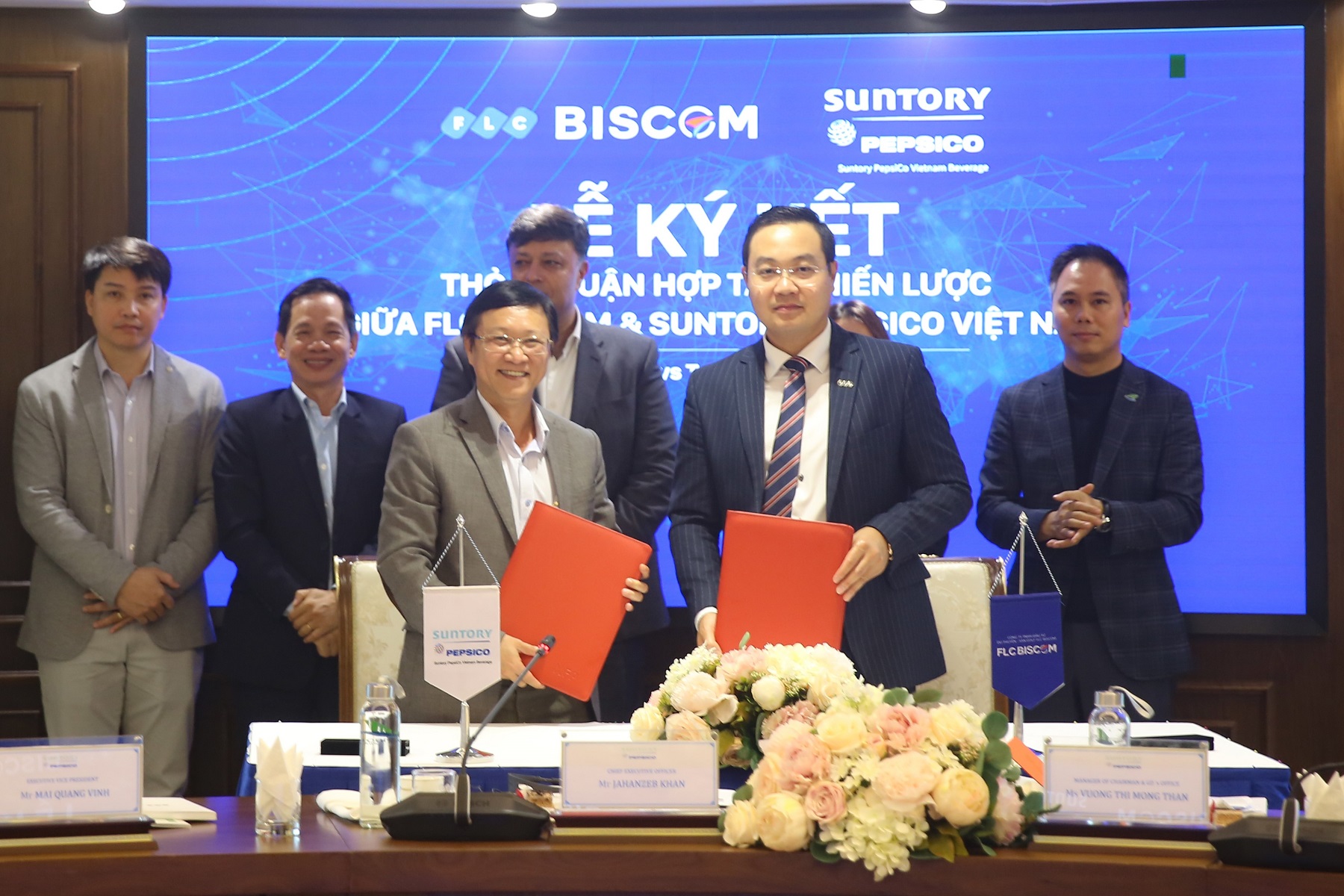 The operation between FLC Biscom and Suntory PepsiCo Vietnam allows advertisement to be placed in golf courses run by FLC Biscom.
 It is expected that FLC Group will carry on with the ground-breaking ceremony of Mo Neo eco-tourism resort – the first high-end mountainous resort in Ha Giang city. The project encompasses 5-star hotel, international convention centre as well as unique amenities in support of sightseeing, relaxation and entertainment.
In the field of air transport, the first 10 months of 2020 witnessed Bamboo Airways consistently leading the market in terms of on-time performance rate, which was 95.7% as average. Bamboo Airways is also the only airline that operates beyond the capacity achieved in the same period of the previous year, with the flight growth reaching 52.8%.
Suntory PepsiCo Vietnam is a strategic alliance between Suntory Group – Japan and PepsiCo – the US. As one of the leading beverage companies in Vietnam (according to Vietnam Report), Suntory PepsiCo Vietnam is ranked 3rd among the multi-national companies in the FMCG sector. The company also possesses the best working environment in Vietnam and has been recognized by the Government as one of the businesses that has the greatest corporate income tax payment in Vietnam for 4 years in row.
The company owns 13 famous beverage brands such as Pepsi, 7up, Tea+, Aquafina, etc. With the vision of "Growing for Good" and the value of "Giving Back to Society", Suntory PepsiCo Vietnam has actualized its commitment in providing with top quality beverage products made in Vietnam. In the last 10 years, Suntory PepsiCo Vietnam has invested USD 500 million in building 5 manufactories and setting up 6 business offices all over Vietnam, which has created jobs for nearly 3,000 direct workers as well as thousands of indirect laborers within supply, logistics and distribution network.