On October 28th 2019, at Bamboo Airways Tower, 265 Cau Giay, Hanoi, FLC Group and Samsung Electronics Vietnam officilally signed an agreement on comprehensive strategic partnership with inclusion of matters associated to exploiting and optmizing the ecosystems of products and services of both the parties.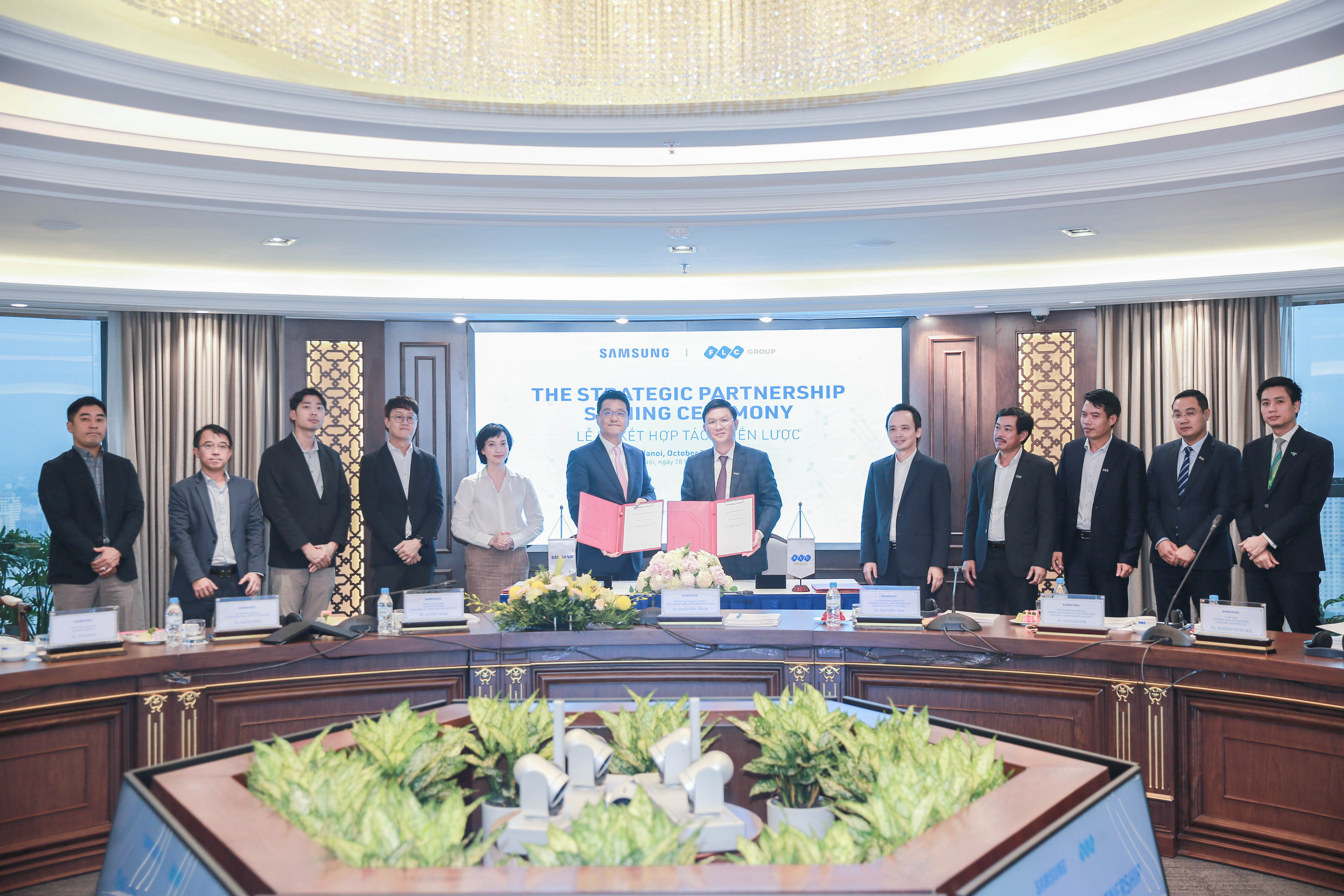 The Strategic Partnership Signing Ceremony between FLC Group and Samsung
In details, the products of Samsung technological ecosystem such as air conditioners, electronics, household appliances, smart door locks and Smart Home solutions will be embedded into real estate projects in that FLC Group is the independent investor and either joint investor.
Besides, FLC Group and Samsung will collaborate to construct sales and after-sales policies for each other, and simultaneously foster propaganda as well as promotion of brand images of both the parties via media of each side.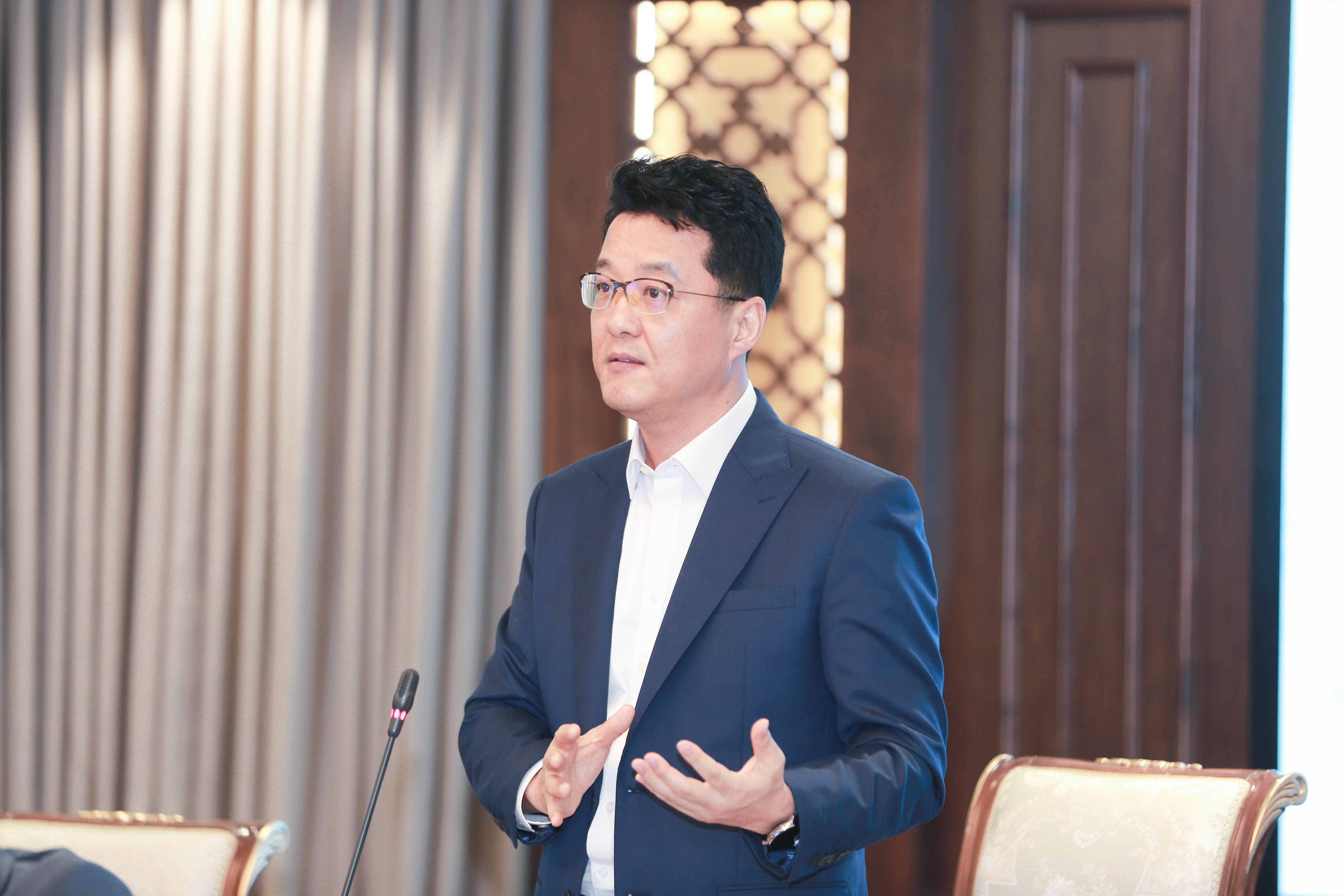 Mr Suh Kyung Wook – President of Samsung Electronics Vietnam giving a speech
Mr Suh Kyung Wook – President of Samsung Electronics Vietnam said: "Samsung is a leading global electronic corporation in terms of providing solutions and smart technologies to everyday living. We strongly believe that based on this startegic partnership agreement, Samsung and FLC Group will accompany each other to generate many meaningful real estate projects in the future in the purpose of improving the experience of Vietnamese people".
With regards to the developement orientations of both the parties that possess many similarities as well as human-centered thingking, Mr Trinh Van Quyet – Chairman of FLC Group expressed a high expectation that "both the ecosystem of real estate, hospitality, aviation of FLC Group and the ecosystem of technologies of Samsung will be effectively supporting each other, together striving powerfully and sustainably, and bringing more and more great value to the Vietnamese society and market".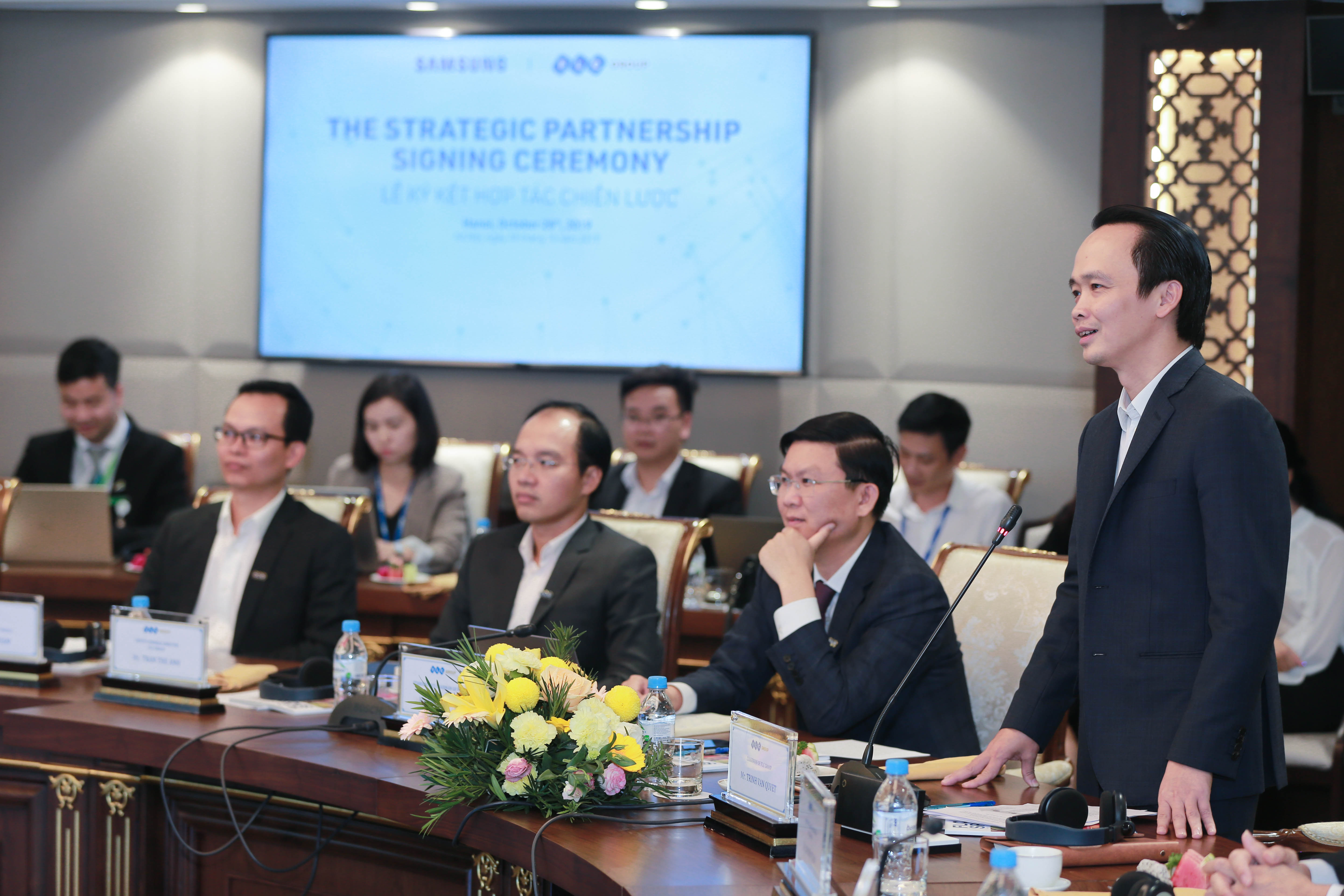 Mr Trinh Van Quyet – Chairman of FLC Group giving a speech
As long as there are world leading technologies of Samsung integrated, FLC Group, which for many years has been well known for its real estate projects in Vietnam including FLC Sam Son, FLC Quy Nhon, FLC Ha Long and Bamboo Airways Tower, will surely make difference and have distinct advantages over its competitors when being presented to the customers.
For the past few years, FLC Group has made great marks on the market by successful operation of its international-standard hospitality complexes across many provinces and cities in the country. Meanwhile, Bamboo Airways has risen to become a phenomenon of the Vietnamese aviation industry. This is demonstrated through the fact that Bamboo Airways having the highest on-time performance rate and excellent service quality, and that it is a pioneer airline orientating itself towards international 5-star standard. FLC Group has been setting a target on constructing a completed complex with inclusion of diverse products and services in order to meet the community's demand.
On the side of FLC's counterpart, Samsung, which is famous for consumer electronics consisting of smart household appliances such as air conditioners, refrigerators, washing machines, and especially Samsung Smart Solutions that has been introduced recently in Vietnam, commits itself to generating useful technological values in order to improve life quality of its partner.
By togther orientating towards the creation of high quality products and services, FLC Group and Samsung pledge to maintain a rigorous, powerful and long-lasting partnership as well as practical support with the intention of achieving sustainable development. This is of special importance in constructing the future and spreading great values to the Vietnamese market.
Background Information of Samsung Electronics Vietnam
Samsung Electronics Vietnam, has been inspiring the world and shaping the future by breakthrough innovations and technologies that play a vital role in redefining TVs, smart mobile phones, smart wear devices, tablets, digital household appliances, network system, memory cards, semiconductor technology and LED solutions. Please kindly access Samsung Newsroom via https://news.samsung.com/vn/ for latest news and information.
Background Information of FLC Group
FLC Group is a multisector economic corporation that retains the most proactive and effective operation in Vietnam, with the main focus placed upon real estate investment and business, aviation, tourism services, hospitality, golf, and high-tech agriculture. In addition to those core sectors, a number of extended business areas have also been receiving increasing investment from FLC Group. These encompass construction, financial investment, extraction and processing; pure water, education and health. Following the motto of pursueing sustainable development, FLC Group always aims to conquer higher targets and is a top choice of every partners and customers in both domestic and international dimensions.