Harmonizing the natural beauty and the modernity of a world-class architectural work, FLC Quy Nhon is an attractive destination to visitors.
Favored with natural landscapes and favorable weather conditions, Quy Nhon is called as "an island paradise" of Vietnam and has become a popular tourist destination in recent years.
Along with Eo Gio – where to see sunrise at best of beauty in Vietnam" or Ky Co – "dubbed as Vietnamese Maldives", or other natural landscapes, FLC Quy Nhon Beach & Golf Resort (FLC Quy Nhon) is another tourist attraction of the province.
After having received many prestigious awards, FLC Quy Nhon has just been recognized as "Vietnam's Leading Beach Resort" at the World Travel Awards (WTA) for its converged enchanting charms.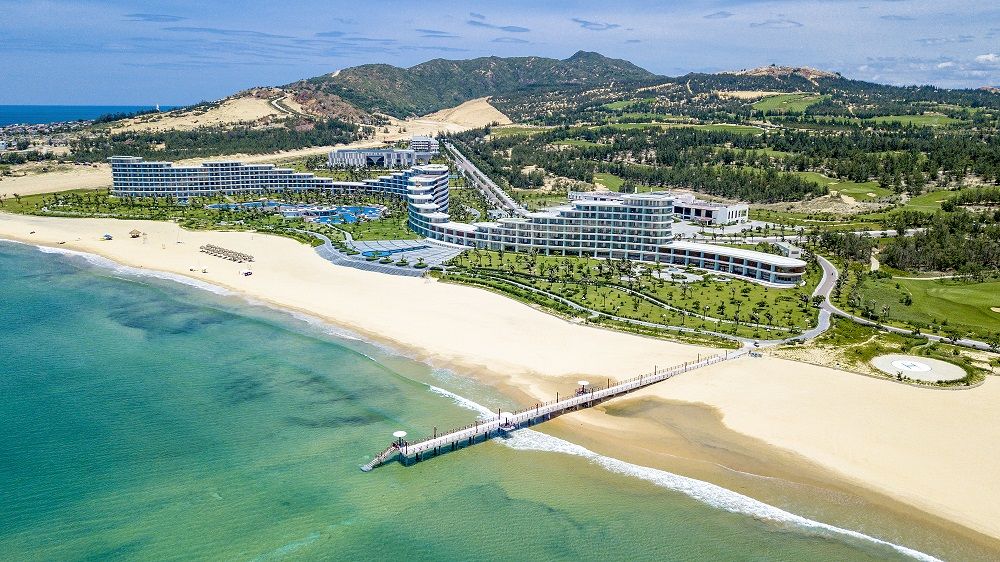 Green hotel with all sea view rooms
Standing in the middle of Nhon Ly beach (Quy Nhon City) with beautiful scenery, FLC Luxury Hotel Quy Nhon is designed in the shape of a white dragon winding along the seaside. FLC Quy Nhon (nearly 1 km of length) is one of the longest coastal hotels in Vietnam. All hotel rooms have sea view, and many of which have large view of up to 270 degrees (3 directions). At any rooms, visitors can enjoy a breathtaking panoramic view of Quy Nhon sea with white sand and turquoise water. This distinct design has helped FLC Luxury Hotel Quy Nhon win different domestic and international awards, including the "Best Unique Hotel Architecture Design" in 2016 by Property Report.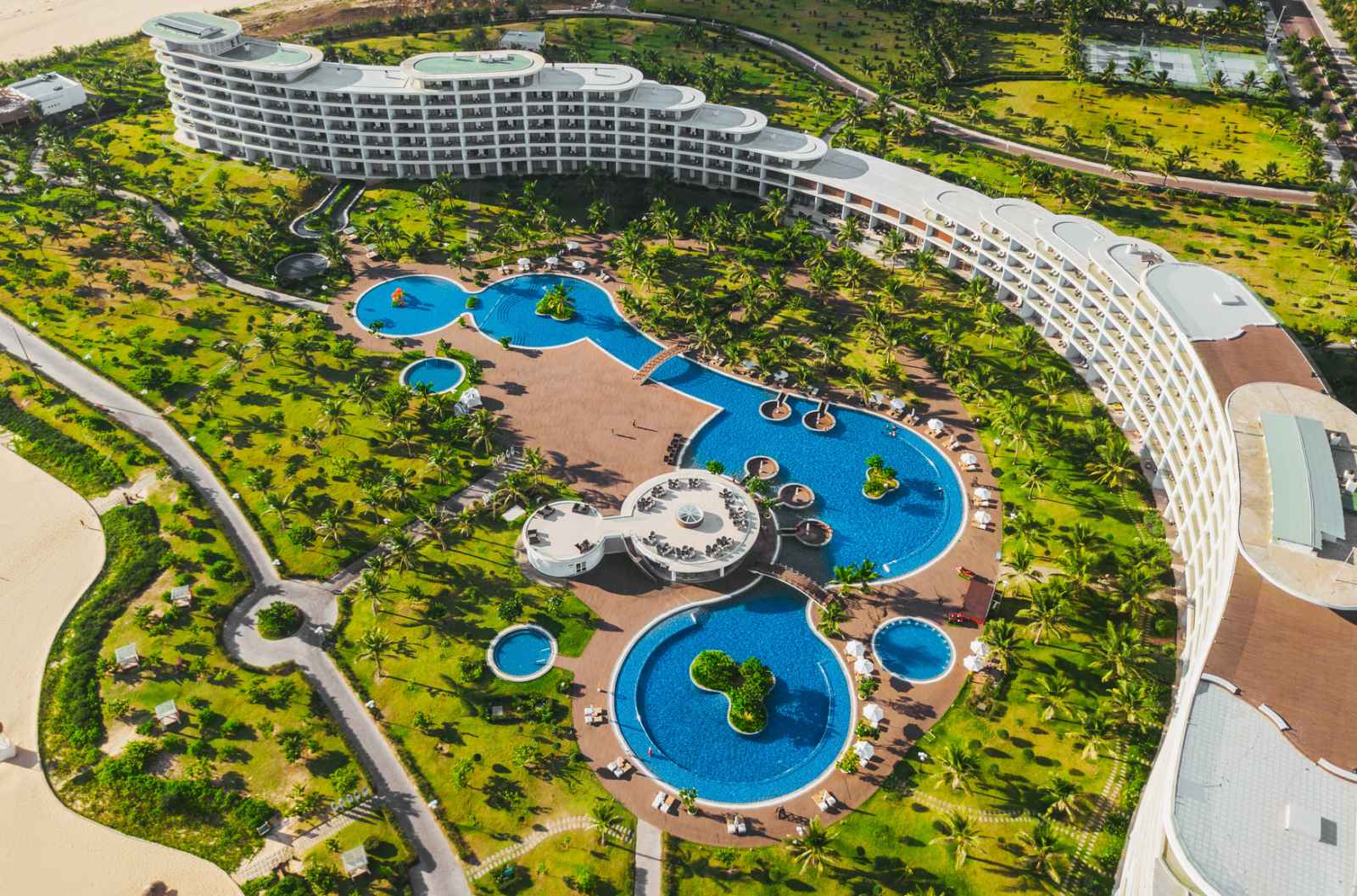 The most luxurious villa block in Quy Nhon
Besides a sea view hotel, FLC Quy Nhon also has a luxury villa block with sea view and golf course view. All villas have luxurious and elegant interiors which can accommodate 2-10 adults, bringing visitors a relaxing and private vacation.
Especially, one highlight of the resort is infinity swimming pools running along the villas. Swimming pool water is clarified by an automatic filtration system. Immersing in the cool blue water, visitors can at the same time enjoy the poetic scenery of Nhon Ly beach.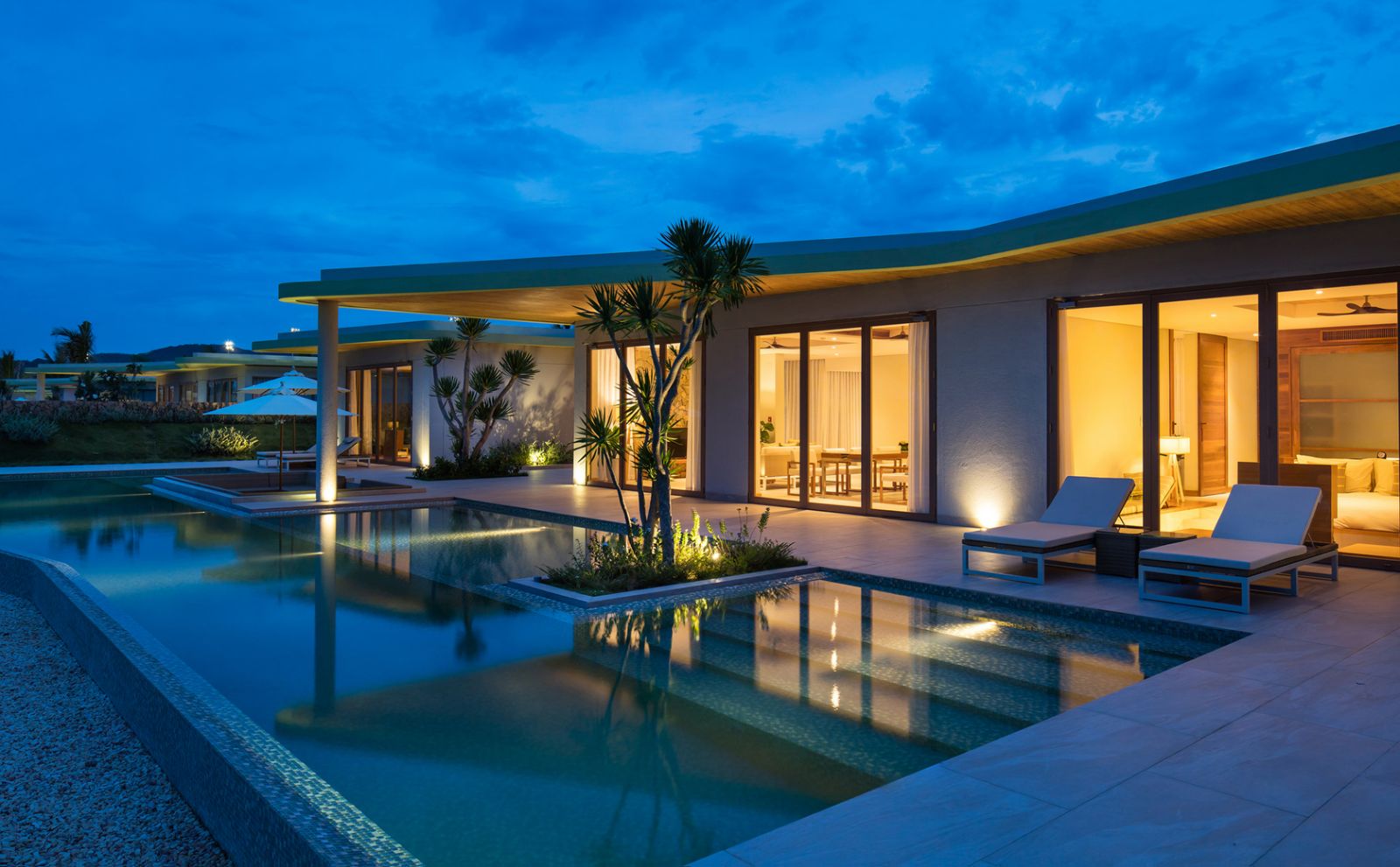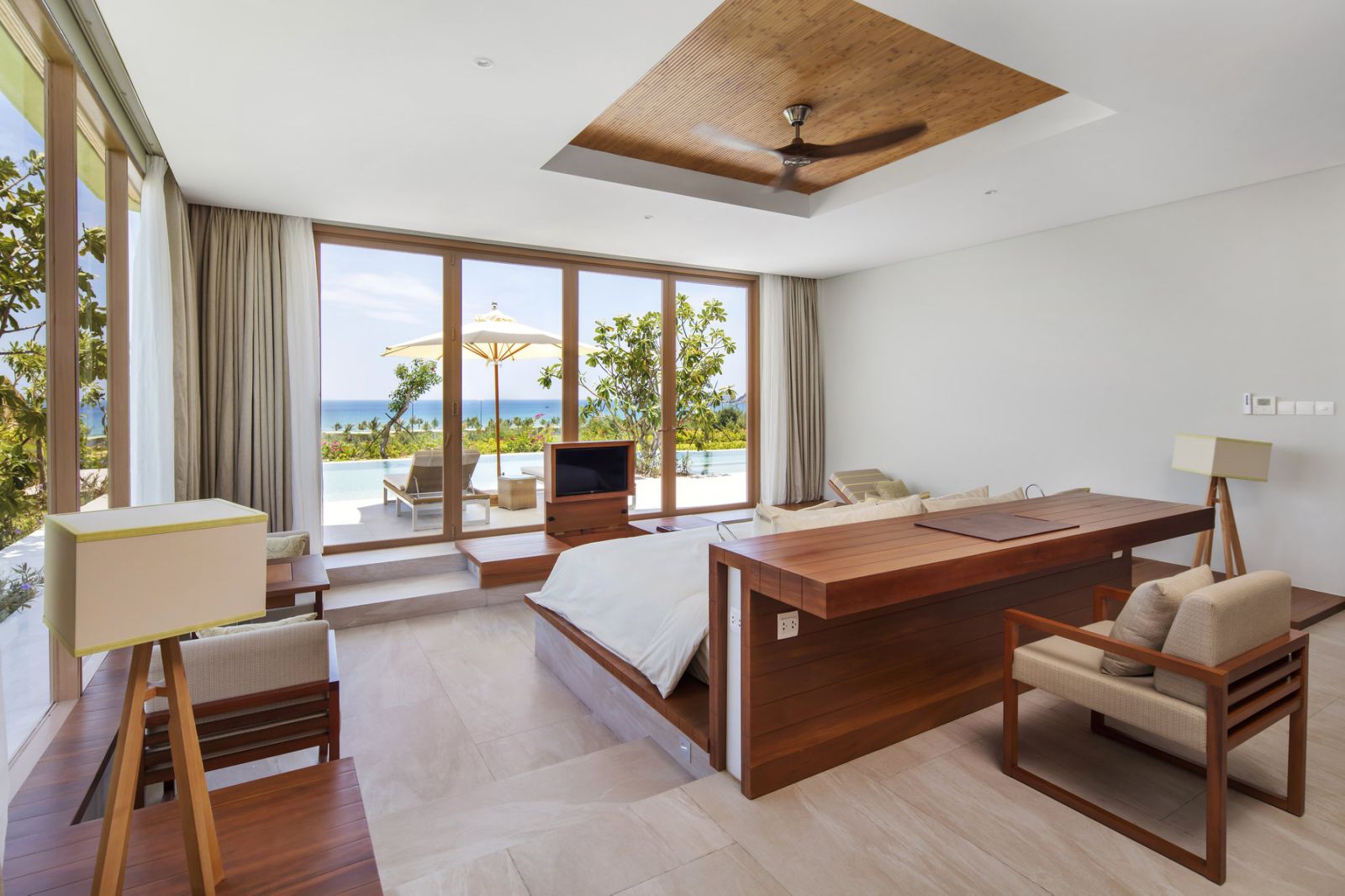 High-class amenities
Tourists will never get bored when staying at FLC Quy Nhon. The resort includes a range of high-class amenities, meeting diverse needs, such as indoor and outdoor playgrounds for children, multi-style restaurants, luxurious bar, sports room, spas, swimming pools, etc.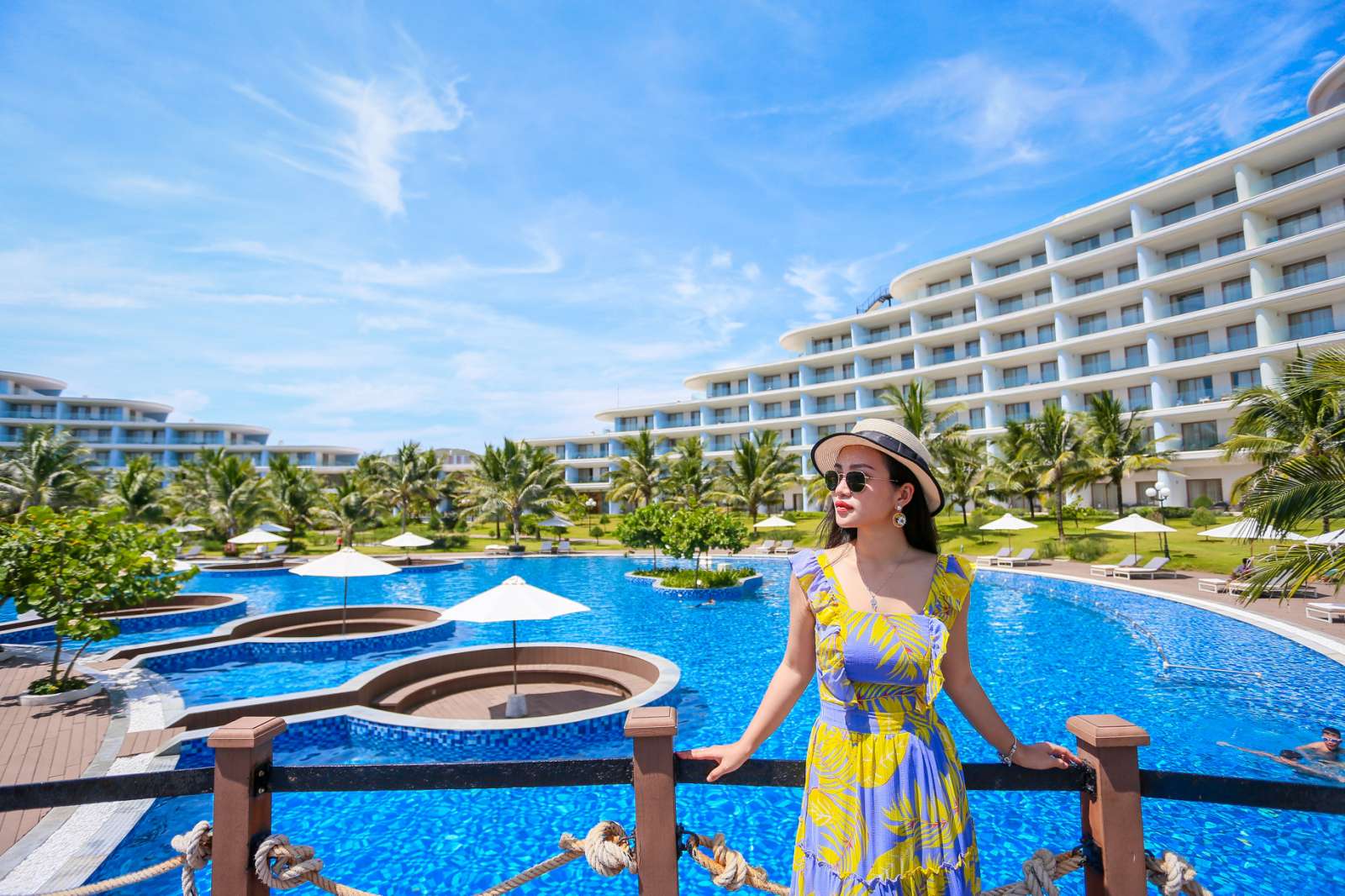 In addition, FLC Quy Nhon also owns a 36-hole links golf course situated at a spectacular location. Ranking among Top 3 Beautiful Golf Courses in Asia, the course was designed by a world-renowned brand, showing a unique and sophisticated beauty. Golfers and visitors can have fun and relax in the Club House campus with high-class relaxation and dining services. FLC Golf Links Quy Nhon will surely satisfy all demanding golf lovers.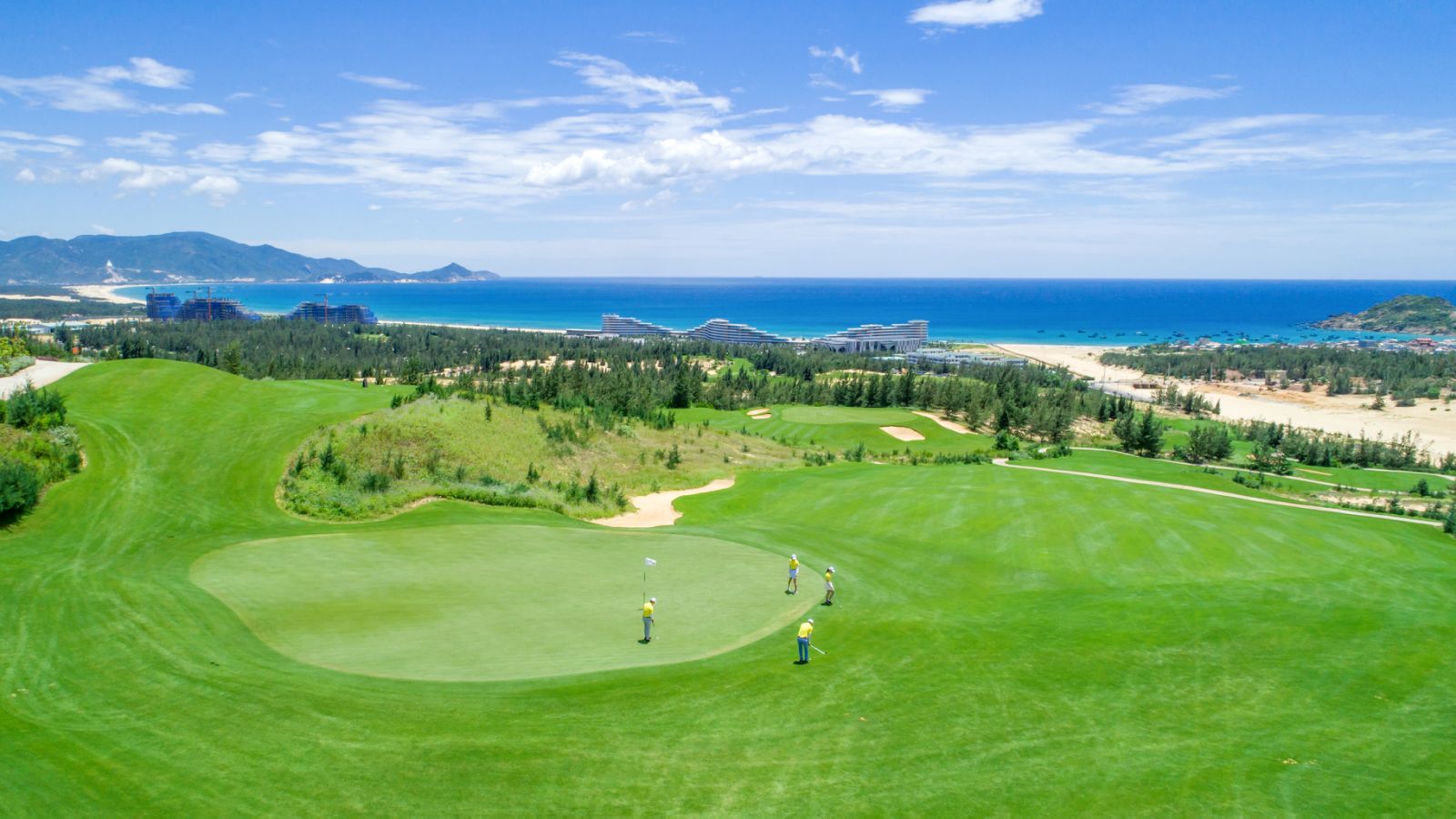 FLC Quy Nhon is not only an ideal choice for hospitality but also a perfect choice for MICE tourism. The resort was honored as "Best MICE Venue" at the Southeast Asia Tourism Forum – ATF 2018. FLC Quy Nhon has also been chosen to host various significant conferences, events in the country, including the Central Region Economic Development Conference 2019, Miss Vietnam 2018 – Final round in the southern region, etc.
FLC Zoo Safari Park is the first safari park in Quy Nhon which has soon become a domestic and international tourist attraction.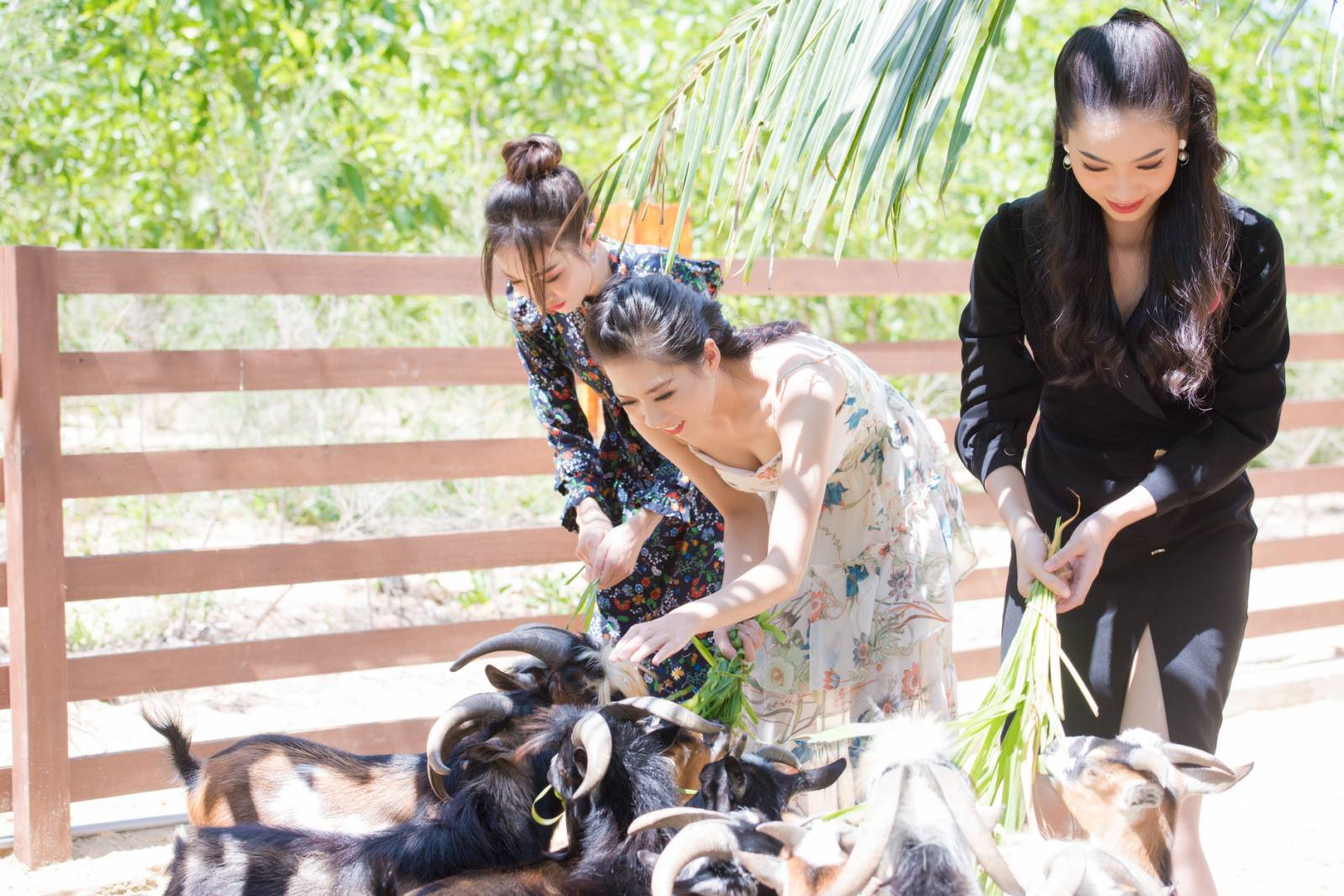 Located in Nhon Ly beach, FLC Zoo Safari Park is home to over 1,000 rare and precious animal species, including: Indochinese tiger, white lion, elephant, crocodile, deer, star, deer, African ostrich, swan, Tadorama yellow duck, peacock, monkey, etc.
Tourists will choose to experience crocodile fishing, pet feeding, kayaking and many other interesting activities.
Diverse top-class services
As one of the leading 5-star resorts in the Central region, FLC Quy Nhon offers visitors diverse services to different groups of tourists. For families with kids, FLC Quy Nhon has an ideal entertainment area for children with a lot of interesting activities such as figurines, sand paintings, painting, storytelling, etc.
Along with that, all staff are friendly and careful when guiding and taking care of kids so that parents can freely enjoy their time.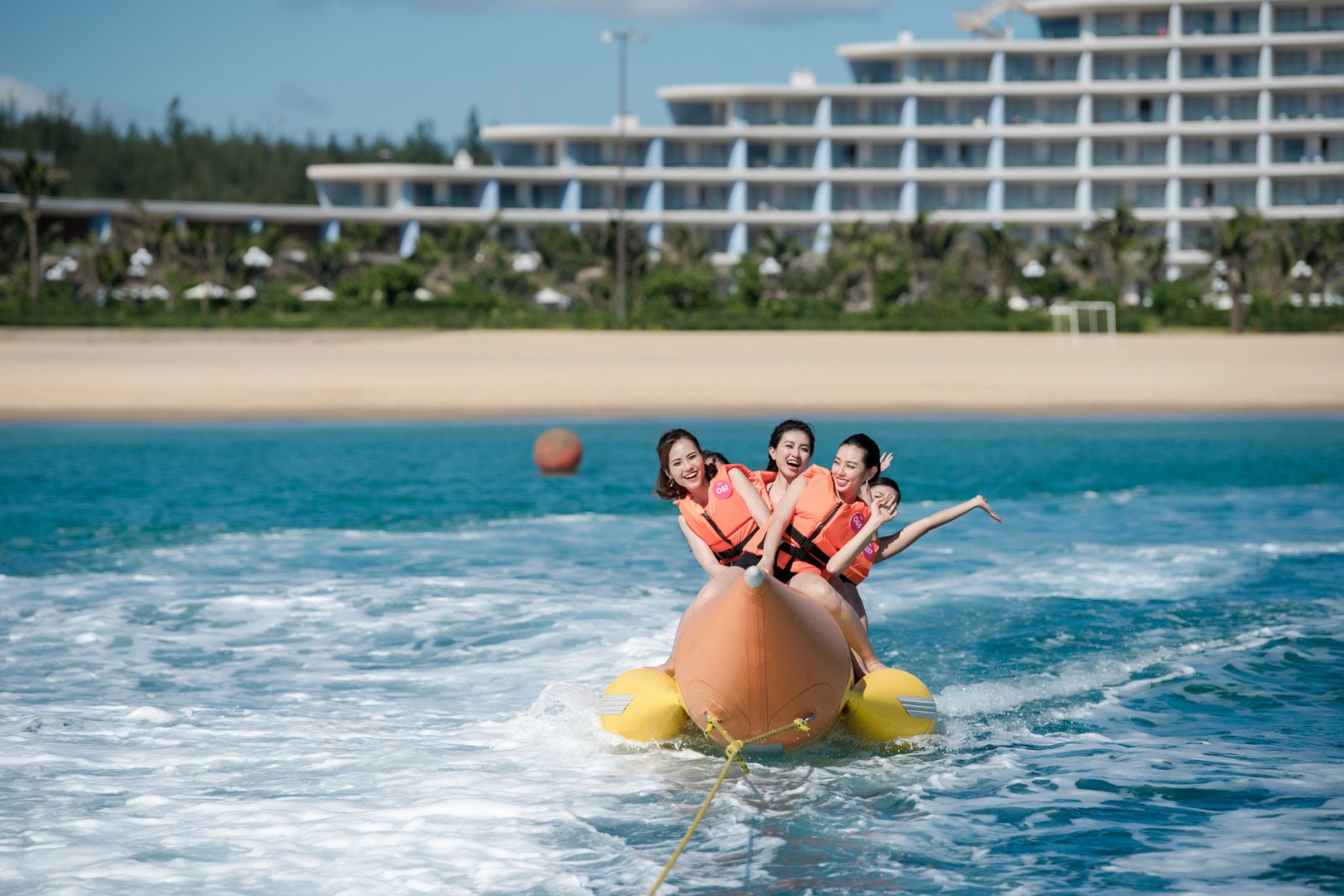 For groups of young adults, FLC Quy Nhon offers various sea sports activities: water moto driving, sailing, windsurfing, water skiing, kayaking, etc. The Resort has been recommended as a must-visit "hospitality paradise" to visitors.
The above are just a few of the countless "pluses" that make FLC Quy Nhon "Vietnam's Leading Beach Resort".