A large conference will be held in Ha Long city at the end of April, with the participation of representatives of local authorities, leading tourism companies, together with various prestigious experts to discuss solutions to further promote the huge tourism potential of Quang Ninh in general and Ha Long in particular.
Giving his comments ahead of this Conference, Mr. Trinh Van Quyet, Chairman of FLC Group said it was time to have a new master plan for developing Ha Long into a tourism city of regional and international stature.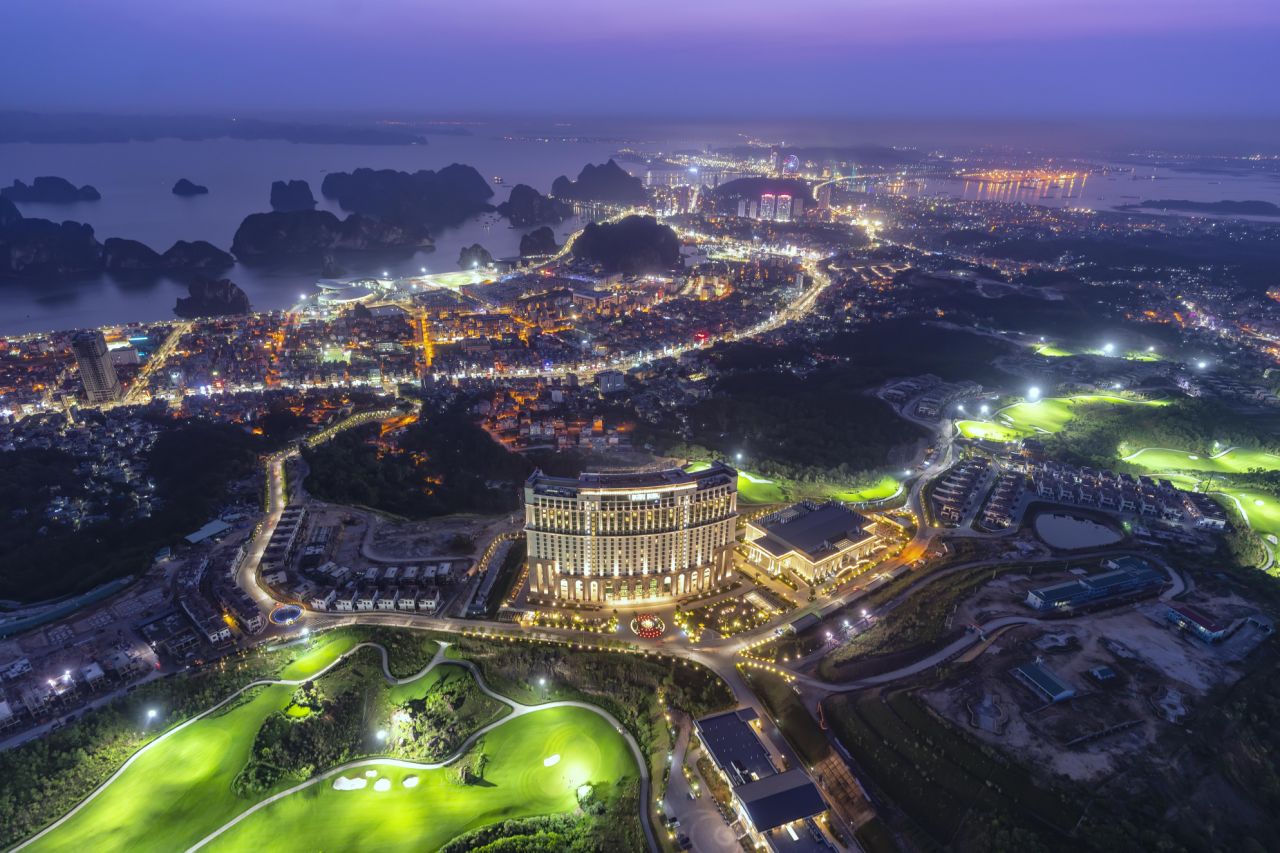 A panoramic view of FLC Halong Bay Golf Club & Luxury Resort
 Limited room
One of the important strategies of FLC Group in developing tourism infrastructure is "exploring potential lands", pioneering in reaching to and developing new destinations that have been almost untapped in terms of tourism. Will this strategy be effective in Ha Long – a renowned tourism city which has been long developed?
In the project development map of FLC Group, Quang Ninh is a very different place. While other places need lots of investment to become popular tourist attractions, Ha Long, with its naturally favored beauty has been recognized by the world and millions of tourists who see this city a must-visit destination.
The case of Ha Long is not popular in many countries. However, Ha Long hasn't been exploited and developed in proportion with its great potential. The story of limited tourism infrastructure in Ha Long has been long discussed, with small and degraded accommodation facilities taking the majority.
Only in 2013, or more than 5 years ago, the first 5-star hotel came to operation in Quang Ninh. Recognizing the potential for growth, FLC Group decided to choose Ha Long and Quang Ninh to invest and develop tourism projects.
 Has the problem of limited infrastructure been solved after large investors such as FLC Group expanded to Quang Ninh? The province has now become one of hot spots enjoying the fastest growth in Vietnam with impressive breakthroughs achieved in both transport and tourism infrastructure.
Quang Ninh has been showing a remarkable growth in terms of infrastructure recently; however, the strong development has been only seen in the past few years. Therefore, we think it still takes more time for transport infrastructure and tourism infrastructure to be systematically developed.
There have been other issues to be improved, such as high quality human resources for the tourism industry or specific tourism products such as golf tourism, MICE tourism, spiritual tourism, eco-tourism, etc.
In 2018, Quang Ninh welcomed more than 5 million international visitors; however, this number is still modest compared to other tourist cities in Asia such as Phuket, Pattaya (10-11 million visitors) or Bali (nearly 8.5 million visitors), etc. While these places don't possess any UNESCO heritage sites such as Ha Long Bay, their international tourist segments outperforms that of Quang Ninh in terms of number of visitors, length of stay and tourist expenditure.
Another consideration is Ha Long's growth potential in the coming decades. Ha Long has become one of the investment centers, attracting domestic and foreign capital flows. As of mid-2018, Ha Long had 57 FDI projects, accounting for nearly 26% of the total investment capital in Quang Ninh.
The strong capital flow into Ha Long is explainable as the city is considered as the CBD of Quang Ninh. However, in long-term, the potential for attracting investment to Ha Long is increasingly limited when the land bank has been narrowed. This would lead to inadequacies in investing in and developing synchronized infrastructure of international stature, including hi-tech industrial parks, large-scale resorts, or new urban zones satisfying an increase in population and urbanization.
And this status is even being seen at the moment.
From your point of view, what measures are needed?
Quang Ninh had a good start and has been now in momentum to accelerate. However, in our opinion, the concern now is how to develop a long-term master plan for tourism infrastructure development so that an accelerated growth wouldn't lead to unexpected consequences.
This issue is also of great concern by the Government proven by its decision to approve the adjusted master plan to develop Ha Long by 2040, a vision to 2050. The plan sets the target to expand the administrative boundaries of Ha Long, with nearly 28,000 ha under direct consideration and many adjacent areas under indirect consideration.
I believe that enterprises with large and long-term investment strategies in Quang Ninh have been all waiting for this plan.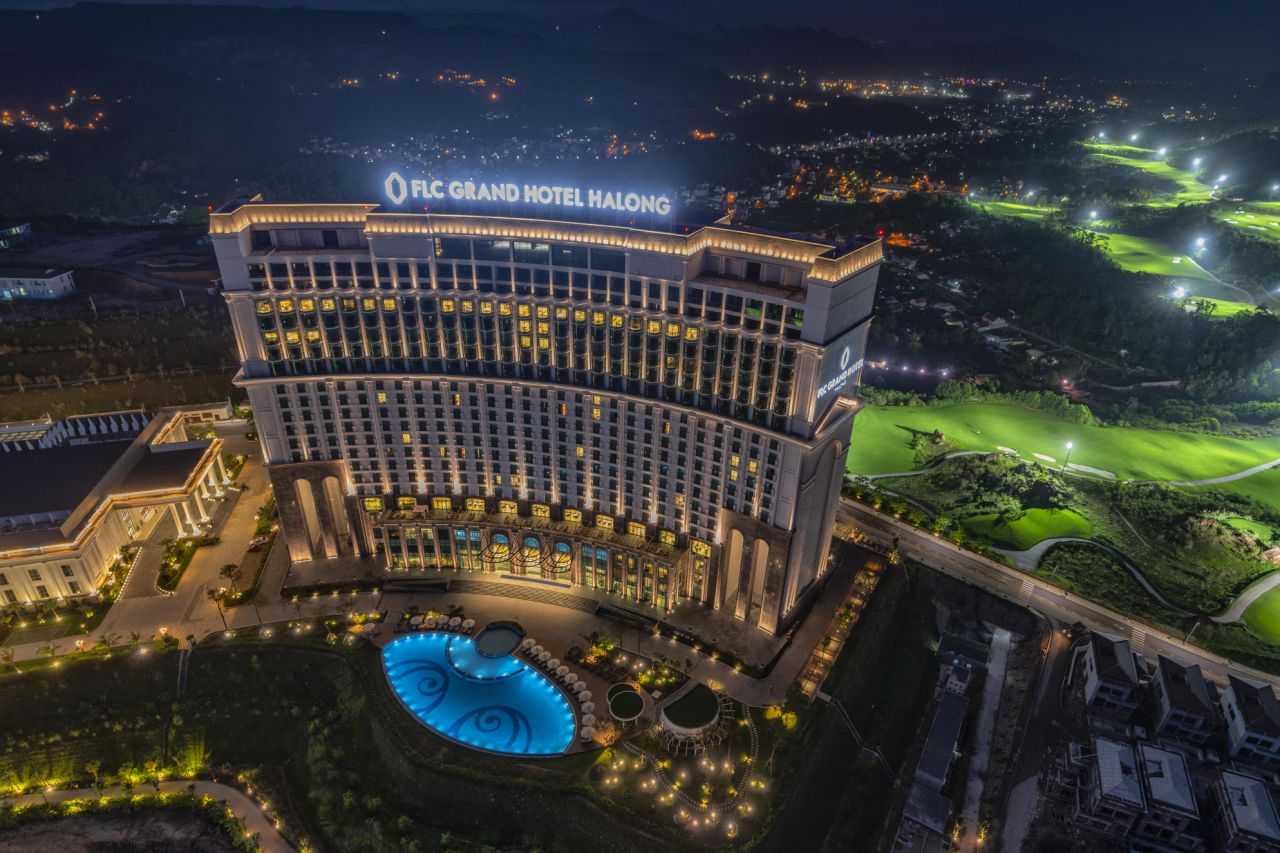 FLC Grand Hotel Halong at night
 Attracting new sources of capital
 Given your insights in tourism investment and development, what do you think are the biggest benefits from Ha Long's administrative boundaries expansion?
We believe that the city administrative boundaries adjustment once completed will certainly bring great opportunities for Ha Long's tourism in the near future.
When the expansion is implemented, eligible communes or districts will be merged, then the first benefit is that the city area is large enough to develop tourism infrastructure for the long term. That accordingly creates a solid foundation for Ha Long to become a "tourism capital" of regional and international stature with potential advantages and synchronously developed infrastructure.
A larger Ha Long will also attract more investment capital flows, thereby opening up numerous opportunities for socio-economic growth and development in other fields in Quang Ninh and Vietnam at large.
Another benefit is to create a synchronized tourism ecosystem putting Ha Long at its heart. Ha Long Bay for a long time has been widely known as a signature of Quang Ninh; however, there are more than 600 other historical, beauty spots and more than 360 intangible cultural heritages in the province.
Therefore, the expansion of the administrative boundaries of Ha Long will shift investment flows to nearby satellite areas, thereby exploiting more effectively and sustainably those spots and heritages.
The shift in capital flows have been seen at some areas in Ha Long in the period of 2017-2018, when investment resources has gradually shifted from Bai Chay to Hon Gai with the goal of shaping a new tourist belt along the sea contour area.
In addition to those abovementioned benefits, there will be land speculation happening in some areas which should be proactively prevented and controlled to any potential consequences for local economic development in the long term.
What is certain is that, the adjustment of boundaries will surely trigger a new wave of strong investment, speeding up the process of shaping Ha Long as the "tourism capital" of the international stature especially in the context of crowded population and fast urbanization in Ha Long.