On November 25th, 2019, the Singapore Stock Exchange (SGX) had organized the Opening Ceremony for a stock-exchange session that marks its operation milestone at 20-years. Following the invitation from SGX, Mr. Trinh van Quyet – Chairman of FLC Group had participated in hitting the gong to launch the stock-exchange session on this special occasion.
The event witnessed the attendance of Mr Loh Boon Chve – President of SGX; Mr. Bicky Bhangu – Vice President of Singapore Business Association; Vietnam Ambassador to Singapore; together with hundreds of senior officers from international associations, businesses and large enterprises of Vietnam (BRG, FLC Group, SeaBank, Petrolimex, Vietcombank, Vietnam Airlines, SHB) and Singapore across many sectors, including real estate, finance, education, production and retail.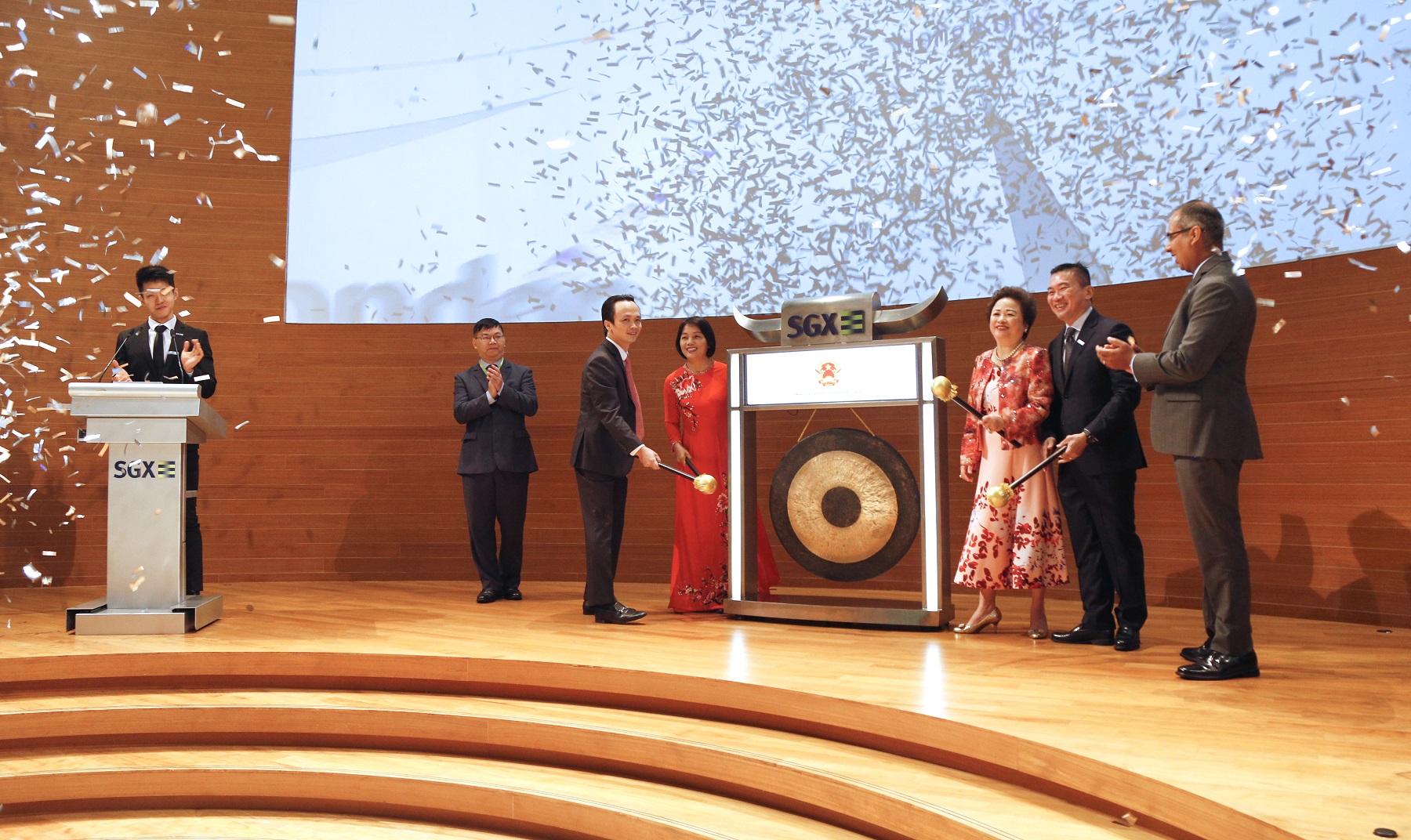 Mr. Trinh Van Quyet – Chairman of FLC Group participating in hitting gong to launch the stock-exchange session on the 20th Anniversary of SGX
Primary market
Speaking at the Vietnam – Singapore Business Connection Forum held in the same day at SGX's headquarter, the leader of FLC Group reckoned that the cooperation opportunity among Singaporean and Vietnamese businesses has been widely opened.
"Vietnam is currently one of the most attractive destinations for investment in South East Asia as well as the Asia-Pacific region. Meanwhile, Singapore has always suffered from the limitedness in space, which is considered as a constraint against the potential and strengths of the businesses and investors in this island country. As such, I believe that by fostering connection and investment in prospective markets like Vietnam will pose bilateral benefits for both Vietnam and Singapore", said Mr. Quyet.
Two years ago, Vietnam successfully organized the first roadshow in Singapore, which is the first crucial step in promoting products and investment between FLC Group and this potential market.
The investment promotion of FLC group in Singapore after that had been fostered in many important sectors such as real estate, hospitality tourism, hotel operation and management and especially aviation.
In terms of real estate, the number of projects in that FLC Group has been researching investment and promoting legal matters has reached 300. According to the plan set out for the next five years, the Group expects to expand this series of complexes and golf courses to 20 and 100 respectively across the entire system. The size of these projects will be among the top of not only Vietnam but also South East Asia.
Recently, FLCHomes – a subsidiary brand of FLC Group in the real estate sector has officially made its debut. The Company is oriented to be in Top 3 real estate investment and development brands in Vietnam. It is anticipated that the number of projects of FLC Group in terms of investment and distribution can guarantee the supply capacity and operation of FLCHomes till 2030.
This is considered as an opportunity for international businesses and FLC Group to foster collaboration in financial investment in order to developing projects and cooperation in many other fields, such as design consultancy, construction and operation.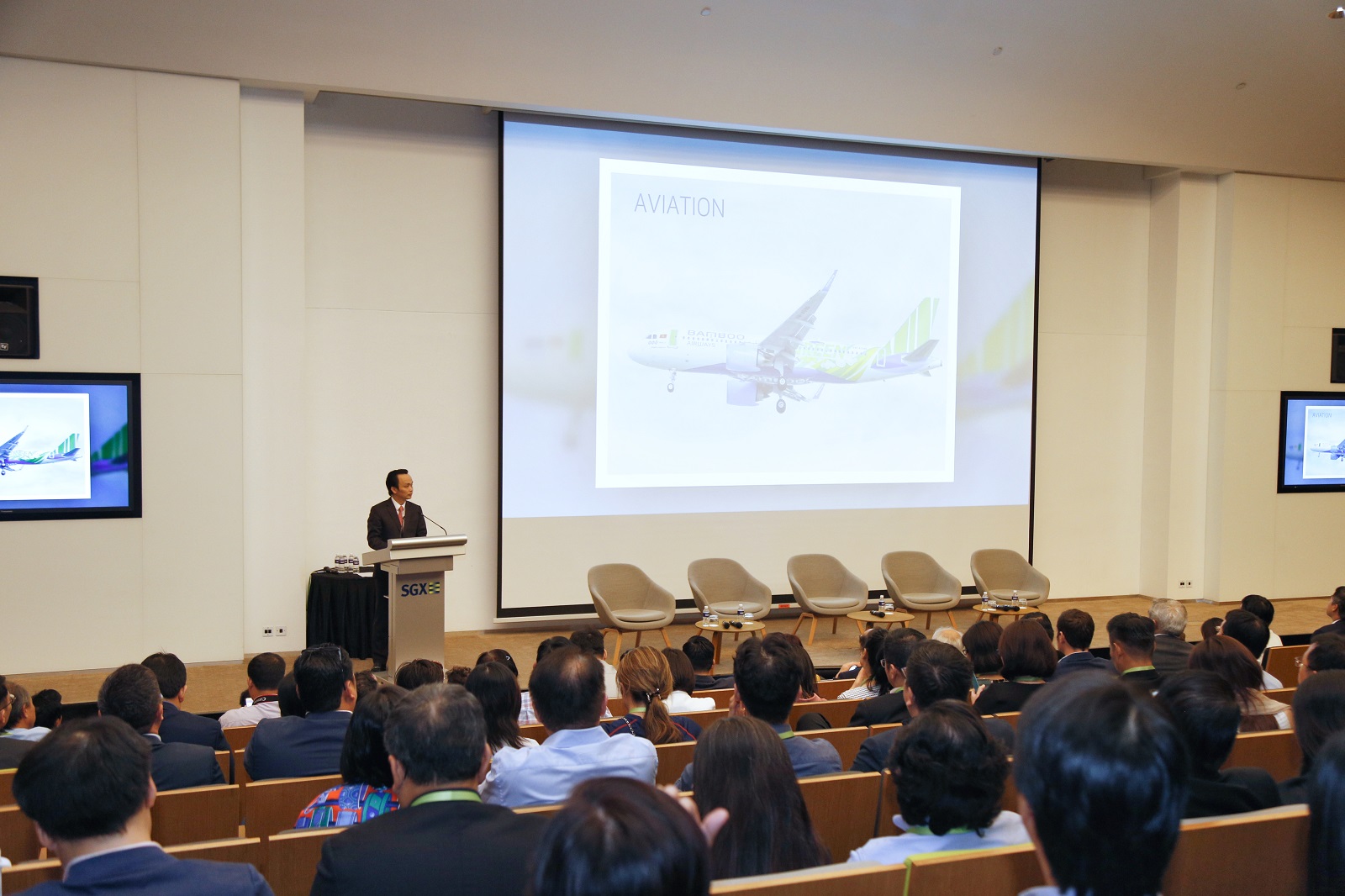 Mr. Trinh Van Quyet giving speech at Vietnam – Singapore Business Connection Forum
"In terms of the aviation sector, Bamboo Airways has signed many important partnership agreements with Singaporean partners with inclusion of SIA Engineering, which is a leading brand in providing aviation technical services and a part of Singapore Airlines", said Mr. Quyet
In the last September, Bamboo Airways was granted the operation license, which is approved and issued by Singapore Department of Aviation, to operate regular international flights from/to Singapore. The following procedure is now in progress in the hope that Bamboo Airways will soon be able to serve the passengers departing from or arriving to Changi Airport, and accordingly connect the two prospective markets: Vietnam and Singapore.
According to the leader of FLC Group, there exist two contributing factors that made Bamboo Airways become a phenomenon of the aviation sector. They are the highest on-time performance rate that has been continuously achieved since its launch and the philosophy pertaining to conscientious and high-class services. Bamboo Airways is also the first private airline brand of Vietnam that orientates itself towards 5-star standard.
Bamboo Airways has also drawn public attention due to its intention of going public via IPO in 2020 in order to support the plan of expanding its operation. We expect that we will be able to mobilize about USD100 million, which will help Bamboo Airways to grow the fleet. The ultimate aim is to increase the market share from 10% to 30% in 2020.
Resumption of listing process
Mentioning about the listing process in Singapore of FLC Group, Mr. Quyet revealed that this process has been seriously implemented since 2014 and Singapore is the first destination.
However, in the context that Singaporean legislation as well as Vietnamese securities and investment regulations exposed many limitations and difficulties at the time, not only FLC Group but also many large enterprises of Vietnam had to temporarily delay this process.
"Yet, we have recognized many positive signs after the success of the roadshow we organized in 2017. We are now in the middle of resuming this process. It is anticipated that the IPO in Singapore will take place between 2020 and 2021Singapore will be the first international market. After that, we will assess the actual situation and benefits in order to go public in other international markets", indicated Mr. Quyet.
In explanation for selecting Singapore as the first market in the international listing process, Chairman of FLC Group commented that Singapore is a centre of the Asian financial market, which connects to the global financial market. Besides, Singapore possesses a high growth, rigorous criteria and high safety.
Therefore, being listed in SGX is an opportunity for FLC Group to attract more investment capital to serve the business activities and projects, and in the meantime improve management capacity and transparency in respect to international criteria.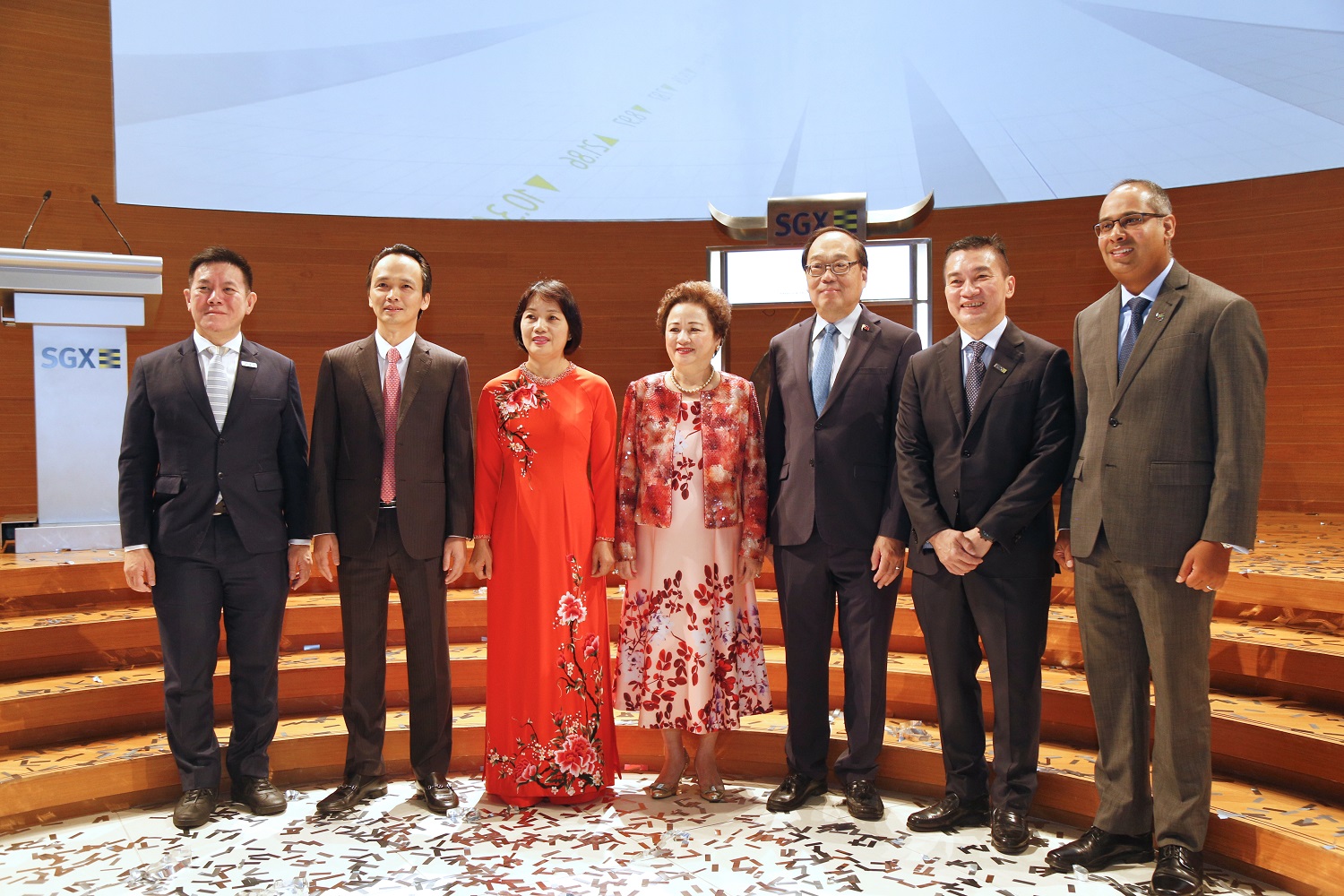 Chairman of FLC Group and senior officers of SGX and Singapore Business Association at the Opening Ceremony of Stock-Exchange Session in the morning of November 25th
The Vietnam – Singapore Business Connection Forum organized by Vietnam Embassy in Singapore in collaboration with Singapore Stock Exchange (SCX) and Singapore Business Association with the purpose of fostering cooperation opportunities between the two countries on the occasion of 20th anniversary of SCX. This is an opportunity for Vietnamese businesses to introduce themselves to the international market, and simultaneously facilitate Singaporean and international investors in considering investment in Vietnam via the mean of M&A.