To meet the travel demand of passengers during the the Lunar New Year 2020, Bamboo Airways will supply nearly 700,000 extra seats, increasing the total supply of seats on the domestic network to nearly 1 million.
Bamboo Airways has offered air tickets for the the Lunar New Year 2020 on all domestic routes. Specifically, from January 9, 2020 to February 8, 2020 (December 15 to January 15 according to lunar calendar), Bamboo Airways will provide a total of nearly 1 million seats for the domestic network, increasing nearly 700,000 seats (equivalent to 3,600 flights) on-year.
Bamboo Airways will supply more flights on routes with great demand, including Hanoi – Ho Chi Minh city/Vinh/Can Tho/Phu Quoc/Buon Me Thuot/Da Lat/Pleiku and Ho Chi Minh city- Hai Phong/Thanh Hoa/Vinh/Dong Hoi/Hue/Quy Nhon. Then, the Airline will continue researching to open more routes and operate extra flights to serve passengers on Tet Holiday 2020.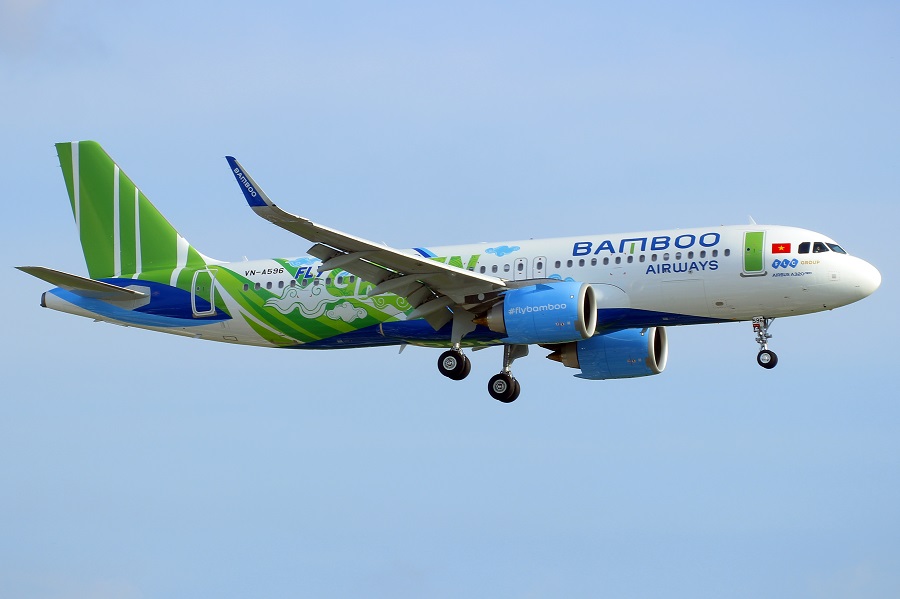 Bamboo Airways will add nearly 700,000 seats to serve passengers on the The Lunar New Year 2020. Source: Nguyen Anh
All Bamboo Airways' domestic routes are exploited by modern aircraft such as A321neo, A320neo, etc. with full and 5-star-oriented services (including hot meals, 7 – 14kg of hand luggage, 20 – 30kg of free checked baggage depending on fare classes). The Airline will also add new-generation wide-body Boeing B787-9 Dreamliner aircraft to serve the travel needs of people in the QIV/2019.
In November 2019, Bamboo Airways opens three new routes: Cam Ranh – Incheon (South Korea), Hanoi – Chu Lai and Ho Chi Minh city – Dong Hoi to serve the travel demand of passengers during the Lunar New Year, increasing the total number of routes to 30, including domestic and international ones.
Bamboo Airways recommends passengers to buy tickets on the Airline's official website, from the Airline's official agents, ticket offices, and request invoices according to the regulations to avoid buying fake tickets, tickets with higher prices, etc. Also, passengers' luggage should be in the right weight and size as regulated to ensure flight safety and to avoid paying excess charges.
In addition, to save time, Bamboo Airways encourages passengers departing from Noi Bai (HAN), Tan Son Nhat (SGN) and Nha Trang (CXR) Airport to check-in online on the Airline's official website. Passengers can check-in online at least 24 hours before departure time.
Moreover, all passengers purchasing Bamboo Airways round-trip tickets from now until the end of the Lunar New Year can participate in the lucky draw program to receive valuable gifts.
For details, please visit https://bambooairways.com or contact:
Facebook: www.fb.com/BambooAirwaysFanpage/
Hotline: 1900 1166
Email: 19001166@bambooairways.com