On November 28, also during the time that Vietnam-Korea Business Forum took place in Seoul, Bamboo Airways officially opened 3 regular routes from Da Nang, Cam Ranh, Hanoi to Seoul, witnessed by Vietnam's Prime Minister Nguyen Xuan Phuc and South Korean Deputy Prime Minister Nam Hong Ki.
Solid foundation for the expansion of international route network
The Opening Ceremony of 3 regular routes to South Korea of ​​Bamboo Airways was held under the witness of South Korean Deputy Prime Minister Nam Hong Ki and Vietnamese Prime Minister Nguyen Xuan Phuc, on the occasion of the Prime Minister's official visit to South Korea to attend the ASEAN – Korea Summit – the first ASEAN – Mekong Summit taking place from November 25 to November 29, 2019.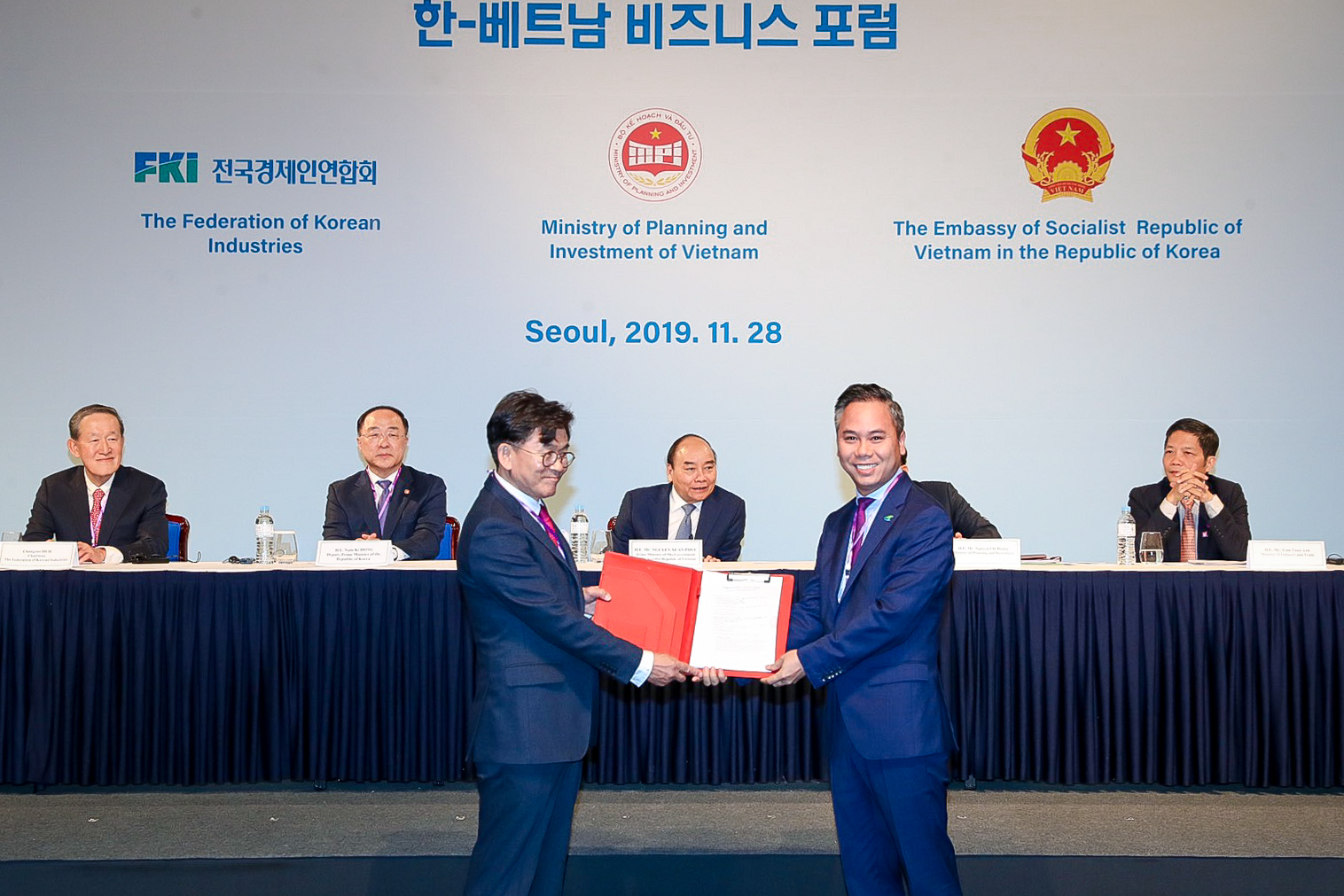 Vietnamese Prime Minister Nguyen Xuan Phuc leads the high-ranking Vietnamese delegation to the Vietnam-Korea Business Forum
Accordingly, Bamboo Airways has officially announced the operation of 3 direct routes to South Korea, including: Da Nang – Incheon (which has operated since October 17, 2019), Cam Ranh – Incheon (which has operated since November 15, 2019) and Hanoi – Incheon (whose exploitation is expected to start in 2020).
"These three important routes connecting South Korea are the first international routes of Bamboo Airways, creating a solid foundation for the expansion of the Airline's international route network, which enables Bamboo Airways to conquer the international market in the near future", Mr. Dang Tat Thang – Executive Vice Chairman of Bamboo Airways said that the success of these routes will offer the bright prospect for additional direct routes linking Vietnamese and South Korean destinations in the future.
Mr. John Park, founder and CEO of PAA Group – General Agency of Bamboo Airways in South Korea, said that PAA is excited to cooperate with Bamboo Airways – a private airline with 5-star-oriented services in the operation of Vietnam – South Korean routes. PAA Group hoped these routes will contribute to meet the travel needs of the two countries' tourists and greatly facilitate trade, tourism and encourage investments in Vietnam and South Korea. In addition, the representative of the Group also expressed his hope for the rapid expansion of Bamboo Airways' route network, covering more destinations in South Korea.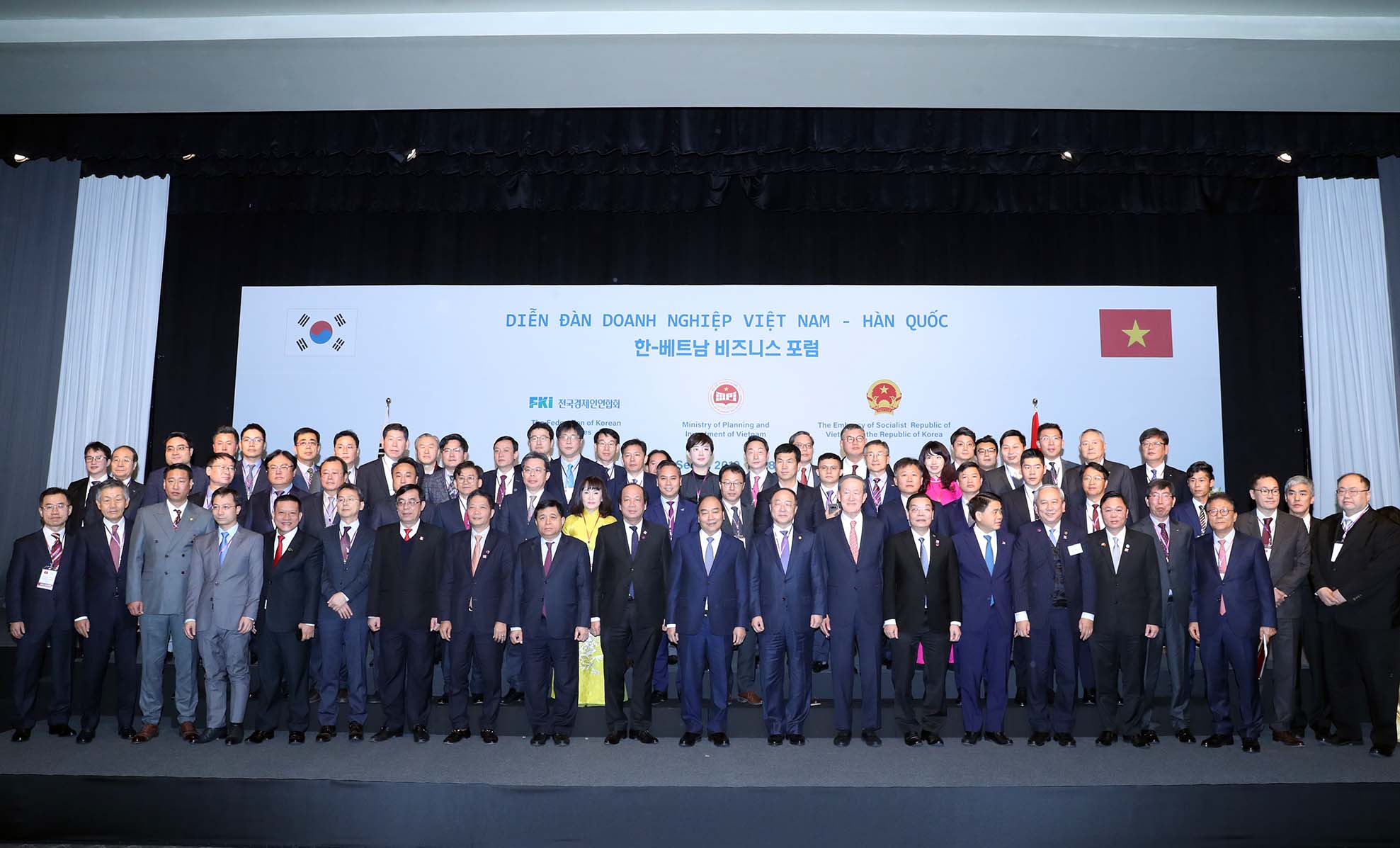 Prime Minister Nguyen Xuan Phuc (second from the left) and South Korean Deputy Prime Minister Nam Hong Ki (first from the left) witnessed the Opening Ceremony of three international routes to Korea of ​​Bamboo Airways
Three key routes                                                
According to the representative of the Korea Tourism Organization, the total number of Vietnamese visitors to South Korea rose sharply each year, turning Vietnam into the country with the highest growth in the number of tourists to South Korea. In the last 3 years alone, the number of Vietnamese tourists visiting South Korea experienced a significant increase of 41%. The figures from OAG Schedules Analyzer also revealed that the number of flights to South Korea accounted for 44.5% of the total number of international flights of Vietnam.
On the other hand, Vietnam has also been the favorite destination for South Korean tourists in recent years. In the first 7 months of 2019, the number South Korean tourists to Vietnam reached nearly 2.5 million, up 22.1% on year. As a result, South Korea surpassed China to become a country with the highest number of tourists visiting Vietnam.
Da Nang, Nha Trang (Khanh Hoa) are especially well-loved by South Korean tourists. 80% of international visitors come Danang are South Korean, Chinese (*). Similarly, in Nha Trang, according to the report the Department of Tourism of Khanh Hoa, the number of South Korean visitors to the province soared in 2019. In the first 7 months in 2019, Khanh Hoa welcomed 124,000 South Korean visitors – up 336% on year. (**)
Responding to the high demand of trade and tourism between the two countries, Bamboo Airways has operated charter flights to South Korea since April 2019. In October and November, 2019, the Carrier cooperated with PAA Group to operate two regular routes from Da Nang, Cam Ranh to Seoul.
These flights have received positive response from the majority of passengers, thus impressive results have been achieved, which has prompted Bamboo Airways and the PAA Group to accelerate the process of opening another regular route connecting Hanoi to Seoul in 2020.
South Korean regular routes are operated by Bamboo Airways with A321neo – the most modern and safe aircraft in the A320 family – Airbus' best-selling model of narrow body aircraft worldwide. Bamboo Airways is committed to the provision of 5-star-oriented services to its customers, from the step of check-in to check-out at the airport.
Moreover, in December 2019, the Carrier will welcome another wide-body Boeing 787–9 Dreamliner – a modern, fuel efficient, wide-body model of aircraft to be operated on the international routes exploited by Bamboo Airways in the foreseeable future.
Bamboo Airways is operating 30 domestic and international routes to South Korea, Japan and China. In November 2019 alone, Bamboo Airways opened three new routes from Hanoi – Chu Lai, Cam Ranh – Incheon, Ho Chi Minh – Dong Hoi. In December, 2019, the Airline will open additional international routes linking Hanoi with Taiwan.
Bamboo Airways' fleet is expected to be expanded to 30 aircraft in QI/2020 including mainly modern Airbus A321neo, A320neo and Boeing 787-9 Dreamliner aircraft, catering domestic and international passengers' travel needs.
For more information and to purchase tickets to South Korea, please contact:
Website https://bambooairways.com
Hotline: 1900 1166
Facebook: https://www.facebook.com/BambooAirwaysFanpage/
Email: 19001166@bambooairways.com