March 5, 2022 – Melbourne Airport. Bamboo Airways has announced non-stop Hanoi – Melbourne flights scheduled to begin on April 27, using modern wide-body Boeing 787-9 Dreamliner. The service marks the first-ever direct connection between Melbourne and Hanoi in Vietnam aviation.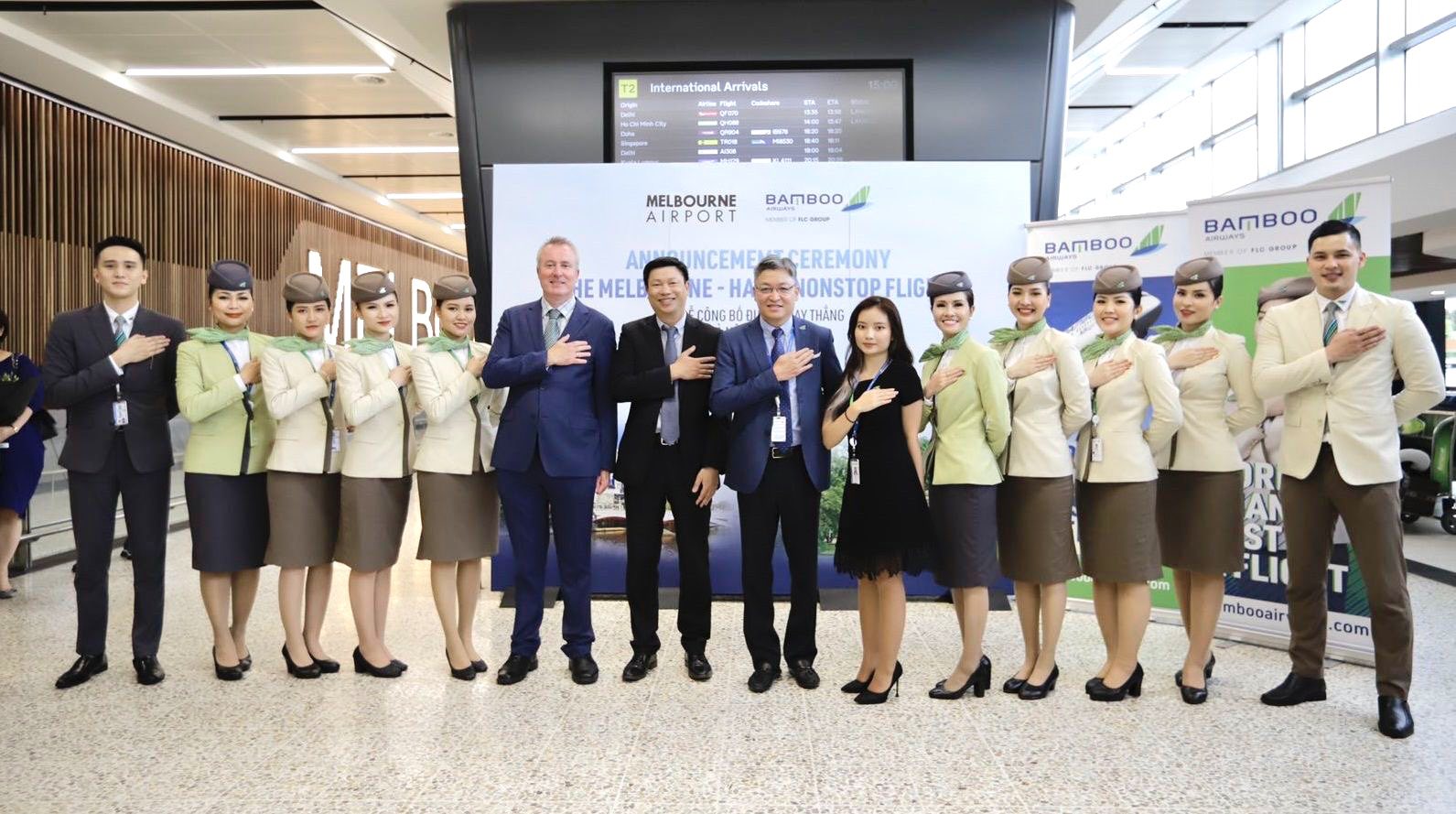 The airline intends to initially operate one return flight per week between Melbourne and the Vietnamese capital, with an increased frequency depending on market demands. Flights depart from Hanoi at 18:30 (local time) on Wednesdays and Melbourne at 10:00 (local time) on Thursdays. The nonstop route will help shorten travel time between two cities to only over 9 hours, less than 21 hours compared to current transit flights.
Bamboo Airways has opened ticket sales for Hanoi – Melbourne service from AUD 99 (2.319.000 VND) via website, mobile app, ticket offices, and agents from March 5, 2022.
The announcement follows the launch of the airline's service between Melbourne and HCM City, which took flights in February this year the instant Australia lifted international restrictions.
Bamboo Airways chose Melbourne as its Australian headquarters and became the first new foreign carrier to serve Victoria since the beginning of the Covid-19 pandemic.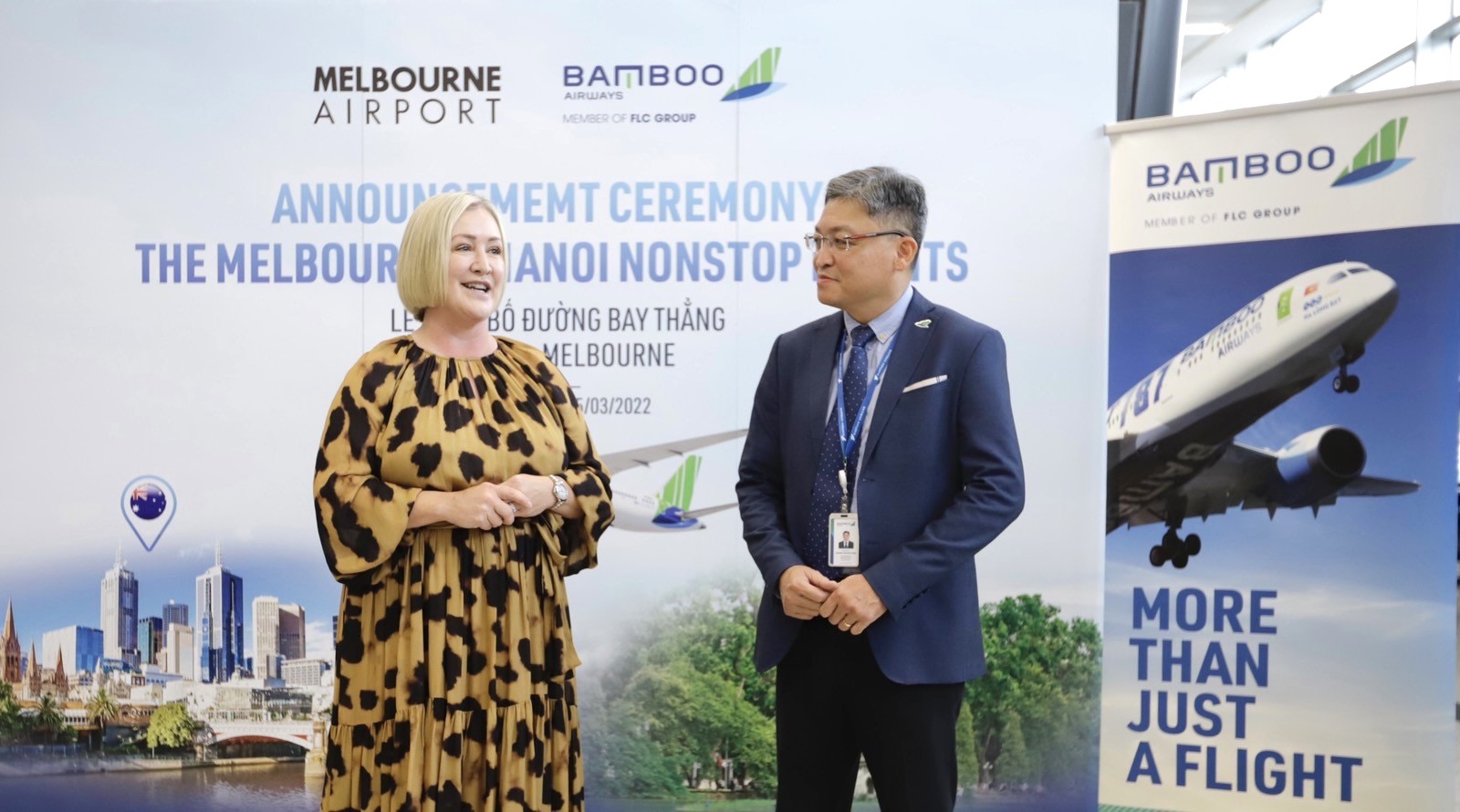 Melbourne Airport Chief of Aviation Lorie Argus and Bamboo Airways' Deputy General Director Truong Phuong Thanh at the Annoucement Ceremony
Truong Phuong Thanh, Deputy General Director of Bamboo Airways, said: "The regular non-stop Hanoi-Melbourne route is a testament to Bamboo Airways' resilience and strategic vision in connecting Vietnam and the world despite the unexpected pandemic.
"With the expansive network of Melbourne Airport and precious support from authorities of two countries, we believe our new non-stop service will create favorable conditions for the travelers of both countries, thus contributing to fruitful ties between Vietnam and Australia in various aspects such as trade, commerce, investment, culture, and tourism."
Melbourne Airport Chief of Aviation Lorie Argus said that she was thrilled that Bamboo Airways had expanded its services.
"Bamboo Airways was the first new international airline we welcomed to Melbourne since the start of the pandemic, so to be expanding into an additional service so quickly after the initial announcement is great news for Melbourne Airport. It's also exciting to have the first-ever direct service between Melbourne and Hanoi.
"It's also great news for Australians, who we know love visiting Vietnam. Importantly, this service will also help connect the Vietnamese community in Australia to friends and family back home, as well as enable us to welcome Vietnamese visitors and international students to Melbourne," she added.
Exploring potential market
Australia is one of thriving markets that Bamboo Airways has soon realized since its earliest days. In 2021, the total two-way trade between Vietnam and Australia reached a record of USD 14 billion, thus leveraging the strategic relations of two countries.
Vietnam and Australia continue to uphold considerable trade potentials in 2022 as both countries have entered the Comprehensive and Progressive Agreement for Trans-Pacific Partnership (CPTPP) and Regional Comprehensive Economic Partnership (RCEP) agreement.
Australia is also among countries with the largest Vietnamese community in the world, with more than 300,000 people, mainly in Sydney (New South Wales) and Melbourne (Victoria).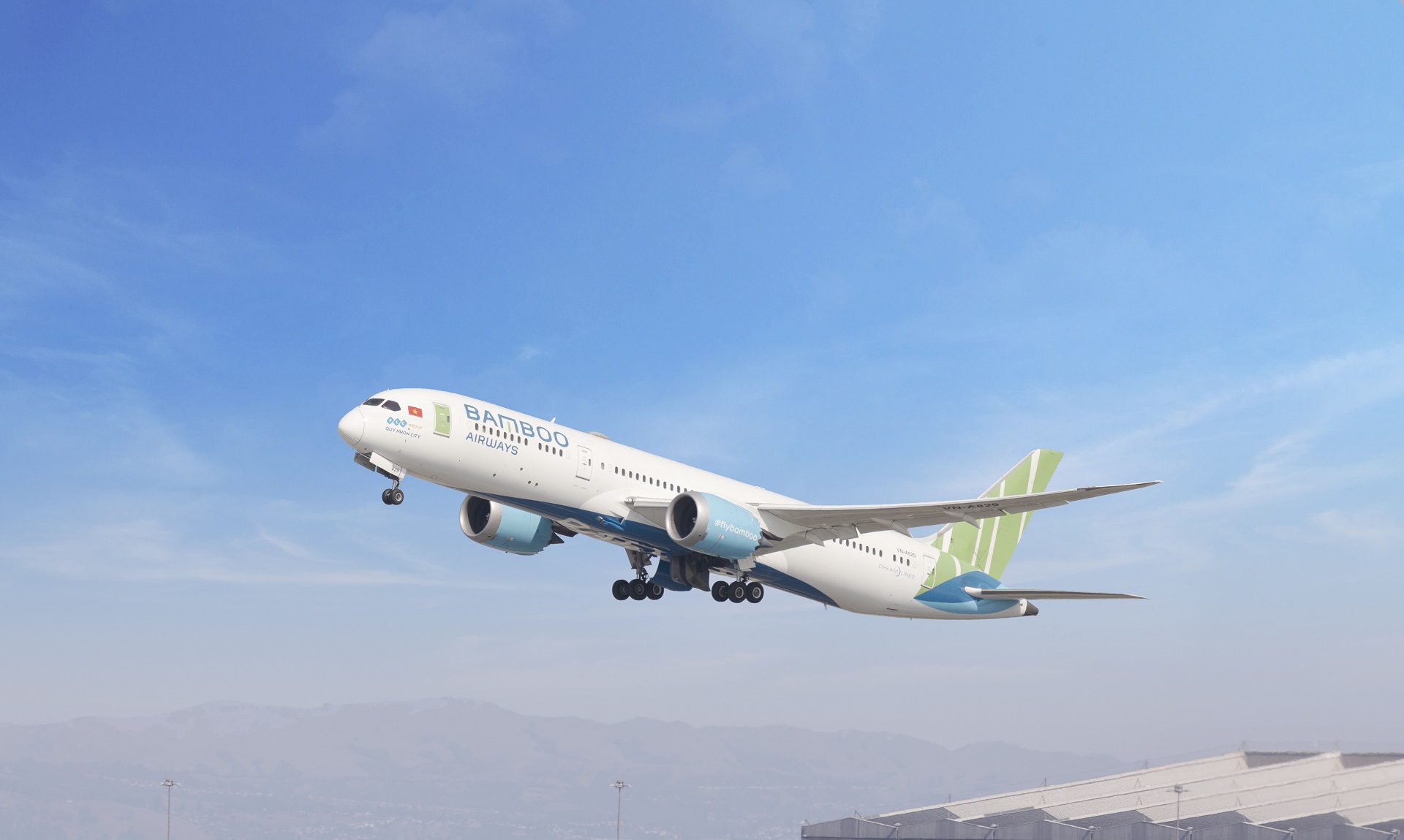 Bamboo Airways is the first airline to operate regular nonstop Hanoi – Melbourne route in Vietnam
In such context, Bamboo Airways' operation of nonstop Hanoi – Melbourne flights will help optimize benefits of populous Vietnam diaspora as well as Australian travelers, thereby enhancing greater connectivity between two countries.
Natalie Suleyman, Member of Victoria Parliament said that Bamboo Airways' new services deliver multiple opportunities for local communities.
"Just as important as these reunions is the fact that as international tourism reopens, it creates new jobs and new opportunities for people who live in the area, and we are so excited about this", she said.
The Melbourne-Hanoi service is subject to regulatory approval. The announcement follows a Letter of Support between Melbourne Airport, Victoria Government and Bamboo Airways inked in 2021.