Leaders of Bamboo Airways expressed their honor to be the first corporation to welcome the US depletion and Ambassador Marc Knapper after taking office in Vietnam.
On the afternoon of February 22, 2022, Bamboo Airways Chairman Trinh Van Quyet welcomed the US delegation and Ambassador Marc Knapper to visit Bamboo Airways' headquarters based in Hanoi.
The first corporation to welcome US Ambassador
During the visit, Ambassador Marc Knapper expressed his impression on the development of Vietnam after 15 years with such large businesses as FLC and Bamboo Airways. Marc Knapper valued Bamboo Airways' successful nonstop Hanoi – San Francisco flight that contributes to the diplomatic relation of the two countries. On behalf of the US Embassy, Ambassador Marc Knapper pledges to support Bamboo Airways with the carrier's upcoming operation of regular nonstop Vietnam – US flights.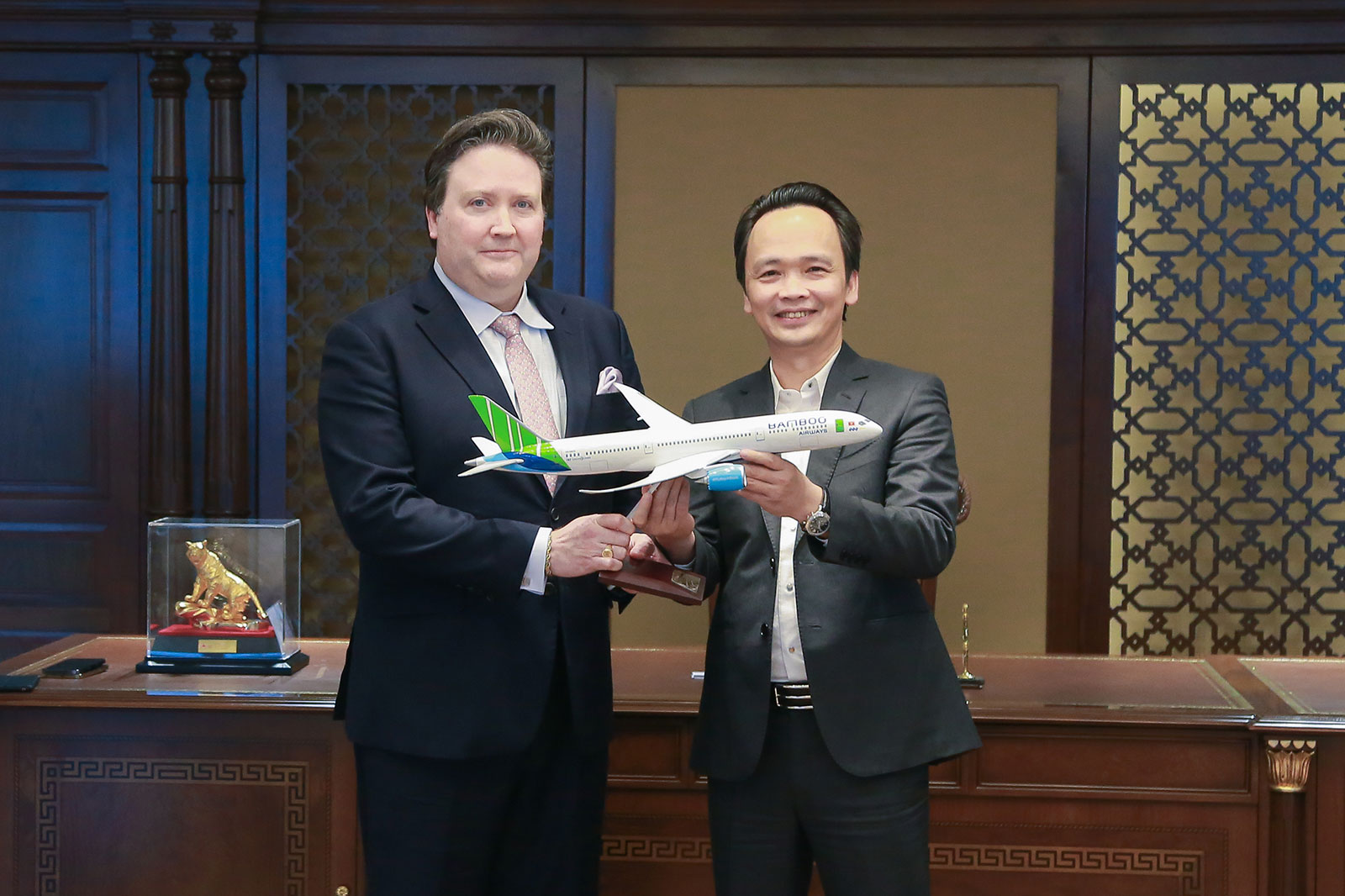 US Ambassador Marc Knapper (third from the left) and Chairman of FLC Group and Bamboo Airway Trinh Van Quyet 
Marc Knapper is the eighth US Ambassador to Vietnam since the normalization of US – Vietnam diplomatic relations in 1995. Before being nominated for this position by President Joe Biden, Marc Knapper served as a Deputy Assistant Secretary of State for Japan and Korea at the US State Department. He emphasized the primary goal throughout his term is to support the development of a strong, prosperous, and independent Vietnam.
Speaking at the meeting, Chairman Trinh Van Quyet expressed his delight at the close partnership between Bamboo Airways and various corporations worldwide, especially in the U.S. "Besides the GE engines agreement, Bamboo Airways will be welcoming the fourth Boeing 787-9 Dreamliner this April. Bamboo Airways is also the first private airline in Vietnam to conduct the nonstop route connecting Vietnam and San Francisco," he said.
Chairman Trinh Van Quyet also said to organize a roadshow in Los Angeles to further expand Vietnam's presence worldwide as well as promote products regarding real-estate, tourism, and aviation. The roadshow is considered a welcome for US entrepreneurs to return to Vietnam in the post-pandemic period.
Impressive serial events to promote the nonstop route
Earlier on September 23, 2021, Bamboo Airways successfully conducted the nonstop Vietnam – US flight that only took 13 hours and a half, less than 6-7 hours compared to transit flights.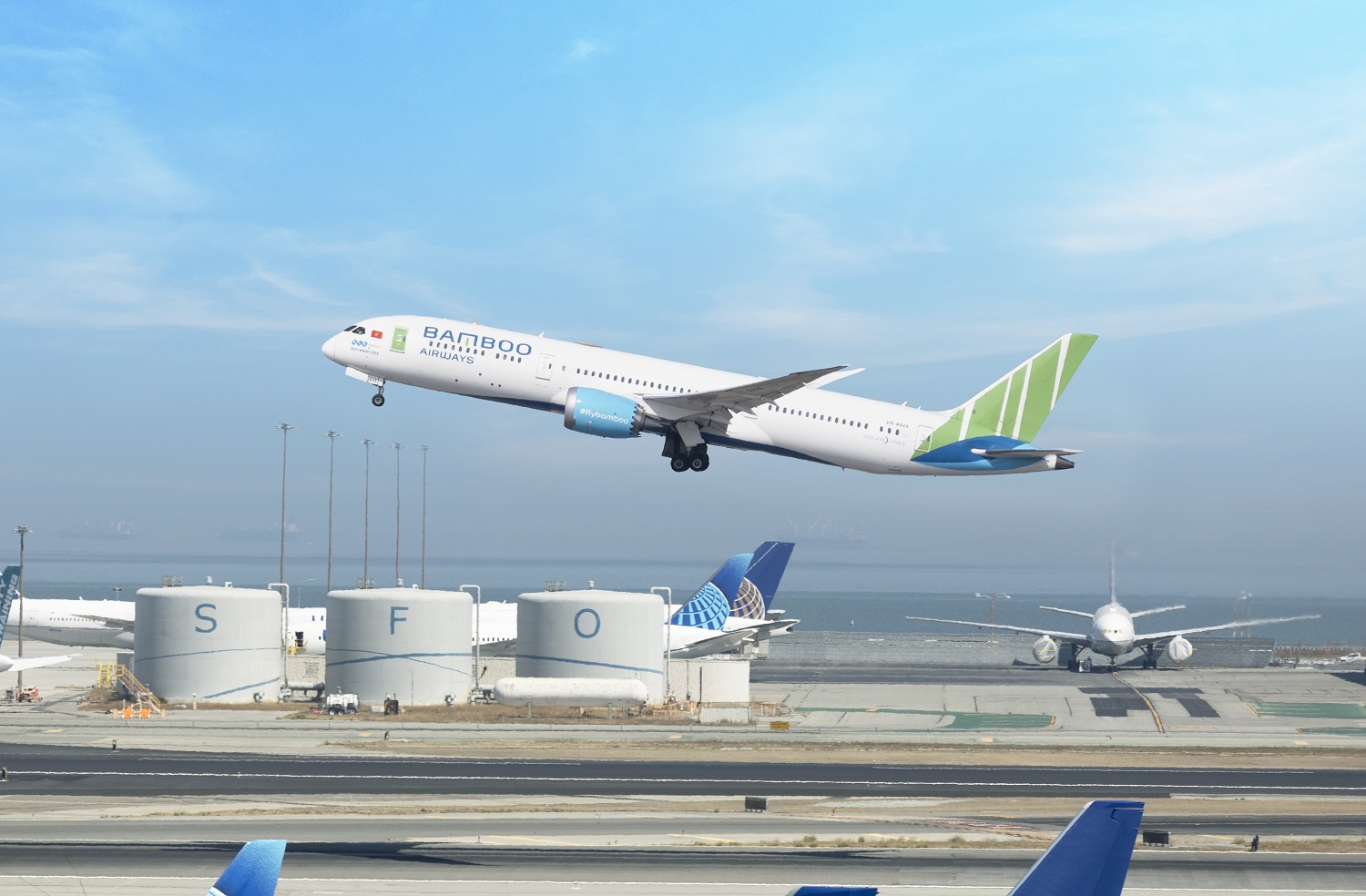 Photo 2: Bamboo Airways is the first private airline in Vietnam to successfully operated the nonstop Vietnam – US route
The nonstop Vietnam – US route will not only turn a new page on the cooperation history of two countries but also directly narrow the bridge between two hemispheres for the first time in 20 years, after the Vietnam – US Air Transport Agreement in 2003. In addition, the nonstop route will substantially contribute to enhancing politics, bilateral trade, and investment between Vietnam and US, thus further developing the close cooperative ties of the two nations.
To ensure the seamless operation, Bamboo Airways has entered various agreements, including an agreement to purchase 30 Boeing Dreamliner under the witness of high-ranking leaders, a $2 billion deal with GE Aviation on GENx engine and maintenance for Boeing 787-9, MoU with Los Angeles, Los Angeles International Airport, Los Angeles Tourism and Convention Board, MoU with San Francisco International Airport to connect two aviation markets and promote regular nonstop route, etc.
Regarding real estate, FLC Group has cooperated with many major US partners to design and implement large-scale resort and urban projects across the country. Notably, FLC's international standard golf course system is designed and built by the world's leading companies from the US such as Schmidt – Curley Design Company, Nicklaus Design, and Flagstick…