On the first day of the Taipei International Tourism Fair (ITF 2019) in Taiwan, Bamboo Airways proved its attraction when welcoming hundreds of customers to visit its official booth at the Fair.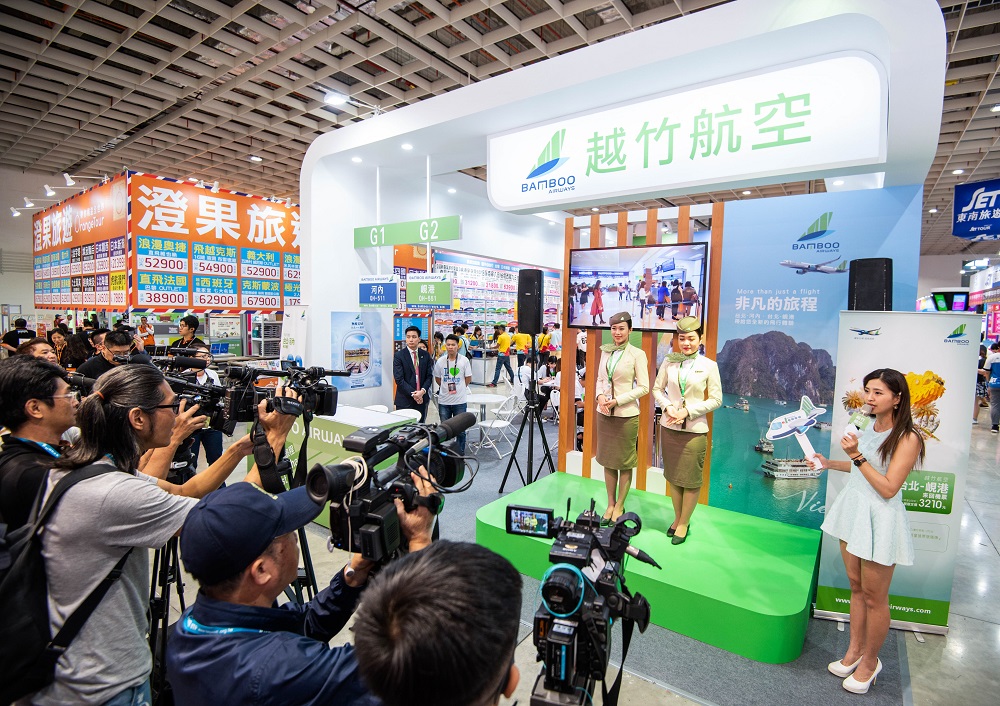 Bamboo Airways' booth at Taipei International Tourism Fair (ITF 2019)
Taipei International Travel Fair (ITF) is an annual trade show focusing on Taiwan's tourism. The Event, organized in Taipei by the Taiwan Visitors Association, is one of the oldest tourism fairs on international scale in Taiwan.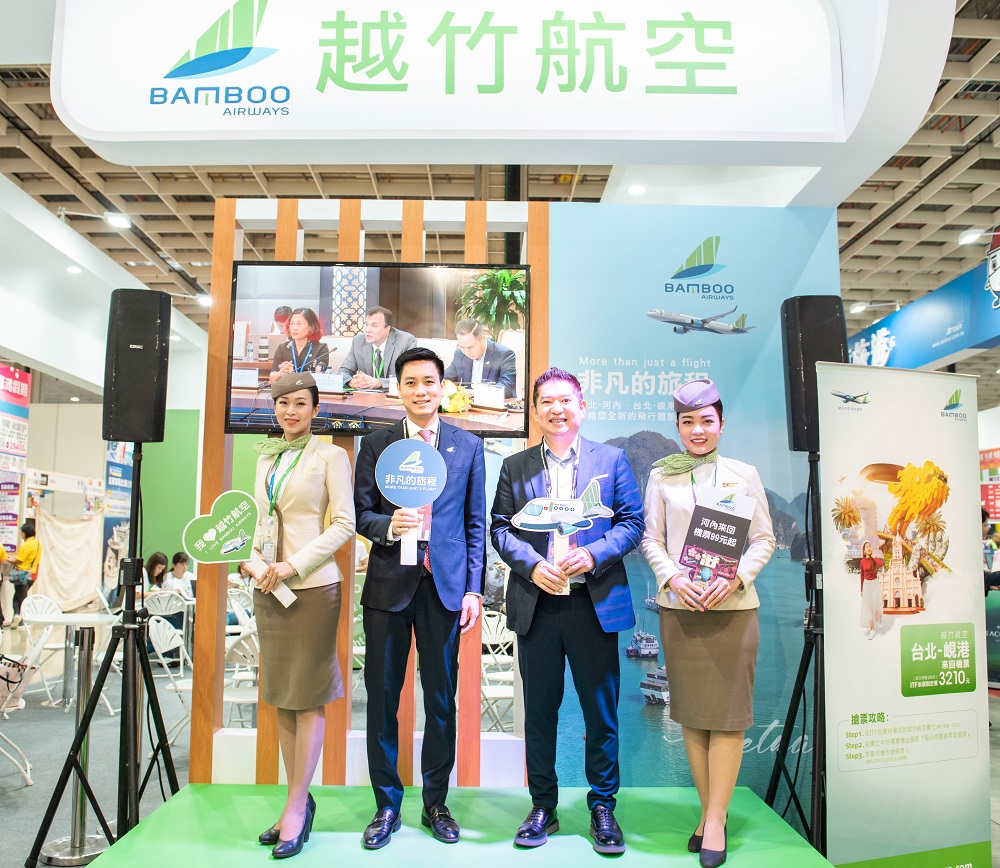 Representative of Bamboo Airways and representative of GSA – the Airline's Agent in Taiwan
ITF 2019 takes place within 4 days, from November 8 to November 11, at Taipei Nangang Exhibition Center, Taiwan. The Fair has attracted the participation of more than 1,000 companies from over 80 countries, including businesses in aviation, tourism, tour operators, hotels, transportation and other related firms, etc. This is the place for companies to exchange the information, and introduce their products to a large number of customers, contributing to the development of Taiwan's tourism industry in particular, and that of participating countries in general.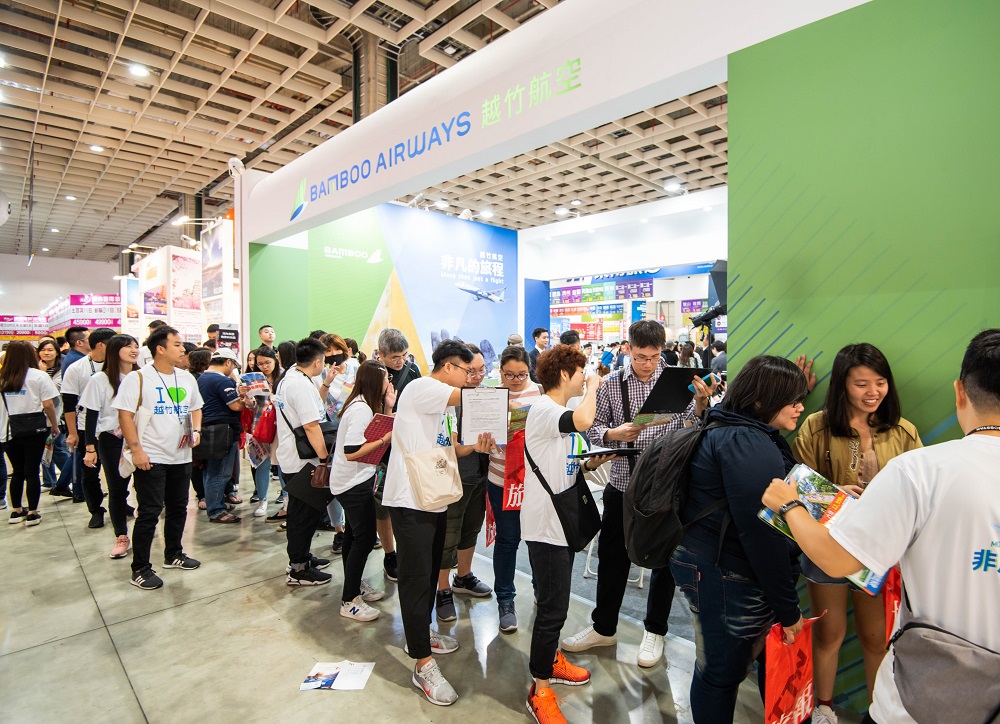 Bamboo Airways' dedicated staff at the Airline's booth
Especially, ITF 2019 is participated by Vietnamese carriers as well as international carriers such as China Airlines, Far Eastern Air Transport, Air Canada, Hong Kong Airlines, EVA Air, etc.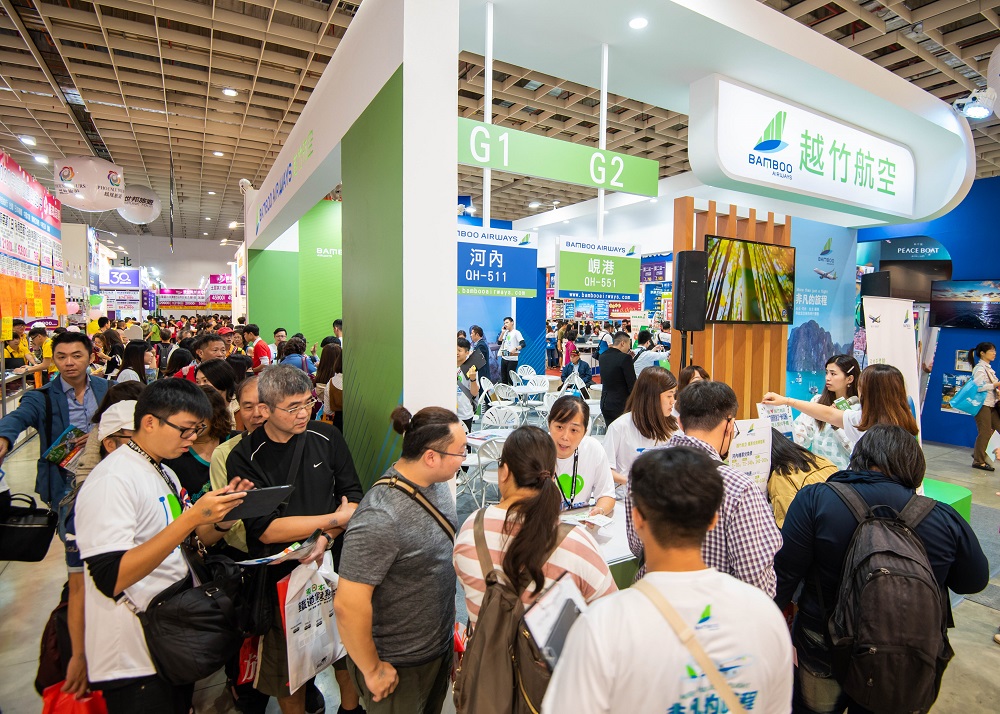 A lot of customers registered to find out information about Bamboo Airways' promotion programs.
In addition, Bamboo Airways has proved its attraction when launching a series of tickets to welcome the Taipei – Hanoi regular flight to be operated from December 2019.
Thanks to useful advice from the Airline's staff, more than 1,000 airline tickets have been successfully booked for the Taipei – Hanoi route on the first day of the Fair.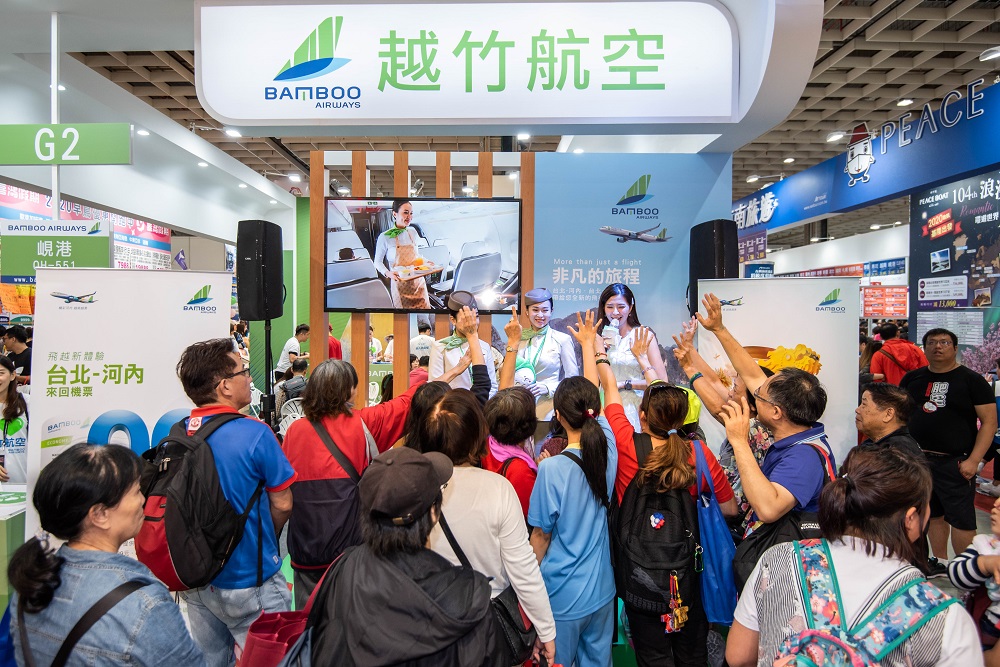 Customers were excited about Bamboo Airways' minigames
In addition, Bamboo Airways also holds a special auction program of round-trip tickets on Taipei – Hanoi and Taipei – Da Nang routes in every afternoon during the Fair, promising to bring interesting experiences to customers.
Also, many tickets at attractive prices sold directly at Bamboo Airways booth are also waiting for lucky owners.
The atmosphere at Bamboo Airways' booth is always lively and bustling with many exciting activities and prize-winning games, from which customers have received a lot of gifts for guests such as: eco-friendly products, souvenirs of Bamboo Airways, etc. and many other interesting gifts.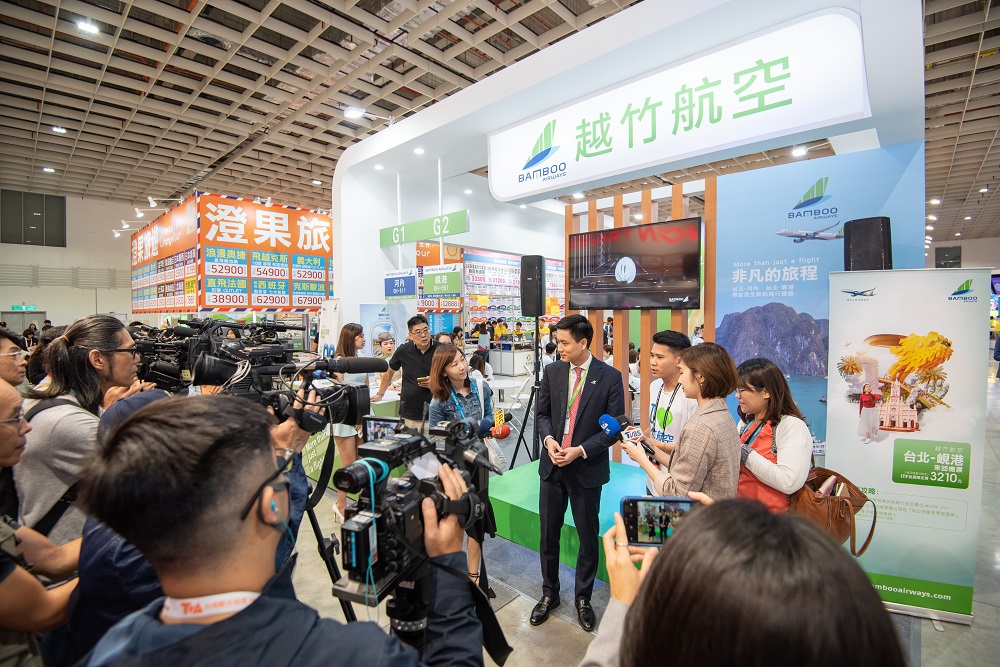 Mr. Bui Quang Dung, Deputy General Director of Bamboo Airways answered the press at the Event
"ITF 2019 has affirmed its position as an important tourism trade event of Taiwan, and also a regional-stature tourism fair. This is an effective event to connect businesses such as airlines, hotels and resorts, travel agencies, large corporations and travel agencies from other countries. The Fair is also an ideal place for businesses to enhance exchanges and develop business activities. Joining ITF 2019, Bamboo Airways expects to promote the Airline's image to a large number of international visitors, as well as introduce the potential route of Taipei – Hanoi to be launched at the end this year, contributing to strengthening the integration and tourism development of the two countries", said Mr. Bui Quang Dung – Deputy General Director of Bamboo Airways.
After that, Bamboo Airways will hold a meeting with agencies in Taiwan from 13:30 – 17:30 on November 12 at Amazing Hall Hotel Taipei, Taipei. The Seminar will be the place where Bamboo Airways meets its agencies, widen the cooperation in Taiwan, attracting the attention of many press agents.
Information about Taipei International Tourism Fair – ITF 2019:
Time: November 8 – November 11, 2019
Venue: Taipei Nangang Exhibition Center, Taiwan
For more information, please contact:

Hotline: 1900 1166

Email: 19001166@bambooairways.com

Website: bambooairways.com

Facebook: www.fb.com/BambooAirwaysFanpage/